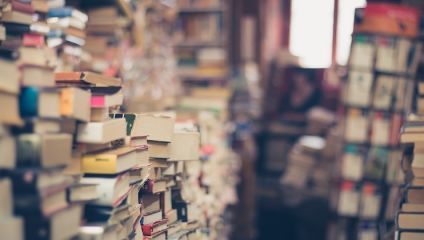 We pick out the best places to discuss literature, for film-lovers or for keen readers, from LGBT-friendly to interactive.
In London, live literature is thriving: the latest arrival of the new Waterstones at Tottenham Court Road, which runs book club evenings with cocktails, suggests that literary events are here to stay. Literary salons are often thought of as snobby and pretentious, so we've picked out the best evenings that update or mock the format, including ones which are interactive, LGBT, and styled like an American game show.
What exactly is a literary salon? On a basic level, it's a gathering of people discussing literature, designed to increase knowledge about a subject through conversation. Historically, the salon was the birthplace of many famous artistic, literary and philosophical movements, an Italian invention that also flourished in France during the 17th and 18th centuries. In England, the salon was an integral part of 'coffeehouse culture', and also enabled women to partake in discussions that were normally restricted to men, leading to the formation of the Blue Stockings Society. The impulse to talk about literature, and learn more by discussing it with a group of people, is one that is still prevalent in society today, albeit in a slightly different format. Across London, live literary events are thriving, from poetry open mic nights to the Brave New Word series, which features bold new material in a relaxed setting. The original salon format may have been updated slightly - it is unlikely that the 18th century salonniers drank cocktails and talked about Twitter - but there are a wide variety of events to try if you love literature.
The Last Tuesday Society
London's longest running literary salon has had a series of eminent speakers, from Alasdair Gray to Philip Hoare, Marina Warner to D. J. Taylor. The series is curated by Viktor Wynd and Amber Butchart with upcoming events include a discussion of French 1960s culture, led by Vadim Kosmos (Monday 4 April), and a talk about British sex and violence in the '70s, with film buff Justin Harris (Monday 4 April). In true salon fashion, the talks centre on discussion of cultural phenomena and trends, but with a more modern perspective.
Tickets are £11 (£5.95 conc.). Discover more about The Last Tuesday Society.
Polari Literary Salon
Polari is London's well-known LGBT literary salon, founded by author and journalist Paul Burston, who curates and hosts the salon's events. The society boasts an impressive list of former speakers, which includes Sarah Waters, Philip Hensher, Will Self, Ali Smith and Adam Mars-Jones, and its focus is predominantly on the views of marginalised literary voices.
On Wednesday 9 March, Polari will host an event with author Mari Hannah, as part of the Women of the World festival. It will be an opportunity to hear from some of the women depicting queer life in contemporary literature and spoken word. The following month, Juno Dawson (formerly James Dawson), an author and journalist, will headline on Monday 25 April. There will also be readings by Will Davis, Rachel B. Glaser, Rebecca Chance and Mark Lock.
Tickets to Polari are £5 (conc. £2.50). Find out more about the Mari Hannah and Juno Dawson events.
Literary Death Match
An entertaining update on the classic idea of a salon. Literary Death Match features four people reading their own writing for seven minutes or less, who are then judged on literary merit, performance, and intangibles. The two finalists then battle it out in a literary game show style finale to decide the winner of the Literary Death Match Crown.
The next event is on Tuesday 26 April at Southbank Centre. It will be hosted by the LDM creator Adrian Todd Zuniga; one of the readers will be author Nikesh Shukla; and the 'Intangibles' judge will be Joseph Morpurgo, the actor, writer and comedian. The rest of the all-star line-up is due to be announced soon.
Tickets are £12 (£6 conc.). Read more about Literary Death Match.
Sara Pascoe's Literary Salon at The Book Club
On Sunday 6 March, comedian Sara Pascoe will be running a literary salon with a twist - the audience will write some of the stories! Comedians and writers will present new, specially written work, and the audience can compete to win 'Ezra Pounds', with 'Virginia Woolf' acting as the guest judge. The night will have a surprise theme, and the audience are welcome to bring a pen and paper and attempt their own tales. The evening will mock the salon's traditional associations with the snobby elite, and The Book Club declare that 'precocious phrasing and port drinking are welcome'.
If you can't make that evening, The Book Club is an excellent venue which holds many literary-themed events every month, as well as life drawing, short film screenings, poetry open mic nights, live music and 'Crafternoon Cabaret Club'.
Tickets are £5. Find out more about Sara Pascoe's Literary Salon.
The London Literary Salon
This salon draws on the traditional concept of a regular meeting of people who are committed to discussing and exploring ideas about literature. Upcoming discussions include five evenings in April - May exploring Virginia Woolf's modernist vision in To the Lighthouse, a one-night discussion of Hamlet on Monday 22 March, and a seven-week salon on William Faulkner's Light in August from March - May.
Ticket prices depend on the event. Find out more about The London Literary Salon.