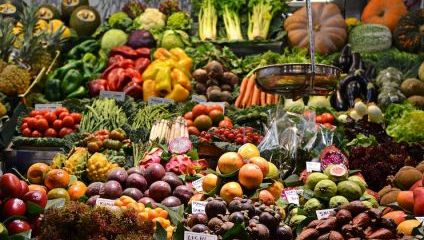 Discover everything from fruit and veg to antique books and vintage clothing
Here in London we are spoilt for choice when it comes to shopping outdoors; our towns and central hubs are full of markets on different days of the week, where you can find anything from fresh fruit and vegetables to antique books and vintage clothing.
---
Columbia Road Market
Columbia Road Flower Market occurs every Sunday is one of the most popular markets in London. The market is a riot of smells, sights and sounds with traders selling flowers, plants and other foliage from all over the world. Many of the stallholders have been selling here for decades, always with a smile on their face and great banter. The flower market began as a trading market on a Saturday, but with the growing Jewish population it was moved to Sunday. Despite some rough times in the 1970s, the market has thrived and is now one of the trendiest, friendliest and liveliest places to spend a Sunday morning. Columbia Road is also home to some lovely boutique shops selling household goods, bespoke jewellery, art, clothing and pottery.
---
Goldsmiths Row Book Market
This very new book market opened only a few weeks ago and is already proving to be a hit. The Goldsmiths Row Book Market is definitely filing a gap in the area; with the visitors and trade generated from the surrounding Sunday markets Columbia Road, Brick Lane and Spitalfields, this market is in prime position. Goldsmiths Row sells books old and new, with an emphasis on art, design and photography, but you will also be able to pick up Penguin Classics and children's book. So grab a coffee, head to East London and pop along to Goldsmiths Row for your next book fix.
---
Borough Market
Borough Market is every Londoners foodie dream. Despite the crowds that fill the market each week, us Londoners can't help but keep returning. The trade of food has been synonymous with the area for hundreds of years and although parliament closed it in 1755, local residents clubbed together to buy a piece of land so it could reopen. The same sense of community is still evident today as the market is the centre of local life. The traders sell British and international produce; I love how they describe their international food selection - "like a United Nations of specialist food importers." You could easily do all your week's shopping in this one market, if you had the money, but popping down every now and again to get some great British sausages or stinkingly good cheese will not break the bank. You can always just go along, walk around and pick up an amazing Monmouth coffee whilst you peruse and maybe sample one of the beautiful pastries, wraps or other nibbles that are on offer.
---
Brick Lane
Brick Lane is a must for any visitor to London. Not only are all the regular shops and restaurants open, and people selling second hand goods, there are usually plenty of musicians and street performers to keep you entertained as you wonder your way down this bustling, lively road. At Brick Lane you will find vintage clothes, random jewellery and furniture, and assorted bric-a-brac. The heritage of the area is still evident with an awesome 24-hour Jewish bagel shop and the current population of Bangladeshis ensure that you won't go hungry with an incredible selection of curry houses. The Sunday Up Market in the Old Truman Brewery holds around 140 stalls selling a huge array of fashion, crafts and interior goods and is a platform for up and coming artists and designers. There is also a great selection of food stalls from around the world to keep you fuelled as you make your way round; you could easily lose yourself for the day here.
---
Greenwich Market
One of the great things about Greenwich Market is that it's a covered market, and with our great British weather, a welcome feature. The market was first built in a drive to clean up the Thameside area in the 1800s. By 1831 the market was selling live cattle, meat, fruit and veg and some of the old slaughterhouses and stables for horses are still visible today. These markets did well and thrived for a number of years, but fell into decline after WW2. But, inspired by the success of Camden Market in the 1980s, Greenwich Market flourished with new arts and craft stalls. Today the market stalls sell a range of beautiful jewellery and art and you will certainly be able to find a few vintage and antique treasures. As with most of our great London markets, Greenwich has a wonderful range of mouth-watering take away food and artisan products.