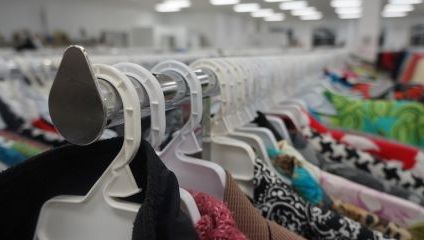 We take a look at five of London's best vintage clothes shops...
The Club to Catwalk exhibition at the V & A about Eighties' fashion made us think of the influences and inspirations behind design. They include the former styles from which designers develop new forms of clothing. So that gave us the perfect excuse - if ever we needed one - to send Nicky Charlish across London to look at five of the capital's leading vintage clothes shops.
If you go hunting in Soho for vintage clothes, you won't be disappointed with Beyond Retro. As you descend the stairs leading to it, you feel as if you're entering a night-club - the shop's name is picked out in red neon above the entrance, and a glittering disco ball hangs over the floor. Frilly skirts hang from part ofthe ceiling, as if dancers are doing an airborne can-can. The clothes are hung on an orderly maze of racks. There are good changing rooms where you have space to manoeuvre and you don't get that, wet musty feeling that you sometimes get when trying things on in shops. The staff are young, inventively dressed as if they're just about to go out clubbing, and extremely helpful. There are also branches in the East End, Brighton and Sweden.
Taking shelter in Covent Garden is Blackout II. This small shop's title recalls London's darkened streets during the bombing of the Second World War, but its interior is far from grim. It's almost bursting at the seams with what feels like a tidal wave of luxurious goodies from bygone days, and you're almost sure to find what you want. But, if you're not quite certain about what you need, the experienced staff will help you get your look just right.
The cool streets of the East End have their fair share of vintage stores, and at its epicentre is one of the new kids on the block. When you visit Blitz you find yourself with two spacious, clean and well-lit floors of clothes and period accessories to explore. Impressive attractions which demand your attention are large displays of watches and sunglasses, cabinets of jewellery and several shelves of handbags. There are magazines and books - including ones devoted to style and fashion - available too. For relaxation and refreshment, there's a coffee shop - and loo - for customers. Check for special discounts.
Thinking about the urban sprawl south of the Thames is more likely to bring to mind Mark Timlin's 'Sharman' crime novels - set in the capital's southern killing fields - than vintage fashion. Think again. Waterloo's Lower Marsh - once a Dickensian haven for dark deeds- now plays host to a lively community market. Radio Days resides there, selling clothes from the 1920s to the 1980s. As you enter the shop a blast of music - say, Swing from the 1940s - greets you as you take in the store's contents before you start your search among the crowded but well-arranged rails. You can also find vintage sheet music, old advertising posters, ceramics, cocktail accessories, domestic items like tins and clocks, art deco period pieces and Fifties kitsch. If you want to transform your habitat into a place where Harry Enfield's jolly decent and well-spoken comic creation Mr Cholmondley-Warner would feel at home, this is the place for you. Radio Days does prop hire, too - useful to know if you need something for that special vintage-themed promotion or if you're an amateur dramatics' enthusiast.
At first glance, West Norwood doesn't seem to be bathing in the cascade of cool which has washed recently over nearby Balham, Brixton and Peckham. But a two-minute walk from the railway station enables you to discover that it plays host to Cenci. Formerly based in Covent Garden's Monmouth Street, this business now has a large warehouse-like shop tucked away in a side street. Ringing the security gate bell gains you entrance to what feels like a never-ending range of clothes and accessories, and that instils the sense that there's something special lurking there just for you - even if you don't know what it is. But, with two decades in the business under their belt, the staff will help you find it. Apart from the content, this shop deserves to be better known for its potential to help transform the area.
Good hunting, and dress to impress!