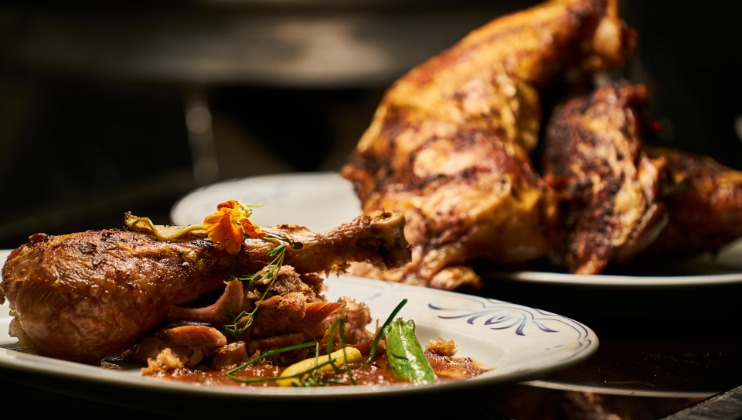 For hearty, traditional, good pub grub and for some of North London's best Sunday roasts, look no further than the quintessential Islington pubs. We scoured the stunning Georgian and Victorian old streets of Islington to bring you our top 5 best Sunday roasts from some of London's best gastropubs.
The Duke of Cambridge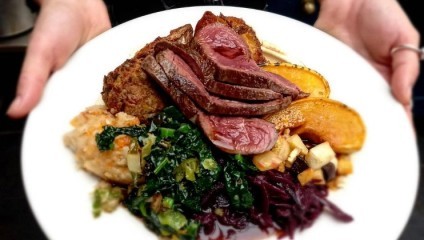 Sunday roasts : Organic, gastropub serving traditional, rustic Sunday roasts
For mouth watering, indulgent, and one of the finest Sunday roast dinners in Islington, be sure to visit the Duke of Cambridge, Britain's first organic gastropub with an outstanding reputation for service, natural, organic and seasonal food. Without a doubt this traditional, rustic, Islington pub serves up one of the best roast dinners in London. From the finest seam cut lamb rump served with new potatoes through to a delicious veggie Sunday roast of roast squash with mushroom ragu, served with purple sprouting broccoli.
Sister pubs and restaurants across East and North London 'The Culpeper' near Spitalfields, 'The Buxton' on Brick Lane and 'The Green' in Clerkenwell are also worthy winners of London''s best roasts.
Duke of Cambridge: 30 St Peters Street, Islington, London, N1 8JT
---
The Albion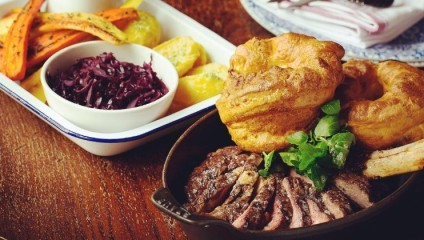 Award winning Sunday roast dinner: Grilled prime cuts and slow cooked specialities
Gather with friends or treat the family to an award-winning Sunday roast dinner or a pint at one of London's Georgian gems, The Albion. Dripping with wisteria which can be enjoyed from the garden in the summer and oozing English pub warmth and sophistication with its open log fires, The Albion is the pride of Islington pubs serving traditional roast dinners such as roasted lamb or topside beef and a top veggie Sunday roast of celeriac and spinach wellington.
The Albion: 10 Thornhill Road, Islington, London, N1 1HW
---
Smokehouse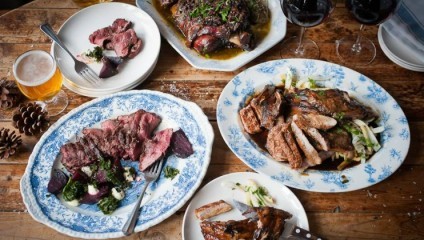 Sunday roasts: grilled prime cuts and slow cooked specialities
You'll be spoilt for choice at the Smokehouse in Islington as their 'Sunday Menu' offers a plethora of delicious Sunday roasts for both meat eaters, vegetarians and pescatarians. The Smokehouse works with some of the best farms and butchers to ensure a Sunday lunch menu of fresh coal grilled prime cuts and slow cooked specialities.
The Smokehouse certainly serves up one of the freshest, Sunday roasts in London. Enjoy their Pork ribeye or Lavington lamb leg served with roast potatoes, greens, maple carrots, cauliflower puree and a Yorkshire pudding, or their speciality lentil and buckwheat vegetarian roast. Vegetarian roast dinners at the Smokehouse will not disappoint.
Smokehouse Islington: 63–69 Canonbury Rd, Islington, London, N1 2DG
---
The Old Queen's Head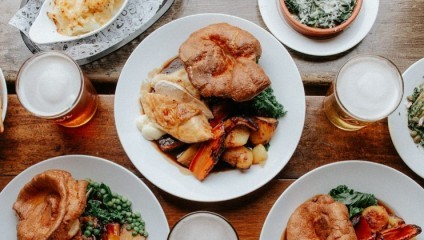 Award winning Sunday roasts: Outstanding vegan chestnut mushroom wellington
The Old Queen's Head is well-known for its hit club and comedy nights, but that's not all there is to this atmospheric north London pub. The Old Queens Head is also known for its award winning Sunday roasts, from their vegan Sunday roast, the 'chestnut mushroom wellington' through to their more meaty Sunday roast options from a leg of lamb or the longhorn beef to their corn fed roast chicken, all served with delicious seasonal veg. Grab the cocktail list and enjoy a pre roast dinner cheeky round of cocktails - we recommend the Paloma Spritz.
The Old Queens Head - 44 Essex Road, Islington, London, N1 8LN
---
The Pig & Butcher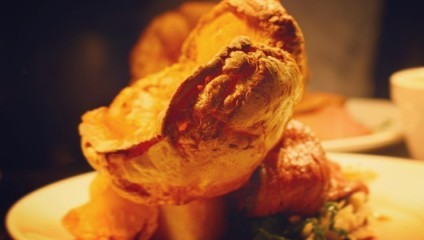 Sunday roasts: Quite meaty, but don't despair, vegetarian and pescatarian guests are catered for.
Opt for a Sunday roast at The Pig & Butcher and you are in for a real treat. This North London pub loves everything 'meaty' and prides itself on sourcing its meat from the best farms and suppliers in the UK and butchering downstairs in a specially built room on the premises. The Sunday lunch menu changes regularly with roast beef and roast lamb being amongst the popular Sunday roast meat dishes and nut roast a firm favourite with vegetarians. You can enjoy what the Evening Standard's food critic called 'food worth getting fat for' in the warm and cosy surroundings of The Pig & Butcher for that perfect Sunday feeling.
The Pig & Butcher - 80 Liverpool Road, Islington, London, N1 OQD
---