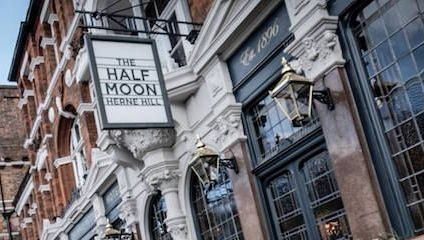 A slice of counrtyside in zone 2 London

Tucked away in between Lambeth and Southwark, Herne Hill is London's hidden gem that you'll be horrified you haven't discovered before. With independent cafes and pubs lining the streets and a gorgeous park over the road, you'll hope it stays hidden for a bit longer, so that you alone get to enjoy its delights.

On sunny days there's really nowhere better to be than sprawled out on a blanket in Brockwell Park, with views of London before you. The beautiful 125-acre park is also home to the Grade II listed Brockwell Hall. Each year, for two days in July, the park is taken over by Lambeth Country Show and has a long history of hosting huge music events, so there's always something exciting going on if you want more than the usual picnic. At the top of the park you can find Brockwell Lido, the very best place to cool off on those sticky summer days. The open-air pool also offers dance and Pilates classes, but we know you're just there for the Instagrams of their colourful changing room doors. We won't tell, promise.
Brockwell Lido
After all that time in the sun it's very important to refuel, and luckily Herne Hill has some of the best cafes and restaurants around. The Half Moon does an absolutely slap up Sunday roast, as well as great selections of beers on draught and a lovely pub garden to enjoy it all in. If pub gardens are your thing you're also going to want to check out The Prince Regent down the road, a chic family friendly pub, with a lovely patio space and delicious burgers. If you're after something lighter, Blackbird Bakery has a huge array of pastries, sandwiches and cakes, all made at their big bakery. Perfect for a pit stop before your Brockwell Park picnic.
Brockwell Park (c) Berit Watkin Flickr
If you're lucky enough to be venturing to Herne Hill on a Sunday, then it would be hard to miss Herne Hill Market. Full of local businesses, street food from around the world and craft wares, wandering around is an adventure in itself before you even get round to sampling anything on offer. It's a proper community market, set in between rows of local shops and down nearby streets too. There's plenty of treats to be found. If you want some culture after all that wandering, head to Off the Cuff, a live music venue and bar under the railway arches, jam packed with acts both up-and-coming and established but always determined to give you a good show.
Herne Hill Market
If you want something a bit fancier than a pub for your drinks, head to First Aid Box. Premium cocktails all themed around health and nutrition but with that all-important alcoholic twist. If you think you know your cocktails, wait until you step into this tiny bar that feels like a science lab. They even have a Peaky Blinders themed back room open on Friday and Saturday nights. What more could you want?!