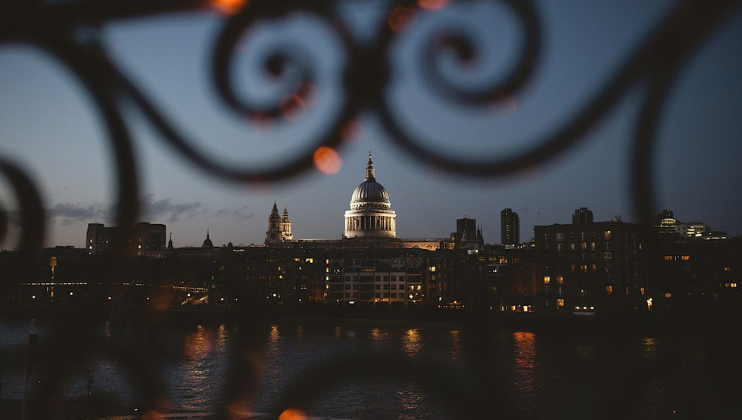 You can't take a trip to London without visiting the world-famous Shakespeare's Globe. Located on the edge of the River Thames on London's Southbank and founded by pioneering actor and director, Sam Wanamaker, the theatre attracts over a million visitors a year keen to catch one of Shakespeare's legendary plays.
Whether you're looking for a brunch, lunch, evening meal or a quick pre-show drink, the theatre has a well-respected restaurant, bar and cafe to cater for everyone's needs. Perhaps the most famous is the aptly named Swan at the Globe.
Located on the banks of the Thames with stunning views of the river and St Paul's Cathedral, the indoor and outdoor restaurant serves up a varied selection of Seasonal British produce using local ingredients.
Tuck into roasted Cornish Cod, poached rose veal cheek in a veal broth or roasted Kentish chicken all served up with a plethora or English veg. including asparagus, baby leeks, Jersey Royals, or parmesan and truffle chips. Yum!
If you've got room for more, you'll struggle to pick from the dessert line-up that tempts you with sticky toffee pudding, Kentish strawberry cheesecake with white chocolate and, of course, a very fine sounding English cheeseboard.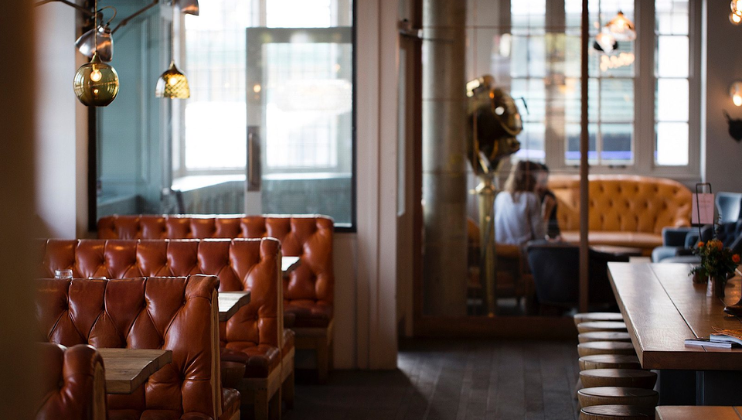 The Swan also offers a reasonably priced two course River View Menu priced at £27.50 or you can upgrade for three courses at £32. The menu choice is generous offering a nice choice of 3 starters, mains and dessert including catch of the day and slow-cooked neck of Welsh lamb.
Looking for a London Afternoon Tea with a twist? The Swan's magically themed A Midsummer Night's Dream inspired afternoon tea is the one to go for. For £40.50 per head, you can sink into a mix of British themed sandwiches – Scottish Salmon, Kentish chicken, Clarence Court eggs on a variety of breads. Scones are served with clotted cream and jam, followed by a layer or tantalising Midsummer Night themed sweets – Titania Queen of Fairies, Enchanted Forest and Honey Bags and Bumble Bees.
A vegetarian and a vegan tea are available as well as a savory Gentlemen's Tea.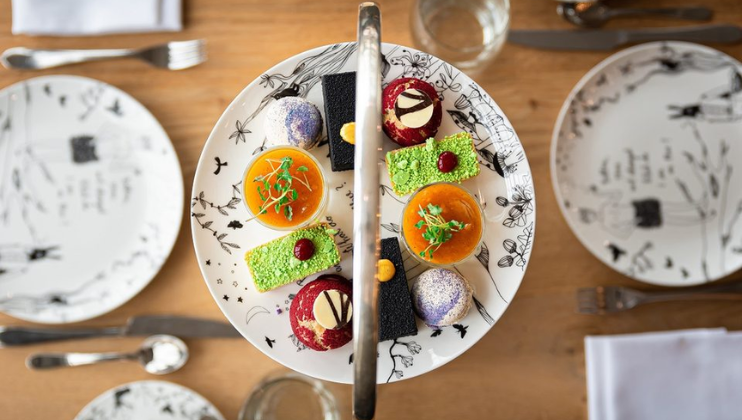 Afternoon Tea is served in the restaurant and is available from midday to 5pm Monday to Friday. Booking is highly recommended.
The restaurant is open daily from 12pm with the last sitting at 9pm and 6pm on Sunday. Afternoon tea is available Monday to Friday 12-5pm. The bar at The Swan is open from 11am to 11pm and midnight on Friday and Saturday nights.
Restaurant reservations can be made here or by calling +442079289444.
Alternatively, if you're looking to grab a quick drink and a light bite pre. show, the Foyer Café located in the foyer at Shakespeare's Globe, just below the shop, is ideal.
The coffee's good and there's a nice selection of savoury pasty and sweet treats to go with it. There's ample space to sit down and brush-up on your Shakespearean plot ahead of the performance starting.
The cafe is open from 10am – 6.30pm Monday to Wednesday. For further other opening times, click here
For more information on what's currently showing at the Sam Wanamaker and Shakespeare's Globe theatres, take a look at the full programmes here: