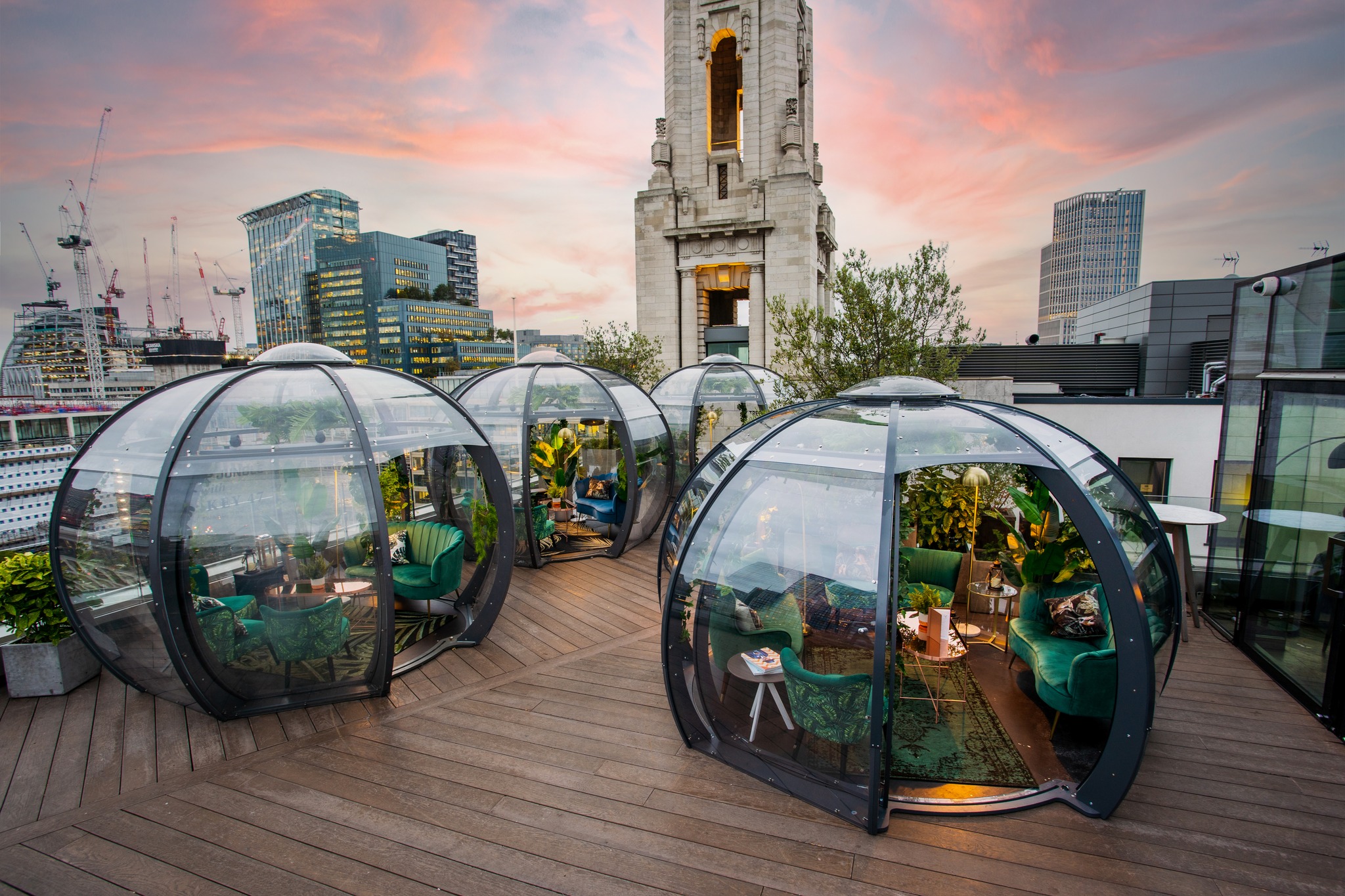 Spring is finally here and the sun is peering back out, time for a beverage at a rooftop bar in London...
What better way to welcome the spring than with good food, friends, and a fantastic view? There's no better way to see London than from above, and luckily, there are dozens of rooftops bars located all over the captial, From east to west you'll find everything from high-end rooftop lounges to hipster hangouts to rooftop gardens filled with quaint cocktails and character- not forgetting instagrammable views and if the weather tables turn, there's no need to worry- most of our hot spots are heated and covered when the British rain strikes.... so read on, and discover where you can find the best rooftop bars in London.
---
Golden Bee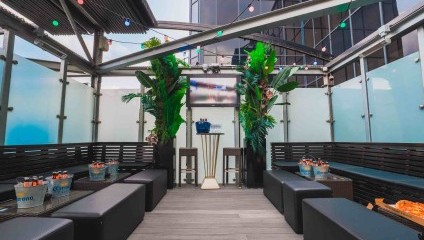 Singer St, London EC1V 9DD
Starting off with this glamourous lounge and cocktail bar in Shoreditch. Golden Bee is an oasis from the busy city. Featuring three floors of space it boasts stunning views over East London. Known for it's lengthy cocktail list, mirrored ceiling and bright decor it's the prime place to people watch from above after a long days work. The rooftop bar not only boasts a cosy fire pit, but also heating and a retractable roof, perfect for when the weather turns south. The cocktail menu is vast and seasonal, thoughtfully designed by mixologists using locally sourced ingredients, and if you can't find your favourite tipple on the menu, don't worry; the bartenders are happy to mix at your request; providing they have all the right ingredients to hand. When it comes to food there's not alot on offer- they're not a restaurant after all, but you can preorder sushi and pizza with them should you get peckish!
On the weekends, Golden Bee turns it up a notch, with their DJ's playing a mix of genres and top hits, keeping everyone dancing until 3am. There's no booking fee but if you want to guarantee somewhere to sit we recommend making a reservation. You can do that here.
Stay up do date with their upcoming ticketed events too- there's something to suit everyone!
---
Sabine Rooftop Bar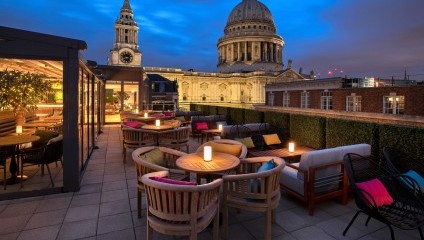 10 Godliman St, London EC4V 5AJ
This beautiful botanical rooftop bar can be found near the London landmark, St. Pauls. Keeping it's ethos of being a secret garden oasis in the concrete jungle of the city, this spot is truly a hidden gem. The views are not only breathtaking, but Sabine's outside terrace and glass domed roof gives unparamounted views across the city... and if you're a gin lover, you're in for a real treat- they have a menu solely dedicated to G&T's.
You'll find this little tranquil spot perched on the 7th floor at the Leonardo Royal London St. Pauls, fit for any weather with the coservatory and retractable roof. April showers who? Grab a delicious plate for lunch on one of their al fresco sun terraces where you can have an incredible close-up view of St. Paul's Cathedral along with panoramic views of the London skyline. Check out their menu here.
Like all of our recommendations, with the sun creeping out these places can get pretty packed and we highly recommend you making a reservation to avoid disappointment.
---
Aviary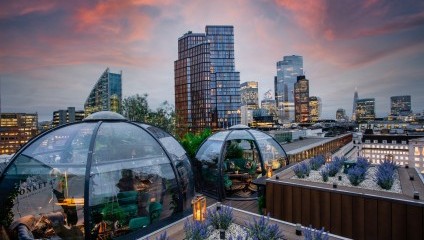 Royal London House, 10th Floor Montcalm, 22-25 Finsbury Square, London EC2A 1DX
Usually abuzz with unwinding office workers enjoying post work meals and cocktails as the sun sets over the city, Aviary is a sleek, spacious bar with fantastic cocktails and fabulous views. The cocktail menu leans more towards the traditional with an additional 'make it clean' menu featuring non-alcoholic cocktails, just in time for dry January.
In lieu of the cold weather, there are cosy igloos available to book at the Aviary, keeping you warm until spring time appears letting you look over London from the 9th and 10th floors of the Montcalm Hotel. With low lounge seats and carefully placed trees there's a cool comfortability here that's prime for relaxation. Book a table for brunch to experience prime sunshine!
---
Queen Of Hoxton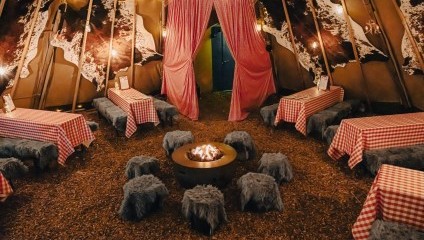 1 Curtain Rd, London EC2A 3JX
This bar is one of a kind and many things all at once. It's a bar, nightclub, roof terrace, performance space and an art gallery all squeezed into three floors of the same building with a different theme on the rooftop each season- meaning frequenting this place is never a dull moment. Usually very colourful, Queen of Hoxton welcomed Mexican Mania to Las Vegas Glamour.
You can expect roof raising (or in this case not) parties, combined with rooftop cinema evenings and exhibitions with the ethos of 'all fiesta and no siesta'. Eliminate all possibility of boredom and head on over for year round fun. Whilst the views are great, you'll probably be more distracted by the gaudy decor. This seasons theme is a giant Wigwam with an apres ski personality weaved in the make the last of the winter days bearable. Grab a reasonably priced cocktail from the menu (or a delicious burger from downstairs) and check out one of their many events.
Queen of Hoxton don't accept reservations for the rooftop, so we highly recommend heading over at a reasonable time, especially on weekends. The roofotp opens Wed-Fri at 4pm-9.30pm and Sat-Sun 2pm-9.30pm.