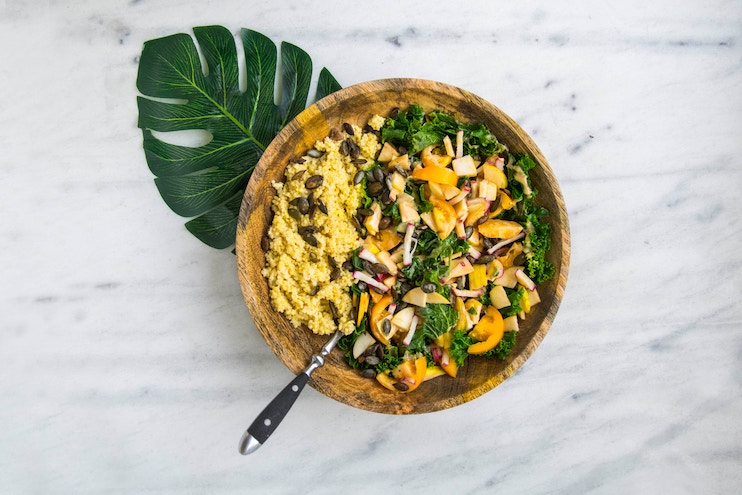 Don't just settle for a vegan sausage roll
We're in the middle of a vegansplosion, but don't just settle for a vegan sausage roll. If you want the best plant-based food around, Brixton is the place to be. Check out the area's top vegan spots below.
---
Eat of Eden
Eat of Eden doesn't look particularly special from the outside, but that is because the team here place all their energy into sourcing the best ingredients for delicious, heart vegan dishes. At Eat of Eden you can build your own bowl of goodness with a main, a grain and a side, meaning there are endless combinations of tastiness. Options include a creamy chickpea curry, traditional Caribbean ackee fruit cooked with a blend of spices and crispy, flaky dal patty, served with quinoa, bulgar or red rice. Eat of Eden is a staple for any new or long serving vegans.
---
Ms Cupcake
If you have are a vegan with a sweet tooth, Ms Cupcake is the spot for you. Not only is it the first completely vegan bakery in Brixton, but it is the first of its kind in the UK too. Head into their store to pick up one of their freshly baked cupcakes, with flavours such as sumptuous salted caramel or chocolatey double Oreo. And if you fancy a festive treat, their Snowman marshmallow cupcake is just as cute as it is delicious. You can order cupcakes and birthday cakes too from the website, if you want to send a little joy to a vegan friend!
---
The Oracle Organic Juice Bar
Nestled in Brixton Village market, organic juice bar The Oracle is an organic and raw food specialist which serves up a colourful range of juices and smoothies to give you a much need boost of vitamins for cold season. Choose your own concoction of fruits for a personalised blend or opt for one of their tried and tested combinations. With quick bites to grab on the go, like raw energy balls and sandwiches, this is a great spot for a quick stop on your commute to start your day right.
---
Katakata
With a beautiful deck for sunny mornings and a cosy library inspired interior, Katakata is one if the prettiest places to try vegan food in Brixton, specialising in vegan friendly French galettes and crepes. Their vegan galette bases can be filled with a range of vegetables such as spinach, tomatoes, asparagus, aubergine and more for a delicious and satisfying dish for any time of day. Katakata also is an arts space, which offers a place for local artists to showcase their work with exhibitions, events and showcases so you can immerse yourself in the local community.
---
Habesha Village
Another Brixton Village favourite, Habesha Village serves up authentic Ethiopian street food. Their menu consists of a variety of vegetable sauces, each individually spiced and flavoured, all served on a huge sharing Ethiopian flat bread, making it a great choice if there is a group of you dining. Some of the sauces include spinach cooked with garlic, ginger and chilli or Tikal Gomez, a cabbage based dish cooked with carrot, potatoes and turmeric. We suggest choosing a variety to really explore the variety of spicy, sour and sweet flavours Habesha Village excels in. And if you want to fully immerse yourself in Ethiopian culture, go along to one of their entertainment nights where they have traditional dancers and singers to enjoy.