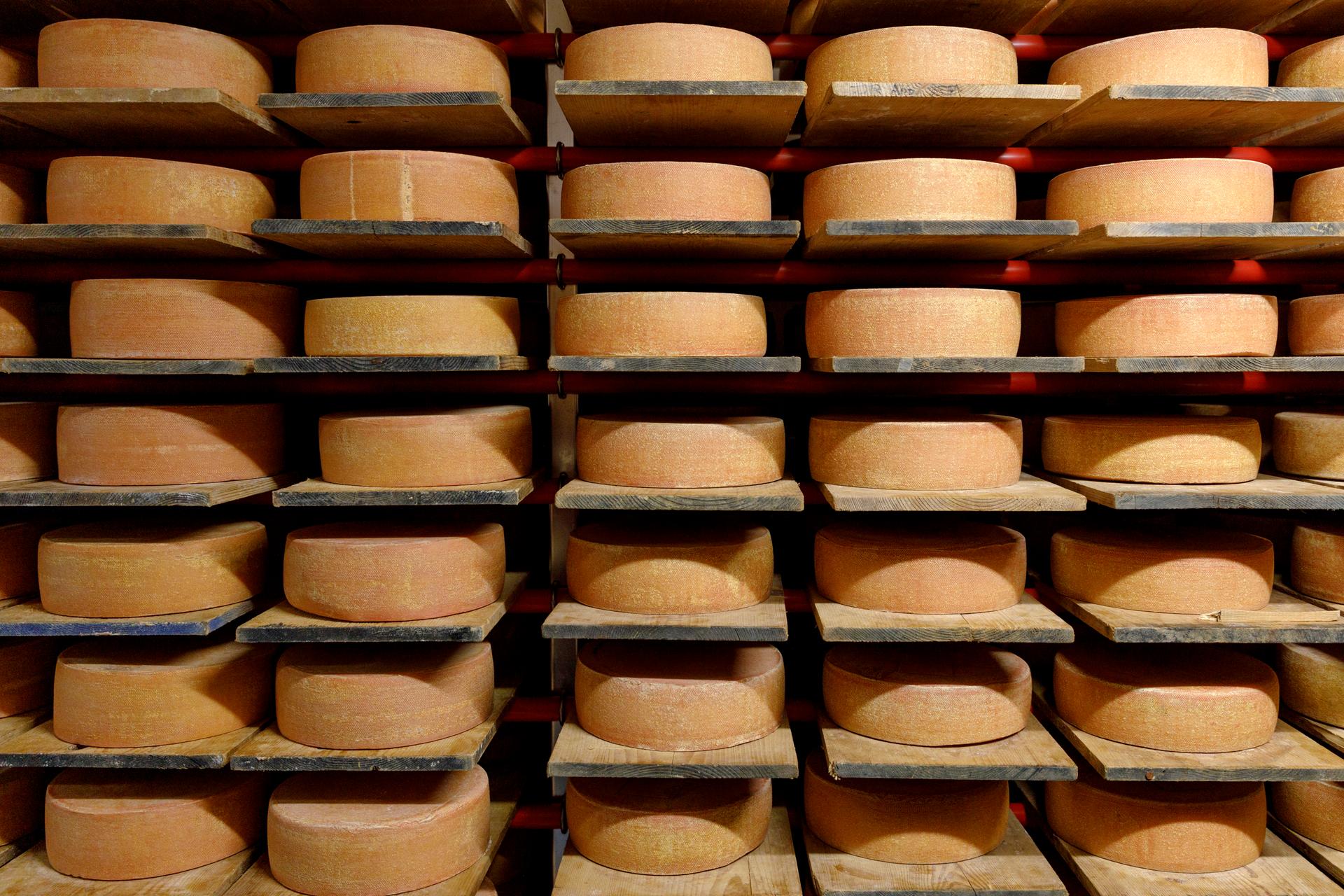 These London cheese bars are as 'gouda' as it gets...
Nothing is quite as fine, as a bite of cheese and a glass of wine (and some charcuterie and a low-lit atmosphere perfect for setting the mood) and it's been scientifically proven! Cheese has a drug-like effect on our brains, so we've decided to satisfy the craving with our list of the top cheese bars in London. Nothing gets cheddar than this...
---
Champagne & Fromage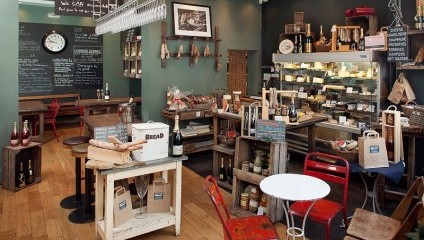 Covent Garden: 22 Wellington Street, WC2E 7DD
Greenwich: 34 Chruch Street, SE10 9BL
Not the first combination you'd think of (and don't worry, they also serve wine for those that are not much of a bubbles enthusiast) Champagne and Fromage provide an unexpected but delicious duo. Tuck into two of France's greatest exports in masterclasses, weekly tastings, or just simpling head to the bar and sample what you can see. Their itinerary is packed with events making the champagne and cheese tasting both immersive and educational.
Take the experience home with you too; you can purchase over 50 cheeses from the store, from Brie to baked Camembert, which you can combine with complimentary and delicious flavours from honey and rosemary to black truffle or sundried tomatoes. So book a table, relax and take it cheesy...
---
La Fromagerie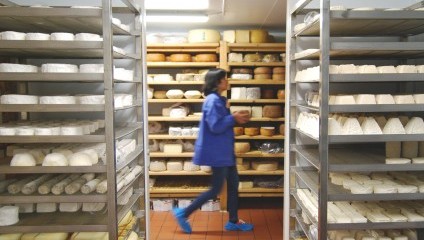 Highbury: 30 Highbury Park, London, N5 2AA
Marylebone: 2-6 Moxon Street, London, W1U 4EW
Bloomsbury: 52 Lamb's Conduit Street, Bloomsbury, London, WC1N 3LL
Founder: Patricia Michelson, discovered her love of cheese whilst skiing in Meribel. She returned to London with a huge wheel of Beaufort Chalet d'Alpage and proceeded to sell it from her garden shed. Now, years later down the line, Patricia owns locations across London sharing her love of cheese with its inhabitants.
We all know cheese is not just an evening delight, and La Fromagerie provides cheese delights throughout the day, from breakfast to dinner. Each selection of cheese is also paired carefully with individual wines promoting a powerful palette of flavour.
There's also a bunch of ticketed and private events to get stuck into, from cheese tastings to sit down suppers where you learn about the origins of your meal. There's also the option of taking the cheese and wine home with you so when you next throw a dinner party you can really wow your guests with your knowledge. They're all so tasty, you'll end up on a shopping Brie!
---
WC (Wine and Charcuterie)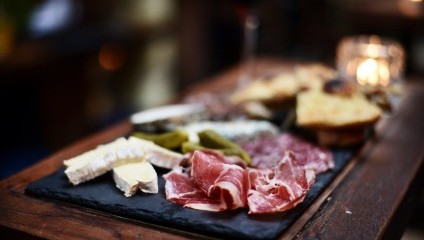 Former Public Convenience, Guilford Pl, London WC1N 1EA
We don't normally suggest you mix wine, charcuterie and a public toilet, but in this case we'll make an exception. We're kidding obviously... well, half kidding. Wine and Charcuterie, also known as WC believe it or not actually used to be a public toilet. Diligently transformed into a cosy wine bar, many parts of the original decor have been preserved with a dash of intimacy offering Londoners respite from the busy streets. They deliver an approachable service with delectable sharing boards on offer and even delicious vegan options available too! Check out their menu here!
There are thoughtfully paired wines and champagnes to match your meal and a tasty cocktail menu to browse through. Despite the name and heritage, you won't find anything gimmicky here, more a delightfully low-key, affordable joint nestled in the centre of London, perfect for dates, catch-ups and celebrations.
---
Cheese at Leadenhall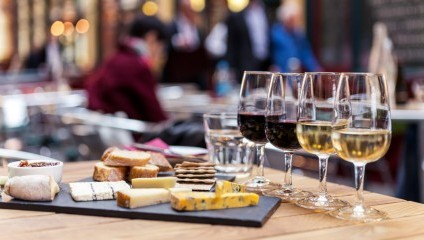 4-5 Leadenhall Market, London EC3V 1LR
Located in the heart of the historical Leadenhall Market, Cheese at Leadenhall boasts an extensive collection of over 100 artisan British and European cheeses all paired with wines that will transport you to different regions of the world through deep, sharp and creamy flavours.
The wine and port bar is small but perfectly formed, with a covered outdoor terrace for you to sit and bask in the bustle of the city, whilst you grab a gouda seat and indulge in cheesy goodness. If you're looking for something a little more informative, why not book a cheese and wine tasting experience- just don't blame us if you end up buying the whole cheese selection after!
---
Gordon's Wine Bar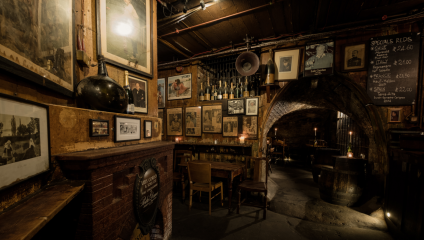 47 Villiers St, London WC2N 6NE
Known for its wine and highly frequented for its delicious array of cheeses is Gordon's Wine Bar. It's London's oldest wine bar and was established in 1890. It still sports its original décor making it a unique watering hole that has been quenching thirsts and satiating appetites for over 130 years. Right in the heart of London's theatreland, it's truly a hidden gem with both indoor and outdoor seating. Explore the rustic interiors that have walls plastered with old photographs and newspaper clippings of historic events, alongside old oak barrels filled with sherries and port giving you the perfect environment to step away from the madness of the city and into this candlelit ambiance.
There's several different types of cheese to choose from, with a menu boasting a selection of hard, soft and blue cheeses. From Dambuster to Schlossburger, Chèvre to Stilton, there's even a selection of vegetarian, organic and unpasteurised cheeses for those that want to go easy on the stomach.
If you're in the mood to try a selection, why not grab a cheese board. For the uber selective, you can build your own! It may be the last on our list, but it's certainly not the least, Gordon's Wine Bar truly beholds a charm that can't be beaten, just make sure to arrive at a good time as they don't take reservations and they tend to get busy quickly. We totally understand why!
---
Pick & Cheese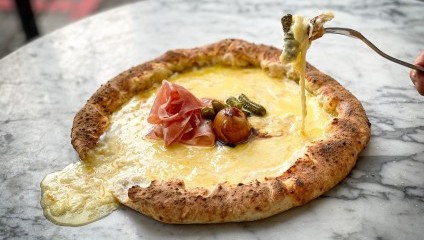 Seven Dials Market, Short's Gardens, London WC2H 9AT
Welcome to Pick & Cheese, London's first cheese conveyor belt restaurant in Seven Dials Market, brought to you by Camden's Cheese Bar team. Feast your eyes and taste buds on an all-British selection of small producer cheeses, like buttery Gubbeen and farmhouse-style Fellstone, gliding before you on a 40-meter cheese-laden belt. Don't miss the British charcuterie plates and their twist on the legendary Cheese Truck grilled cheeses. Pair your cheese adventure with natural wines from Les Caves de Pyrene. Join their Bottomless Plates extravaganza every Wednesday for £25pp. Booking with a £10pp deposit is essential, and remember to cancel within 48 hours. Embrace the cheesy goodness at Pick & Cheese – where cheese dreams come true!
---
Gloria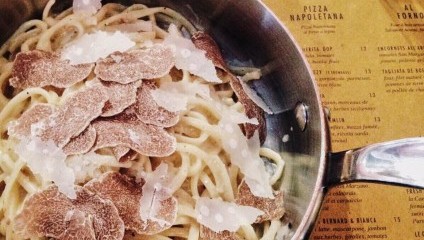 54-56 Great Eastern St, London EC2A 3QR
Gloria, the glitzy Italian sensation in London, is a must-visit on our list, though not necessarily a cheese bar itself. It's, in fact, a trattoria nestled in the heart of Shoreditch, but their pasta is literally made in cheese wheel, putting it forward as a strong contender. Oversized desserts, stylish decor, and friendly Italian waiters add to the fun ambiance. Sourcing top-notch products from 180 small producers in Italy, Chef Armando creates an explosive menu that mixes old Italian classics with delightful twists. Step into Gloria for a cheesy adventure you won't regret – it's an experience that'll have you saying "Parm-e-wow!"
---
Cheezelo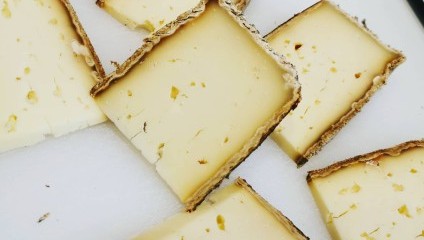 46 Chalton St, London NW1 1JB
Cheezelo, the ultimate cheese paradise in London, lives up to its motto: "smile with more cheese in your life." This cheese shop offers a delightful experience with their famous cheese platters, grilled sandwiches, raclette, and fondue. Whether you're celebrating a special occasion or just craving some cheesy goodness, Cheezelo has you covered with over 70 varieties of high-quality cheeses from around the world, including vegan options made from various nuts and organic ingredients. Founded by Eleonore, aka Elo, a cheese enthusiast from Normandy, Cheezelo is all about sharing her passion for fine food and cheeses. From regional cheese platters to charcuterie and other delectable products and services, Cheezelo promises an unforgettable cheesy adventure for all cheese lovers. Follow them on social media for cheesy news and recipe inspiration. Whether you're a seasoned cheese lover or looking to explore dairy-free options, Cheezelo is the cheesiest stop in town that'll have you saying, "Cheese, please!"
---
Vivat Bacchus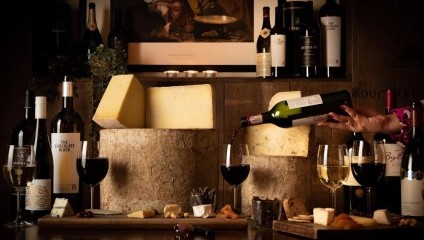 Farringdon: 47 Farringdon Street, Holborn, London, EC4A 4LL
London Bridge: 4 Hays Lane, London Bridge, London, SE1 2HB
Embark on a cheesy adventure at Vivat Bacchus, where their famous walk-in cheese rooms are a dream come true for cheese lovers. With guidance from their cheese aficionados, guests can indulge in samples from their impressive 40-strong collection, helping them curate the perfect cheeseboard. And as every true cheese connoisseur knows, a cellar full of wine calls for an equally delectable cheese selection – a philosophy Vivat Bacchus embraces wholeheartedly. As a nod to their South African owners, the wine list predominantly features South African wines, showcased in their walk-in wine cellars, offering the ultimate wine and cheese pairing experience.
---
Chez Bruce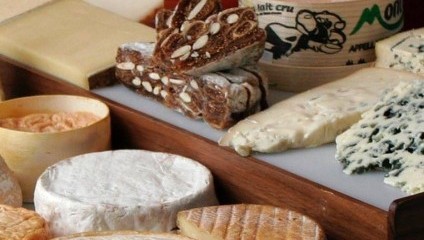 2 Bellevue Rd, London SW17 7EG
Another contender not solely dedicated to cheese, but still worthy of being on the list due to it's delicious, carefully curated cheese board. For Chez Bruce, it's all about continuous improvement in the kitchen, wine, and dining room departments, proving that when it comes to cheese, there's no cheddar way!
Assembling their iconic cheese board is no small feat – it's a cheese-tastrophe of epic proportions! From sourcing the perfect suppliers to meticulous taste tests, Chez Bruce leaves no curd unturned to ensure the utmost flavor and consistency. Handling each step with absolute precision, they guarantee you the crème de la cheese. Whether you're a gouda enthusiast or a cheese connoisseur, Chez Bruce takes cheese seriously, and they're not feta-ing around! So, if you're looking for the ultimate cheese experience in London, Chez Bruce is the place where your cheese dreams come true – it's simply grate!