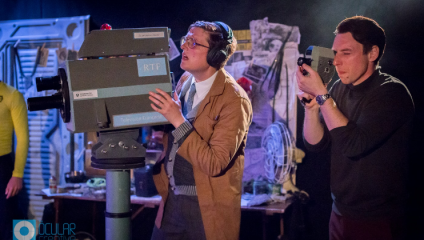 Venture down to South London to find theatres catering for rare revivals, new writing and musicals - all with great pubs attached.
A play and a pint. As satisfying to write as it is to experience and South London's pub theatre-scene has plenty to offer in this respect. Venture down to SE/SW territory and you'll find a range of theatres catering for rare revivals, new writing and musicals - with the added bonus of great pubs attached alongside. We've delved into the South London pub theatre scene for you, so head forth and enjoy pints, plays and performances galore in these fine establishments.
The Bridge House Theatre
Bridge House, 2 High St, London SE20 8RZ
We'll begin deep in South East London… The Bridge House Theatre is nestled to the side of Crystal Palace Park, in between Penge East and West stations, and is a producing house that works with both established writers and emerging talent. They have shows available almost every other day of the month ranging from comedy to choir, children's shows and plays. So there's plenty to stay entertained with. Tickets start from £8 upwards and their creative space is even available for hire and workshops.
The Bridge House pub itself is tree-lined, vibrant and - importantly for its park-side location - dog friendly. Their menu's aren't half bad either.
---
The Brockley Jack
408 Brockley Road, London, SE4 2DH
Moving up into Brockley takes us to the Jack Studio Theatre, housed above The Brockley Jack, and recipient of a staggering 56 Off-West-End nominations over its 25 seasons of programmed work. The black-box theatre is a versatile space that focuses on supporting emerging companies and writers alongside its own self-produced plays and musicals. The programming is broad - new musicals, revivals and plays all regularly feature - and the theatre also runs new writing competitions and Scratch nights. The pub itself is full of local colour, and proud to host the theatre upstairs.
Their upcoming shows for the next few months consists of theatre, workshops and film.
---
Bread and Roses Theatre
68 Clapham Manor Street, London, SW4 6DZ
We'll switch across to South West for our next two stops. Clapham's Bread and Roses Theatre is home to more experimental work from emerging artists, and launched the Clapham Fringe Festival to further support the creation of new work. With an artistic programme that leans towards formally inventive work, or theatre from distinctive voices, it plays an important part in South London's theatre ecology by fostering a loyal audience with an appetite for something different.
The Bread and Roses pub itself is similarly creative in its events. Their live music offering is consistently strong - they even have their own stage at Glastonbury!
With tickets starting from as little as £9 for their upcoming shows, it's definitely worth swinging by.
---
Theatre503
503 Battersea Park Road, London, SW11 3BW
Heading over to Battersea, we come to one of the big hitters in London's new writing scene - Theatre503. Originally an offshoot of the legendary Gate Theatre in Notting Hill, since it's rebrand in 2002 two productions that were debuted at the theatre have gone on to win Olivier Awards.
They offer writers programmes for anyone looking to delve into the world of script and story and their upcoming shows are a delightful mix of satirical and comedic performances. Their programming is always varied and consistently relevant, and taking a punt on a Theatre503 show is always worth it. You just never know when you might catch the next big thing in their intimate upstairs setting.
The Latchmere, above which the theatre sits, is a welcoming and warm venue to drink in before and after a show - particularly on long winter evenings.
---
The White Bear Theatre
138 Kennington Park Road, SE11 4DJ
Up in Kennington, The White Bear Theatre is a similarly prestigious venue, winning several major awards since its inception in 1988 and playing host to a large number of today's leading directors and writers on their way up the ladder. The programming focuses on new writing and revivals of lost classics, and the space is tucked away at the back of the pub itself - whose circular bar is full of charm and serves a particularly fine Guinness.
---