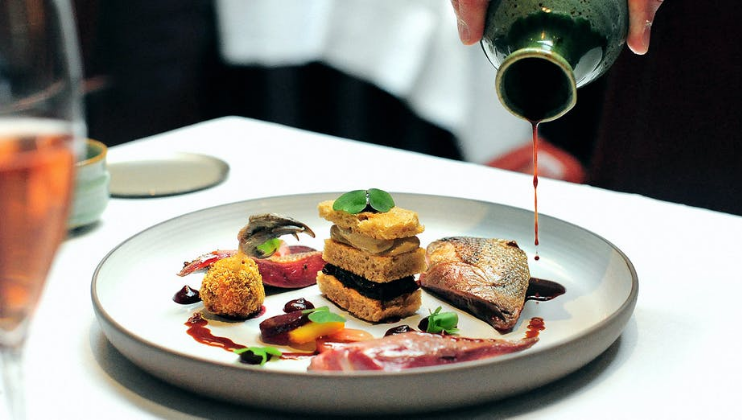 Once labelled as a hippy fad, right on, and for the extreme health conscious, vegan food is firmly mainstream and the menus are rich. Even McDonalds are in on the act.
There are now over 400 vegan and vegan-friendly  restaurants across London – one of the best served in the world (pardon the pun).  We've scoured London to unearth where they are so you no longer need to settle for a nut roast. Here's culturecalling.com's top picks:
If you're looking for the best, there are 3 Michellin-starred restaurants to choose from.  Let's start with those:
Gauthier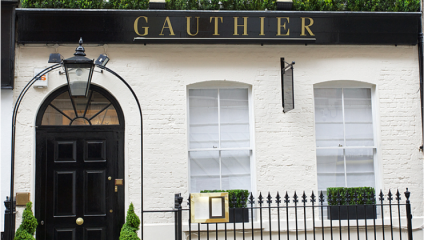 21 Romilly Street, W1D 5AF
Renowned chef, Alexis Gauthier, was one of the first Michellin-starred chefs to turn tables by announcing that Gauthier Soho was going fully vegan in 2019.  
He's followed it up by delivering the world's first sustainable restaurant, which, to you and me, means that his carbon footprint is low because of the ingredients they chose and they don't drain the supply of meat, dairy or fish.  
There are 2 tasting menus on offer -  an 8 course 'Grand Diner' (available Tuesday to Saturday from 7.30pm) and a Petit Diner, a shorted 5 course testing menu.  
Whichever you plump for, it is sure to delight. Their autumn line-up includes British black truffle berlingot and roasted fennel with orange and maple glaze with sea Buckthorn with poached comice pear and bramley apple, carrot and tarragon to end the feast.
This is vegan fine dining with great ethics at the very heart of its menu.
See their website here.
---
Pied à Terre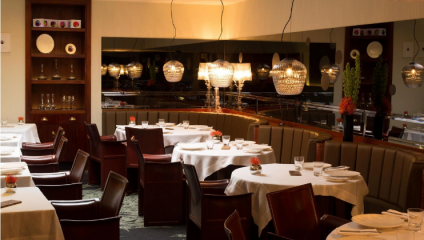 34 Charlotte Street, Fitzrovia, W1T 2NH
This well established and award winning restaurant run by long-standing chef and restauranteur, David Moore, has just won No 1 vegan tasting experience in the UK. Wowsers! It must be worth saving up for.
If you're looking for a smart lunch time or evening spot, there's a selection of 4, 6, 8 and 10 course taster menus to choose from depending on how hungry you are.  
Its ingredients have a Mediterranean and Japanese influence and include dishes like Sea Bass, dill and samphire sauce and marinated sardines with mustard seeds, fennel and Ouzo. There's also the option to have wine pairings with each menu. 
This is cute little restaurant and perfect for a special night out.
Book a table here
---
Pollen Street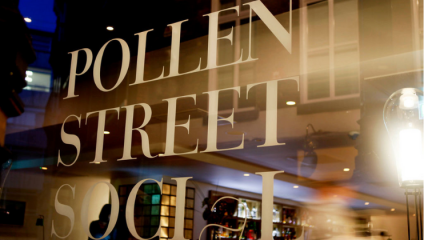 8-10 Pollen St, W1S 1NQ
Pollen Street Social opened in 2011 and awarded a Michellin star within its first 6 months. It now prides itself on locally sourced British ingredients and proudly displays a supplier list (and distance from the restaurant).  
Despite its status in the culinary world, Pollen is a laid-back contemporary bistro offering relaxed and informal fine dining.  It offers 6 menus including a 3 course or Tasting vegetarian and vegan menu. 
This is food artistry at its finest - crispy ravioli, a fine truffle twist on the classic 'French onion soup' and cauliflower with black garlic. It's the very best in plant-based food which deserves to be savoured.
Book a table here
---
Wulf & Lamb, Chiltern Place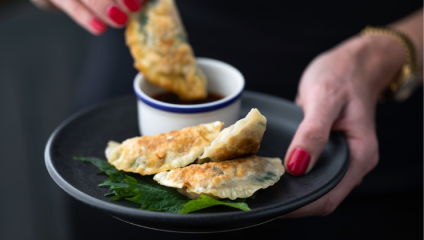 The name is deceptive, isn't it?  Rest assured there's no red meat or fish or dairy on the menu; it's firmly plant-based. There are 2 Wulf & Lamb's in London – Marylebone and Chelsea - and both are accessible price wise and serve up a tasty menu using ingredients inspired from around the world. 
Their original Shepherd's pie has been built using lentil stew and Jackfruit, and their Mac'n'Cheese and burgers are legendary. There are also salads and whole-food bowls for a lighter option which you can round off with some sticky toffee pudding.
This is relaxed and affordable dining to enjoy pre. theatre or mid-week with friends.
Book a table here
---
Stem & Glory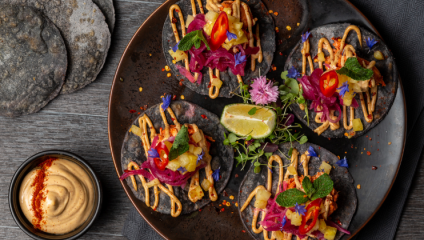 60 Bartholomew Close, EC1A 7BF
This 100% plant-based food was the brainchild of Cambridge based foodie, Louise Palmer-Masterton where she won herself The Best Restaurant in the City.  She set up her London offer rather boldly in Farringdon, close to the meat renowned Smithfield's market.
She offers a large menu which covers large and small plates with hints of Europe, Asia and Mexico within the menu, great tasting sourdough pizzas and tacos.  There are some good puddings to round it off, including the delightful chocolate almond cake with strawberry coulis.
Book a table here
---
Spread Eagle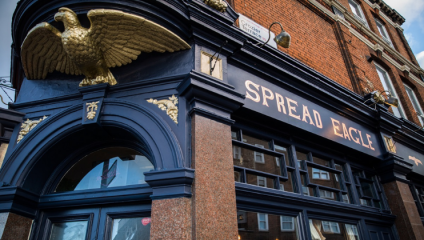 224 Homerton High Street, E9 6AS
The Spread Eagle, London's first fully vegan pub based on Homerton High Street, North London, is a quintessentially British corner pub providing sustainability in everything they do. With an emphasis on minimal waste, all food, drink and fixtures are plant-based.
The kitchen runs a seasonal menu working directly with foragers and local producers to replicate pub classics and British desserts with influences from all over the world.   
The seasonal menu includes oat risotto with pickled and friend mushrooms, roasted stuffed peppers and a winter warming Thai green curry with tofu. 
If you're in the mood for a burger and fries there's a Korean inspired crispy fried chicken 'of the woods' with gochujang sauce or a classic vegan take on the original burger.
This is a dog friendly, traditional warm pub for everyone.
Book a table here
---
Mildred's Soho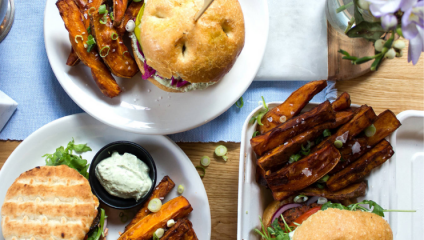 45 Lexington Street, W1F 9AN
Mildred's is a stalwart on the London veggie-vegan scene having been around for over 30 years.  Now across 5 sites in London,  the original Mildreds in Soho spills out of an 18th century town house in the heart of Soho's Lexington Street.
It has boosted its vegan offer considerably in recent years and broadened its global influence so expect to find Asian, Central America and Middle East dishes on the menu.  
Our favourite dishes include tempeh mushroom yaki udon,  korean fried chick'n bun, whipped feta and harissa patatas bravas on its all day menu. There's also a weekday breakfast, dessert, kids and Christmas menus to choose from.  Booking table's highly advisable.
Book at table here
---
Purezza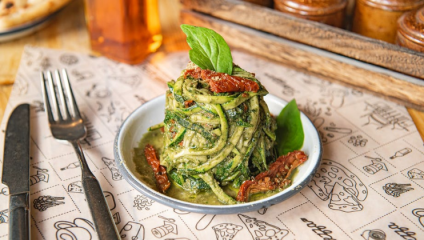 43 Parkway, NW1 7PN
Vegan pizzeria?!  There was a time (before Purezza) that finding a decent vegan pizza was like finding a vegetarian restaurant in Rome. 
But then along came Purezza which originally set up shop in Brighton in 2015 by Tim and Stefania who are passionately committed to sustainability.  
They set out to create the best vegan pizza that would appeal to everyone, and we think they've succeeded, winning the National Pizza Awards in 2018 no less!  They opened their London restaurant in Camden and have since opened a branch in Manchester.   
The pizzas are 100% plant based and taste pretty good. As well as the Parmigiana one, try the Black Truffle pizza, a woody,  vegan mozzarella and wild mushrooms, or the white-base Nduja pizza, with chilli and yellow tomatoes. We were blown away by their New York cheesecake!
Book a table here
---
Temple of Seitan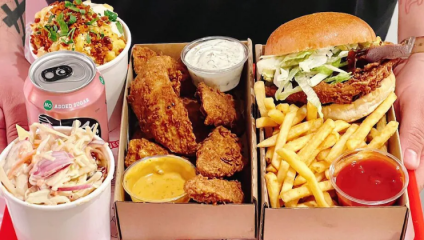 43 Parkway, NW1 7PN
This is great vegan fast food!  I know, we're as surprised as you given the years of rubbish on offer but vegan fast food is taking off in a good way. This chain has taken their name from Seitan which is a source of protein, made using wheat gluten.
It can be shaped and flavoured to mimic all kinds of meat from chicken wings, ribs to bacon and steak. The restaurant looks like your usual takeaway with its clipped menu behind the counter. 
On offer, there's a classic fillet and bacon burger with all the trimmings and a spicier version. There's also a variety of wings – in a wrap with lettuce or straight up (Hot, BBQ or Buffalo). 
Fries? Of course. You can't run a fast food joint without them, or coleslaw and delectable Tots – crispy bites on the outside and fluffy potato on the inside. Yum-E.
You can round it all off with one of the Temple's vegan shakes.
No need to book a table, just walk in and order.