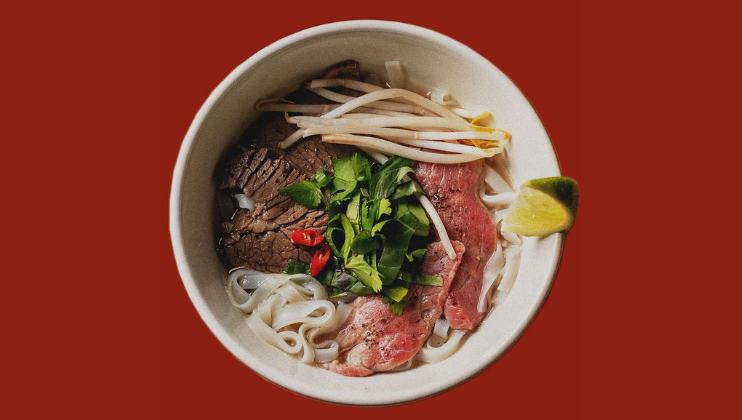 It's no suprise that Vietnamese food has become one of London's most sought after culinary options- but where are the best spots to frequent? We've got your back...
Legend has it that the first King of the Vietnamese 7th Dynasty won his throne not through war or wit, but through his sensational cooking. And we concur, the food is sensational. Back in the day, wanting a bowl of Pho was more of a luxury in London than anything. You'd have to trail around the city endlessly to try and find a spot to enjoy a good Vietnamese dish at- I mean, it was just over 20 years ago that the first ever Vietnamese restaurant opened its doors in the capital. Fast forward a few years and there is a sheer volume of Vietnamese restaurants lining the streets serving food that's vibrant, fresh and bursting with flavour.
So where are the best spots to go? We've compiled a list of restaurants whose food will transport your tastebuds all the way to Vietnam, and it won't break the bank either. Check out our top 5 Vietnamese restaurants in London.
Song Que Cafe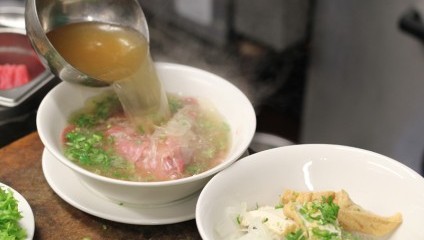 134 Kingsland Road, London, E2 8DY
Hailed as one of the most popular Vietnamese restaurants in London, Song Que Cafe is the gem of Kingsland Road. It's a family business that's been open for just over 20 years and shows no signs of slowing down. With a simple canteen-style set-up, Song Que Cafe serves affordable street-kitchen dishes with over 150 to choose from. From beef wrapped in betel leaves to crispy pancakes with prawns and chicken, there's an abundance of flavoursome dishes to tuck into from the menu. But the creme de la creme of them all is the pho- the poster child of the restaurant and part of the reason this place is always packed with a queue running down the street on some occasions.
Generous portions, good prices, quick and efficient service with delicious meals. What's not to love?
---
The House Of Ho
1 Percy St, London W1T 1DB
Located in London's Soho, The House of Ho is the brainchild of Vietnamese culinary legend: Bobby Chinn. Situated in a Grade II listed Townhouse and spanning over 4 stories, The House of Ho serve an array of delectable Pan Asian cuisine and traditional Vietnamese dishes that have been given a contemporary twist. Perfect for a weekend treat as the dishes are a little pricier than our last contender, this restaurant truly provides an upscale experience with the same quality of dish.
The menu doesn't disappoint, with a modern update you can try dishes ranging from a jasmine-smoked baby-back ribs to Vietnamese scotch egg, popcorn shrimp and, of course, fragrant pho. There's a vegetarian and gluten free menu, alongside a tasty lunch menu should you decide to pop in during the week. Chuck in a vibrant cocktail and you're good to go. It does tend to get pretty busy here so we highly recommend making a reservation in advance.
---
Banh Banh
BRIXTON: 326 Coldharbour Lane, SW9 8QH
PECKHAM: 46 Peckham Rye, SE15 4JR
What was once a modest establishment is now two bustling restaurants located in Peckham and Brixton; said to have the best Vietnamese food south of the river. A family affair, Banh Banh is run by five members of the Nguyen Family who are carrying on the legacy of their much-loved grandma who was a former chef in Saigon during the 1940's. Their menu is packed with recipes that were passed down from her, like banh khot (prawn coconut pancakes) to flavoursome summer rolls and noodle salads. They also serve their hugely popular bun bo hue (thick noodles in a spicy beef bone broth)- perfect for these last chilly days of the season. Mondays are meat-free, especially great for veggies and vegans, and the prices are affordable. Best yet, the meals are more bite-sized so you have more room to try different dishes! The drinks are splendid too- with homemade jackfruit fizz and innovative twists on traditional Vietnamese cocktails.
With relaxed yet stylish decor and a bright atmosphere, this is the perfect spot to grab some lunch or a quick bite before hitting the town.
---
Cay Tre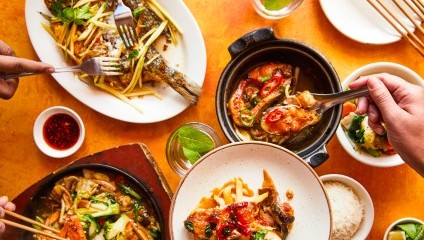 SOHO: 42-43 Dean St, London W1D 4PZ
SHOREDITCH: 301 Old Street, London, EC1V 9LA
Where polished and contemporary meets classic and simplistic, Cay Tre is on our top 5 list for a reason, and is arguably one of London's best Vietnamese restaurants. It's grown in popularity over the years but never strayed from its original menu which is stacked with authentic Vietnamese cuisine. Founder, Hieu Trung Bui travelled from Saigon to London at the turn of the century, and is part of the few that is credited with starting the pho trend in London. Available in both Shoreditch and Soho, Cay Tre champions Vietnamese cuisine in both east and west, with the Soho spot even sporting a swanky cocktail bar.
The menu is both affordable and packed with a variety of bite-size options and big plates which are great for sharing (or all for yourself if you've worked up an appetite). Tuck into their lesser-known delicacy of clay pot Mekong catfish with broth or their more common favourites such as their salmon summer rolls.
---
Mien Tay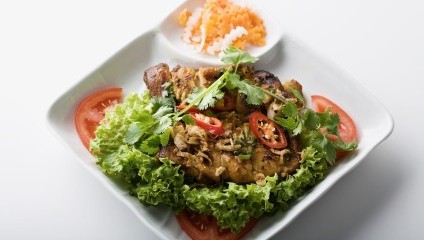 Multiple locations
Less of an array and more niche, Mien Tay dives deep into specific dishes cooked in an authentic, homely way with recipes hailing from the founders' natice South West Vietnam. With three restaurants located in Fulham, Shoreditch and Wood Green this family run, unpretentious, jewel of an establishment serves meals prepared with fresh ingredients, and a warm atmosphere. If you're looking for real authenticity, Mien Tay is the place. Serving your much loved favourites such as crispy squid, fresh rolls, prawns, vegetables and pho alongside more daring options away from the usual, including stir-fried goat, frog legs and grilled quail. Best yet, the prices are great, with dishes starting from just £5 you really get more 'pho' for your buck.
Explore more of their menu here.
---