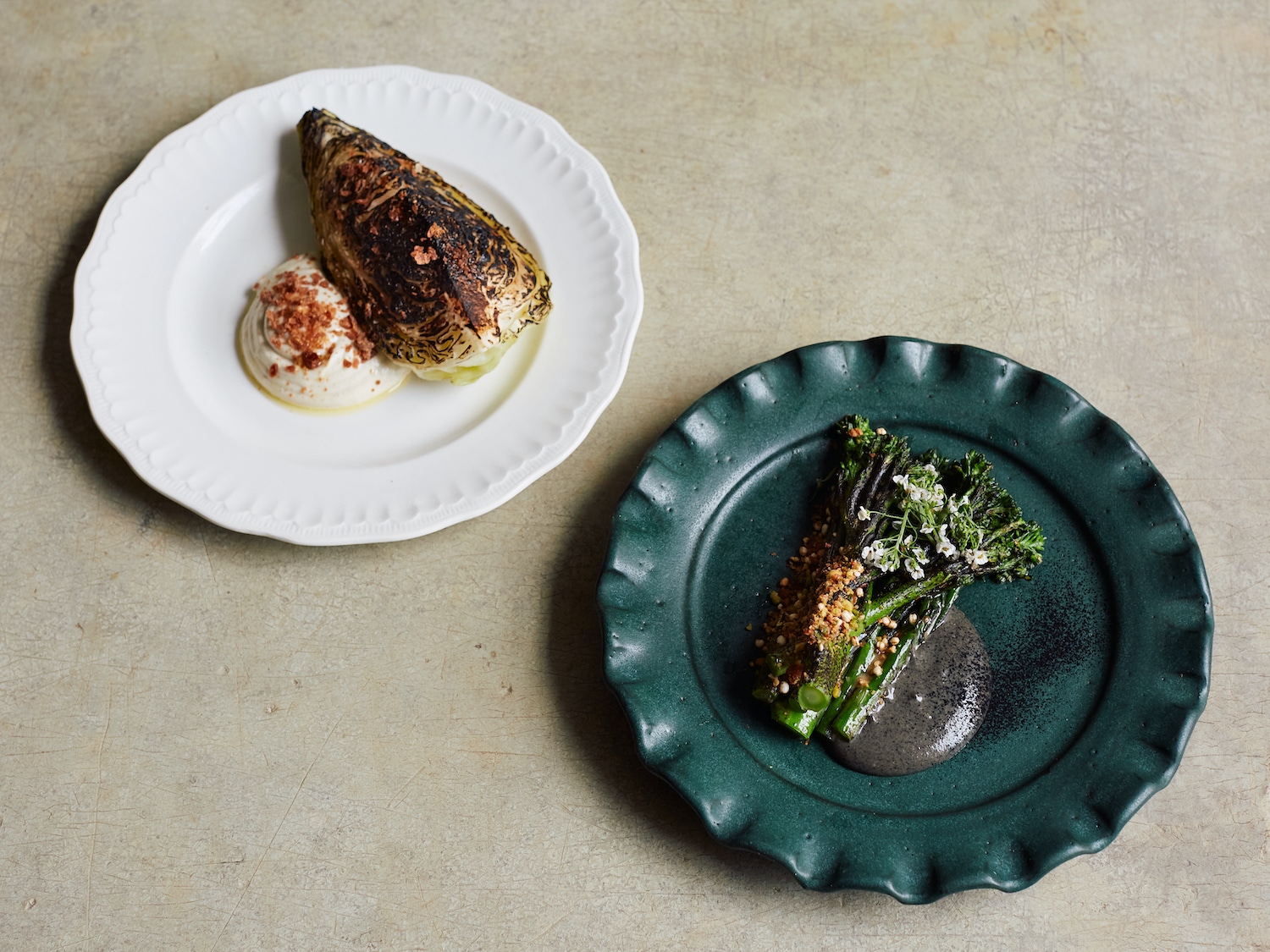 Being healthy in the New Year doesn't mean it has to be boring; check out London's healthiest and delicious restaurants...
Welcome to the health-conscious dining haven of London! In this article, we explore the city's top restaurants prioritizing nourishing cuisine. From innovative plant-based eateries to farm-to-table gems, join us on a journey to discover the healthiest restaurants in London, where flavor and well-being harmoniously unite.
---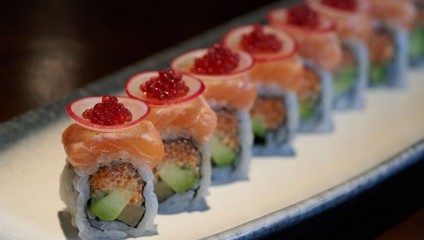 Aqua Kyoto
5th Floor 240 Regent Street, (Entrance 30 Argyll St) W1F 7EB
Welcome to Aqua Kyoto, where the magic of Japanese cuisine meets contemporary flair! From veggie-packed dishes to mouthwatering sushi and sashimi, it's a feast that'll have your taste buds dancing. With menu options for lunch, brunch, and dinner, you can enjoy the healthier side of eating without feeling restricted. Plus, they've got a rooftop view to die for! Treat yourself to a culinary adventure that's worth every penny, and don't forget to sip on one of their delicious cocktails. Just remember, it's a popular spot, so better make a reservation and secure your spot in this flavor-filled paradise!
---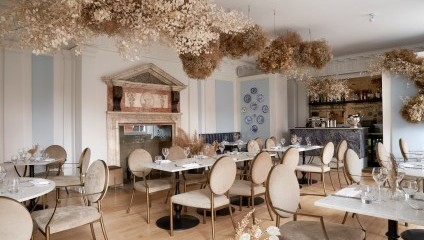 Holy Carrot
2-4 Hans Cres, London SW1X 0LH
Mindfulness in the making of their food is at the heart of Holy Carrot's ethos- and the name is quite fun too! Their mission is to change the perception of plant-based food through providing the best quality ingredients that are ethically sourced and seasonal; best of all they're free from preservatives, refined sugar, gluten and additives. There are plenty of enjoyable twists of classic dishes on the menu, from a vegan twist on a cheeseburger and shepherds pie (perfect for chilly days) to small plates of smoked aubergine carpaccio to 'calamari' made from heart of palm. Enjoy these delicious dishes alongside a tasty cocktail or mocktail and you're good to go!
Nestled in a warm environment of Urban Retreat in Knightsbridge, you can not only grab a healthy bite but enter a wellness destination and enjoy a range of luxury treatments that will nourish you both inside and out. Talk about revitalisation!
---
Atis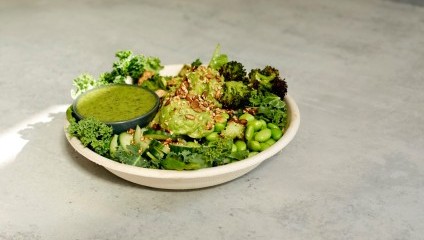 145 City Rd, London EC1V 1AZ
Atis: Where healthy food gets a sassy makeover! Eleanor Warder and her husband have crafted a health-conscious café that's all about good vibes for your soul, body, and the planet. With a menu that challenges you to try new things while standing up for what they believe in, they're on a mission to make plant-based nutrition the cool new norm. Dive into their colorful and innovative dishes that'll warm your soul, like the nourishing hot salad bowls slathered in tangy tahini, yogurt, and lime. You can even build your own bowl if you're feeling picky (no judgment here!). With a nutritional guide to keep you in the know and their unsold food going to waste app 'Karma,' Atis is not just good food, it's feel-great food!
---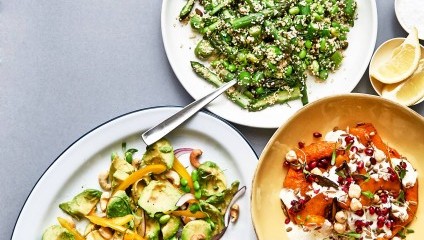 Detox Kitchen
Various Locations
Calling all health-conscious foodies, welcome to Detox Kitchen, where 'healthy meets delicious' in a deli paradise! With easy access to healthy eating, education, and rejuvenating plans, they'll have you feeling fresh and fabulous. Their meals are made from scratch daily with 80% of ingredients sourced from UK suppliers (honesty is their superpower!). Kingly Street and Mortimer Street menus offer a feast of flavors, from vitamin-packed grains and greens bowls to flavor-punching Mexican delights. Ready to commit to a detox? Their reset range has your back, with 3-day resets, soup cleanses, and 5-day juice cleanses that are easier and more beneficial than you'd think! Say goodbye to overpriced healthy food, and hello to Detox Kitchen, where eating well is as easy as it is tasty!
---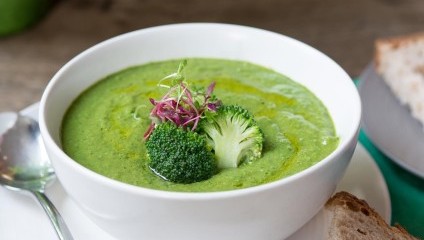 Farmacy
74-76 Westbourne Grove, London W2 5SH
Get ready to bloom with flavor at Farmacy, the hotspot for West London's veggie and vegan scene! Founder Camilla Fayed's plant-based journey inspired this culinary oasis, offering in-depth education on healthy eating and an extensive menu that'll make your taste buds dance. From recipes to apparel and homeware, they've got you covered for a plant-powered lifestyle. Oh, and did we mention their farm insights? Yes, you'll get the juicy deets right here!
---
The Acai Girls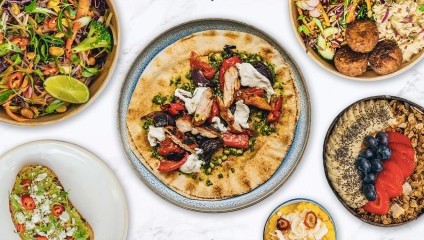 Fulham: 705 Fulham Road, London SW6 5UL
Victoria: 18 Eccleston Street, SW1W 9LT
Meet The Acai Girls, London's health food sensation founded by sisters Megan and Georgia Salamat. Their menu is a culinary adventure inspired by their love for travel, offering everything from buddha bowls to cacao and hazelnut pancakes. They prioritize sustainability with biodegradable packaging and responsibly sourced ingredients. Join them on a happy, healthy journey through their little places of paradise. You won't be disappointed!
Explore their menu here.
---
Wild By Tart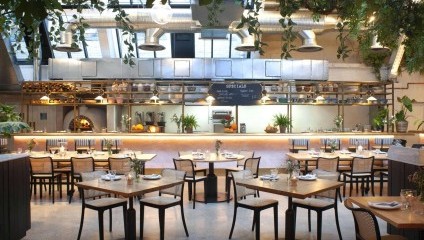 3-4, Eccleston Yards, London SW1W 9AZ
Step into a foodie paradise at Wild by Tart, the brainchild of Lucy Carr-Ellison and Jemima Jones, the masterminds behind Tart London's boutique catering. They've taken a former power station in Belgravia and turned it into a manifestation of their culinary dreams - a deli, event space, photography studio, retail store, and, most recently, an all-day restaurant. You can feel the New York vibes with its industrial-inspired interiors, high ceilings, and lush greenery aplenty. These two food mavens know how to leave a lasting impression, having fed the world's fashion elite for years. Now, they're ready to wow you with their farm-to-table concept, where seasonal and local dishes are meant to be savored together. The menu bursts with color and flavor; from grilled halloumi with honey, lime, chili, and coriander to flamed lamb chops with red curry paste and peanut. But it's the pumpkin, gorgonzola, and pickled chili flatbread, perfectly cooked in a wood oven, that'll have you coming back for more. So, step inside, take a seat, and get ready for a taste of foodie bliss!
Check out the menu here.
---
Daylesford Brompton Cross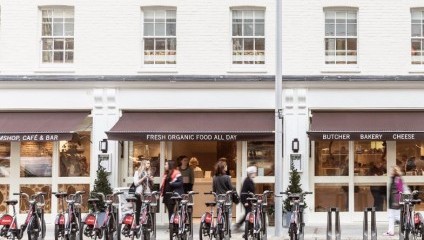 76-82 Sloane Ave, Brompton Rd, London SW3 3DZ
Step into Daylesford Brompton Cross, London's seasonal and organic mecca, where wholesomeness meets chic. They've even pulled off a giant tree trunk in the middle of the restaurant, blending it seamlessly with the clean white palette. Their organic meat and butternut squash pizza are a match made in foodie heaven. For a lunch fix, mix and match their delightful seasonal salads. Don't miss their dairy-free blueberry cheesecake - a slice of heaven that'll make you moo with delight. Daylesford is taking over London faster than you can say "organic kale smoothie" with a new farmshop and cafe on Sloane Avenue. So, grab your eco-friendly tote and indulge in the tastiest, healthiest treats in town. You'll leave feeling so good, you'll want to hug a carrot and namaste all the way home.
---
Mildred's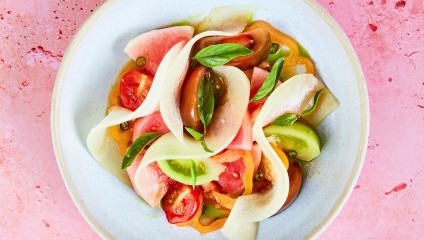 Embark on a culinary journey at Mildred's, London's original veggie and vegan haven since 1988, now with four locations across town. Their menu takes inspiration from global cuisines, offering Asian noodles, Sri Lankan curries, and southern-fried 'chick'n' burgers. The Soul Bowl, a delightful duo of superfood salads, is a must-try. Founded by Jane Muir and Diane Thomas, Mildred's has become a beloved fixture, now serving a 100% plant-based menu across London. They've also introduced mallow, a new concept in Borough Market and Canary Wharf, sourcing ingredients sustainably from small businesses. Fancy a veggie adventure? Explore their mouthwatering recipes and meal kits online.
---
Linnaean
Embassy Gardens, 2 New Union Square, Nine Elms, London SW11 7AX
Linnaean, where health, beauty, and Instagram-worthy aesthetics collide in London's Embassy Gardens. Named after the famous naturalist Carl Linnaeus, this place is like a self-care paradise with a flower ceiling that's practically begging for a photoshoot. But don't let the pretty decor fool you; their food is as delicious as it is healthy. Head Chef Fran Winberg has concocted a menu that caters to every dietary need - whether you're vegan, gluten-free, or just a flexitarian in disguise. They've packed their dishes with superfoods and on-trend ingredients, from matcha to turmeric. Breakfast will have you jumping out of bed for puffed quinoa with probiotic coconut yogurt and adaptogenic herbs, or homemade cocoa granola topped with banana and cranberry syrup. If you're in need of a more substantial meal, their Super Brunch on Sourdough is a health foodie's dream, featuring tempeh bacon, beetroot chorizo, mushrooms, and spiralized courgette. And let's not forget their luxury salon, where you can pamper yourself from head to toe with everything from haircuts to massages. Linnaean isn't just a destination; it's a lifestyle. So, whether you're indulging in matcha pancakes or getting the latest Botox treatment, prepare to be welcomed with open arms and leave feeling like royalty. It's a health and beauty haven that Carl Linnaeus himself would be proud of!