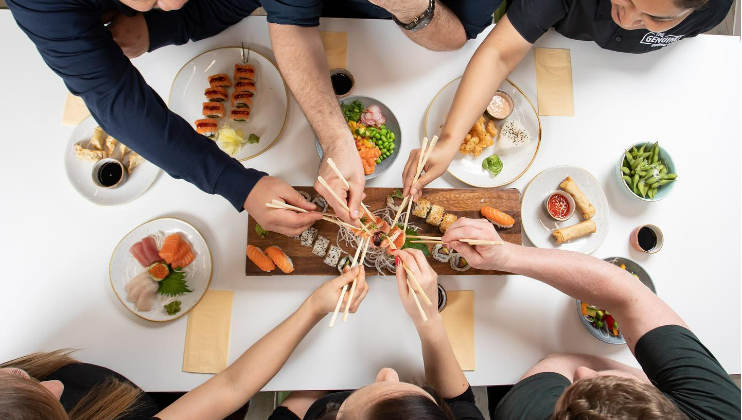 Want to eat with a clean conscience? Look no further. Read on to discover London's most ethical, organic and sustainable restaurants.
The art of fine dining is best enjoyed with a healthy conscience. In much the same way that wine maximises the flavour of certain dishes, your meal truly does taste better in an eco-friendly establishment that practices sustainability. These are London's most ethical and sustainable restaurants: they come with cultured menus, staff with a positive ethos, and are well worth supporting.
The Duke of Cambridge Organic Pub, Islington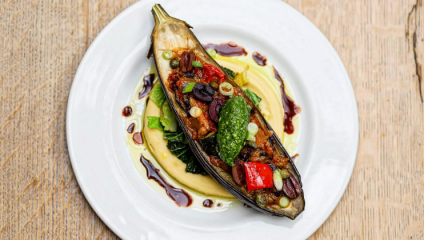 30 St. Peter's Street, London, N1 8JT
It's neither a duke nor in Cambridge, but does have a completely organic menu. In fact, launching in 1998, the independent trendsetter was the world's (and London's of course) first certified organic, sustainable gastro-pub. The furniture is second-hand (not that you can tell), a diligent recycling process is in place, and the food waste collection is handled with an anaerobic digester - a green alternative to dumping products in landfills. (They promise: 'Coca Cola or Nestlé will never own The Duke.')
Repeat visits are warranted because the 'field-to-plate' menu changes each day, although the staff will probably be annoyed if you keep asking how an anaerobic digester works.
The Duke of Cambridge is open from Tuesday to Sunday. To make a reservation, click here.
---
The Waterhouse, Hoxton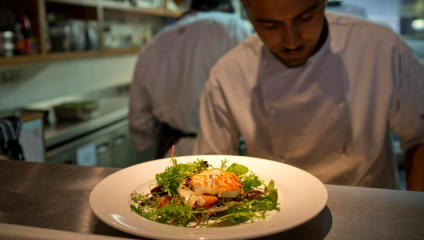 10 Orsman Road, London, N1 5QJ
In addition to providing a great view, Regents Canal is used by The Waterhouse to generate renewable hydro-powered electricity. The Shoreditch eatery also takes advantage of the canal's water temperature for an ecological heating system - location, location, location. While serving locally sourced ingredients, the aptly named restaurant collaborates with the Shoreditch Trust to train, mentor and employ disadvantaged people who would be turned away elsewhere through the Blue Marble Training Scheme. And after dessert, you can take a stroll outside by the canal. Perfect.
---
Feng Sushi, multiple locations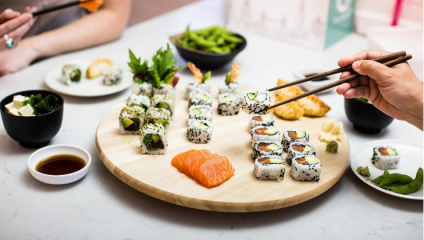 Fulham: 218 Fulham Road, London, SW10 9NB
Notting Hill Gate: 101 Notting Hill Gate, London, W11 3JZ
West Hampstead: 280 West End Lane, London, NW6 1LJ
The fear with eating sushi is that the food either isn't either fresh, or you're about to become responsible for ending a species with a single mouthful. Fear not, because Feng Sushi prides itself on sustainably sourced and harvested fish. Not only does the menu feature the usual favourites, it includes a list of where each ingredient was farmed - which makes a change from the usual practice of blindly plucking dishes from a conveyer belt. If ordering takeaway, the sushi comes in biodegradable packaging with chopsticks made out of sustainable bamboo and sauce cups fashioned from sugarcane. Just remember to recycle when you're done.
To check out their menu, click here.
---
The Three Stags, Lambeth
67-69 Kennington Road, London, SE1 7PZ
Contrary to suspicions your hay fever gets worse every year, London doesn't have that many bees. This is why the roof of The Three Stags is home to a beehive and 50,000 bees. No, it's not a hipster trend that's passed you by, but part of a campaign to protect urban bees and thus save the environment. (Bees are surprisingly essential for pollinating crops and establishing the food chain.) There's a commitment not to serve beef as well as extra care to source sustainable ingredients, avoid pesticides, minimise waste through recycling and composting and not sell bottled water. You can learn more about their mission for sustainability here.
To view their menu, click here.
---
Farmer J, Multiple Locations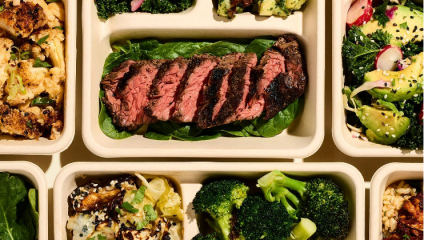 Farmer J's is the hip lunch spot that took social media by storm, namely Tik Tok. Offering middle eastern inspired dishes that are seasonal, healthy and mindfully sourced straight from local farms it's the perfect place to grab a quick bite at an honest price.
There's a range of vegetarian and vegan (with a special care to cater to many other dietary requirements) options to choose from with an effort to provide ingredients that are without additives, preservatives or pesticides.
Their conscious mentality is also presented through their support for Action Against Hunger with a percentage of your purchase going towards the charity that aims to save the lives of malnourished children. Their other partnership, Magic Breakfast, aims to provide children from underprivileged backgrounds in the UK with fuel to end any barriers between hunger and learning.
With a dense menu, there's plenty to choose from, and you can guarantee you'll be doing your part whilst enjoying delicious food that is good for you.
---