From pandemics to wars, with sailors, smugglers and many a famous name as their guest... here are the top 5 oldest pubs in London for you to visit.
One of the reasons people come to the UK, and London especially aside from the landmarks is to visit an old pub for a cosy pint, with some of them dating all the way back to the 1500's (and even early) these old abodes have seen alot and survived alot, from pandemics to wars there's many an old pub scattered around the city for you to enjoy. With fireplaces and wonky beams they all have their own weird and wonderful story... but which are the best? We'll leave the final decision up to you, but in the meantime, we, the *ahem* experts, have trailed around the capital to bring you our list of the top 5 oldest pubs in London. Cheers!
---
The Lamb and Flag, Covent Garden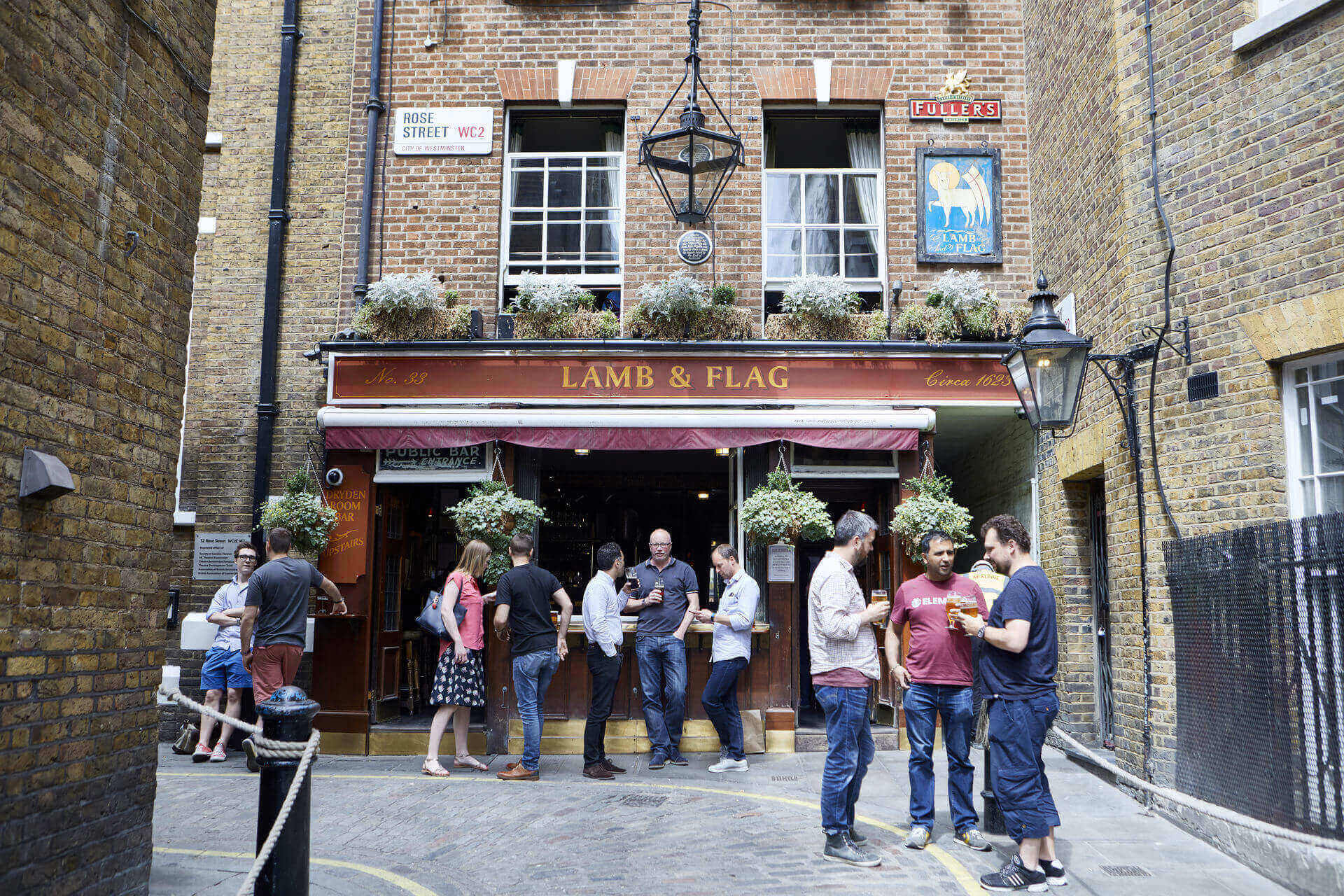 33 Rose St, London WC2E 9EB
Whether The Lamb & Flag is the UK's smallest pub is still up for debate, but it's definitely London's. History is at the heart of this establishment, with it's erection dating back to the 17th century. It is where, in 1679, famous poet John Dryden took a beating from a group of thugs that were hired by bad boy poet John Wilmot; but there's plenty a tale and rumour to be enjoyed over a drink here (check out more of their history here).
The decor never really changes, and that's likely because it doesn't need to. Encompassing everything a pub is about and nestled away from Covent Garden tourists down a back alley, it's courtyard atmosphere is really the perfect place to head to in the summer if you're stuck in the city.
The menu istelf is pretty standard when it comes to pub meals, but for central London, the prices are reasonable and there's vegan and vegetarian options available too. There's also a great sandwich menu if you're grabbing lunch on the go.
Whilst the courtyard's nickname back in the day may haven been 'bucket of blood' you can rest assured things have significantly calmed down, instead, you can enjoy a pint of beer and respite from the busy city amongst a historical setting
---
The Prospect of Whitby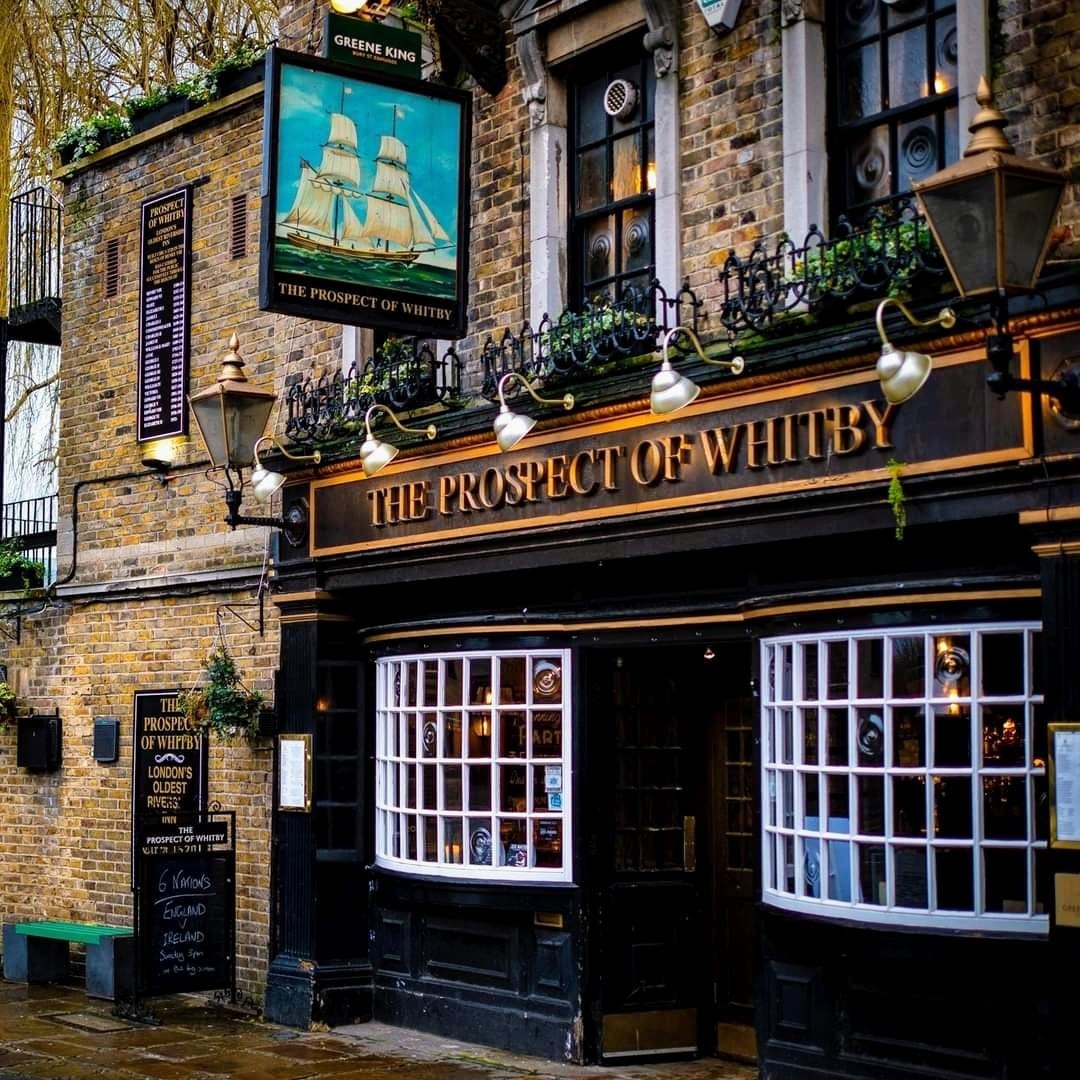 57 Wapping Wall, London E1W 3SH
If swashbuckling and celebrity ghosts are your thing, then Wapping's Prospect of Whitby may be the pub for you. Known as being the oldest riverside pub in London (having been established in 1520), it's played host to many a sailor, smuggler and was even given the name 'The Devil's Tavern' for a short while because of it's patrons.
You're never short of being reminded of it's dark past with the noose and gallows that hang off the balcony, but we're all fans of a short horror story or two. The interior boasts historical architecture too- though more on the gothic side, with dark wood panelling, uneven stone floors and wonky timbers that will have you feeling like you walked into something from the Harry Potter books.
The menu is varied and wholesome, with vegan, vegetarian and gluten free options available. There's, of course, your standard burger and fries or the option of delicious butternut squash soup. Prices of the meals start at £5.25 meaning you won't leave with empty pockets either.
---
The Spaniards Inn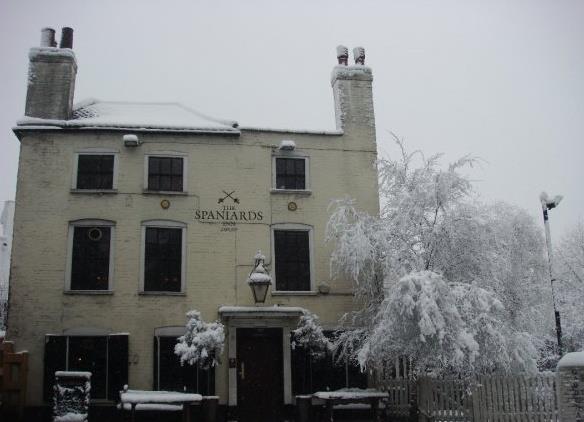 Spaniards Rd, London NW3 7JJ
Another oldie goldie, this little pub is perched atop a hill in Hampstead heath, and has been there since as early as 1585 originally used as a tollgate on the boundary to Finchley and named after the Spanish Ambassador to James I England.
Entering here would be following the steps of literary geniuses such as Byron, Keats and Dickens who frequented the Spaniards Inn as if it were their own abode- it was so popular, in fact, that it was mentioned in Bram Stoker's: Dracula.
The interiors don't disappoint either, continuing with the heir of spook, expect dark panels, low beams and an atmosphere that would transport you back a few hundred years. The only thing that has changed is the menu, that is pushed towards gastro heights with smart beer pairings for every dish (and a price tag to go with it).
With the summer months approaching it's good to note that the Spaniards Inn has a charming walled beer garden offering the perfect suntrap for al-fresco dining. Just make sure you book your table in advance as it tends to get super busy!
---
Ye Olde Cheshire Cheese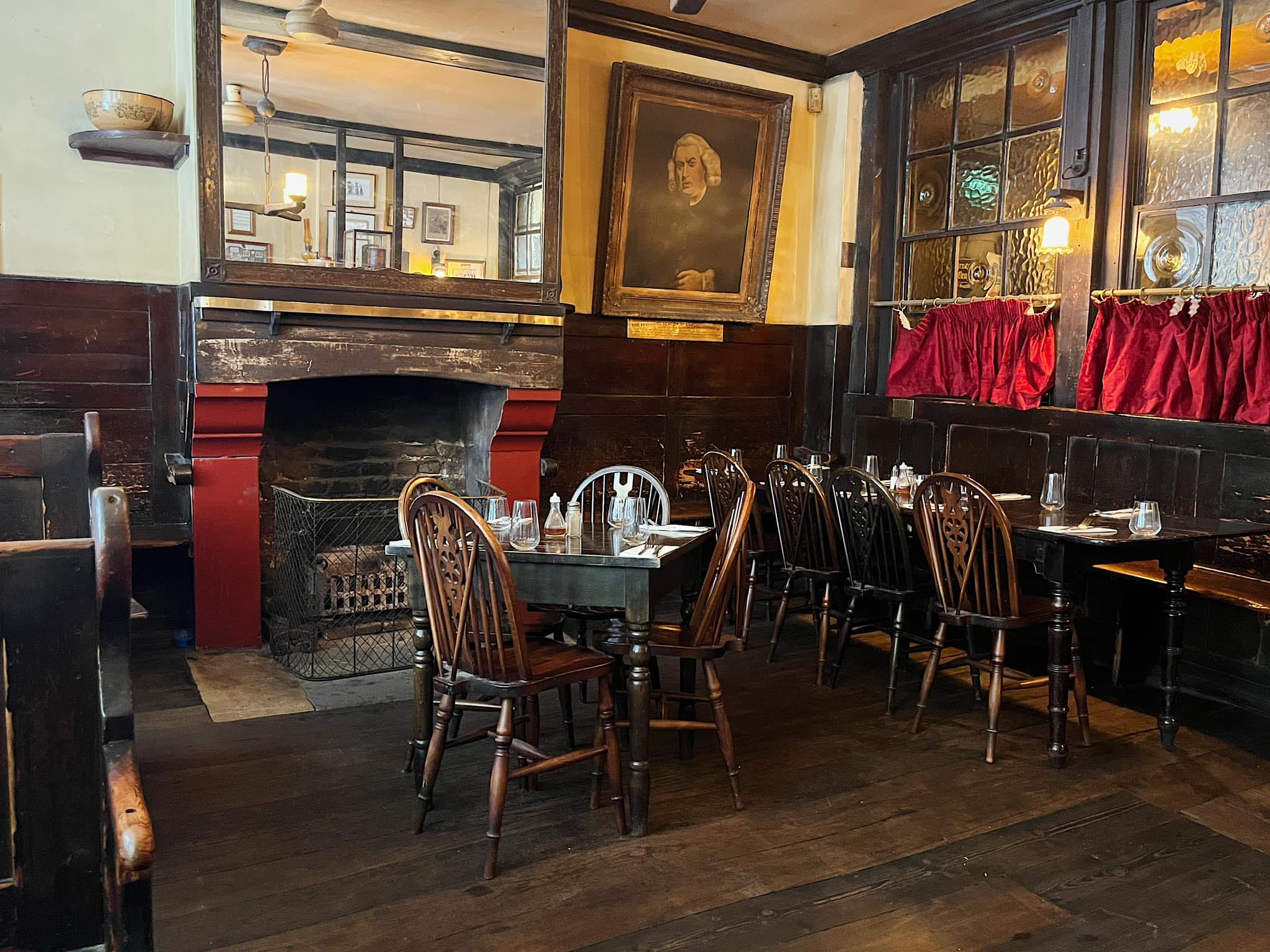 145 Fleet St, London EC4A 2BP
There's another thing that Fleet Street is known for historically other than it's demon barber Sweeney Todd- and that's Ye Olde Cheshire Cheese Pub. It's played host to nearly every literary figure in London including the likes of G.K Chesterton, Mark Twain, a baby elephant (yes, you read correctly) and Charles Dickens.
The building itself was actually rebuilt after the Great Fire in 1666 and has maintained its antique decor (or at least a storng replica of it) since. Wind through dimly lit rooms and atmospheric crannies with a reasonably priced pint and take in the sheer mountain of history that echoes through its very walls, and with a name like 'Cheese', there's no way of forgetting this contender.
To make a reservation, click here. To explore the menu, click here.
---
The George Inn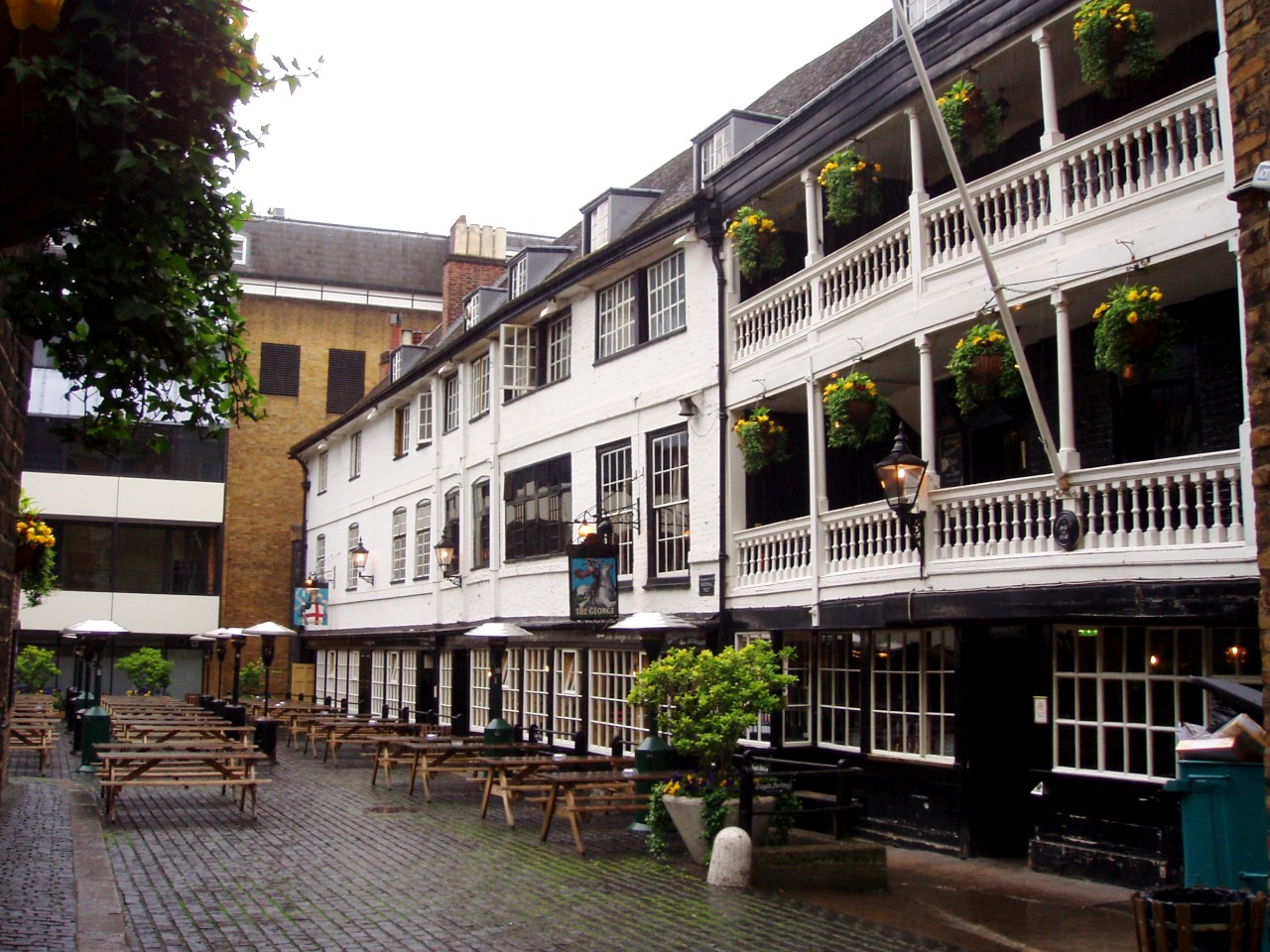 75 Borough High St, London SE1 1NH
Two things synonymous with London; Dickens, Shakespeare and pubs, and funnily enough The George Inn was Dickens' and Shakespeares local haunt, so you can kill two birds with one stone here. Metaphorically speaking of course, Shakespeare would be proud.
The galleries from which people watched plays are still in tact today from all the way back in 1583 when it was built. Protected by the national trust, The George Inn has luckily maintained it's charm and heritage over the years.
The menu here is packed with pub classics such as scoth eggs, devilled whitebait and the all-time favourite (in our opinion) fish and chips. It's a little on the busy side so we definitely recommend booking in advance. But you can do that here.