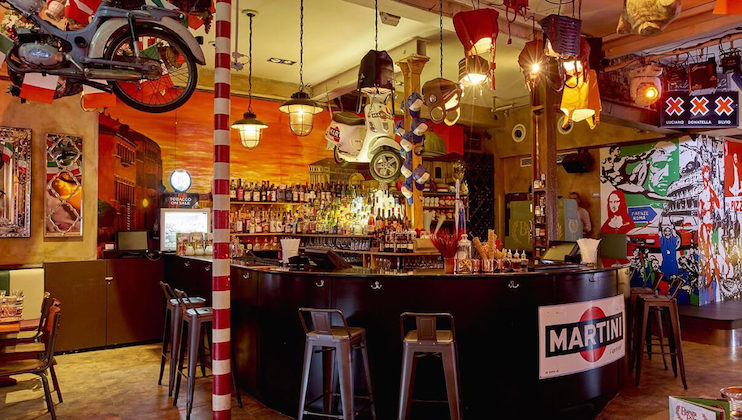 We take a look at London's quirkiest themed bars and restaurants.
We all know London boasts extravagance and this is also true when it comes to their bars. Especially themed ones. Initially the privilege of the Shoreditch crowds, speakeasies are now found on almost every street corner, but there's a themed venue to suit everyone's taste these days. So, chuck on your glad rags because we've listed some of the best places for a truly unique evening out. Read on to discover, in our opinion, the best themed bars in London…
Evans and Peel Detective Agency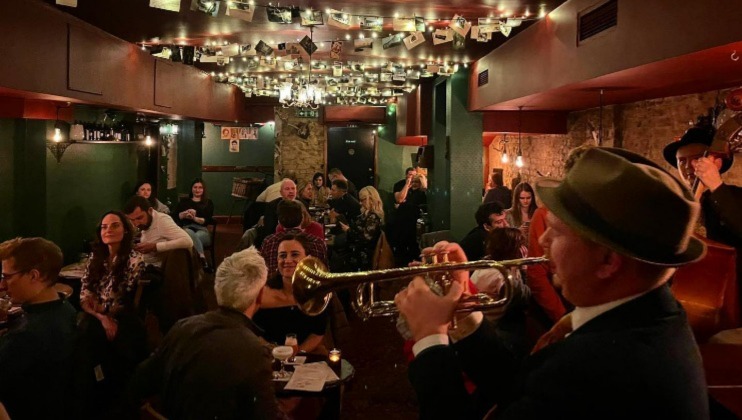 310c Earls Court Road, London, SW5 9BA
Whether you love or loathe them, Prohibition-themed bars are all the rage at the moment, so we couldn't possibly get through this post without mentioning two of the coolest. Probably the most committed to sticking to their shtick, you shouldn't expect to just walk into Evans and Peel Detective Agency without a proper cover story. If you manage to impress The Detective, you'll be allowed to enter the bar through a secret door hidden in a bookcase. Inside, it's all off-white tile, American-style cocktails and drinking your beer from a brown paper bag.
---
Cahoots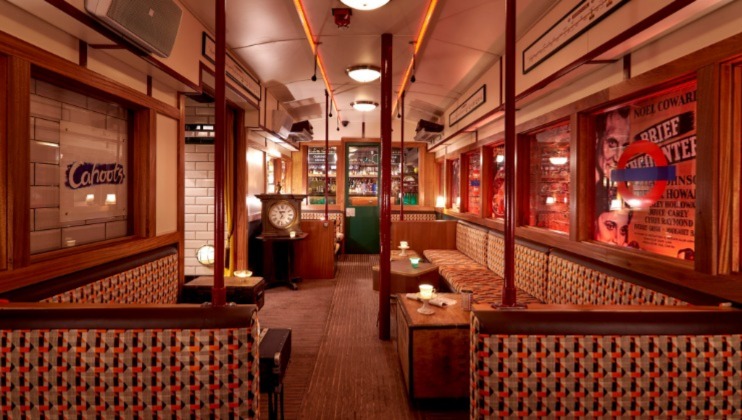 13 Kingly Court, Carnaby, London, W1B 5PW
Another popular speakeasy is Cahoots, a tube-themed bar that takes you back to the time of the Blitz. Located in an actual air raid shelter that's been stuffed full of weird and wonderful tube replica, WWII and London paraphernalia, it's a bit of an assault on the senses. Brush up on your Cockney as well before you go, because you don't want to look stupid when the doorman directs you down 'the apples and pears'.
---
ABQ London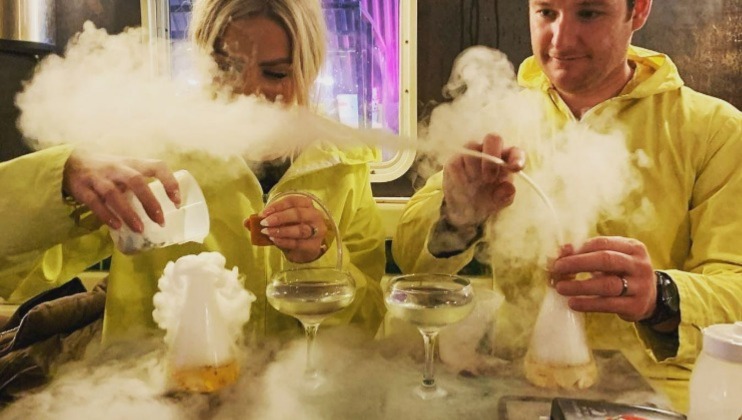 18 Bohemia Place, London, E8 1DU
If you're quite over the Prohibition trend by now, have a crack at one of London's 'fictional' bars. Breaking Bad-style popup ABQ is back in town after's initial success. An evening with Mr White and JP involves cooking your own cocktails while wearing the familiar yellow overalls, in an actual RV. Also, lots of dry ice and nitrogen. Yeah, science!
To book your slot, click here.
---
Mr Fogg's Residence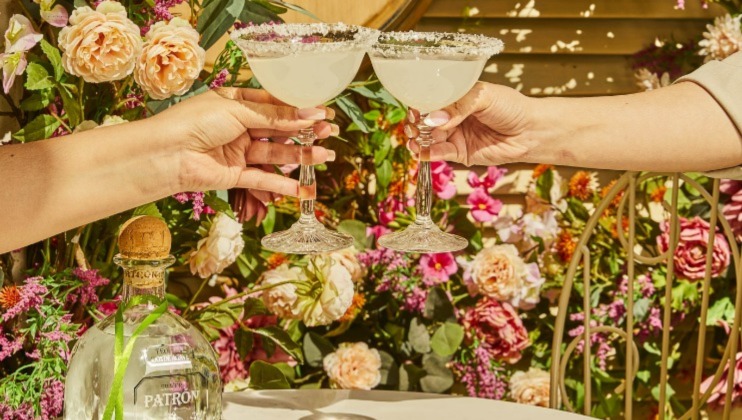 15 Bruton Lane, London, W1J 6JD
An entirely different cup of tea is Mr Fogg's Residence, the home of the explorer of Around the World in Eighty Days-fame. Interior design features are penny farthings dangling from the ceiling, stuffed animals and over-stuffed armchairs, and of course the famous hot air balloon makes an appearance as well. The cocktails are at least as spectacular as the decoration, and that's not all, Phineas has recently expanded hugely, with a gin parlour, a House of Botanicals, a Dockside Distillery and even a Society of Exploration. You May not be able to make it around the world in 80 days but you can certainly attempt to make it around these venues in a weekend.
---
Sarastro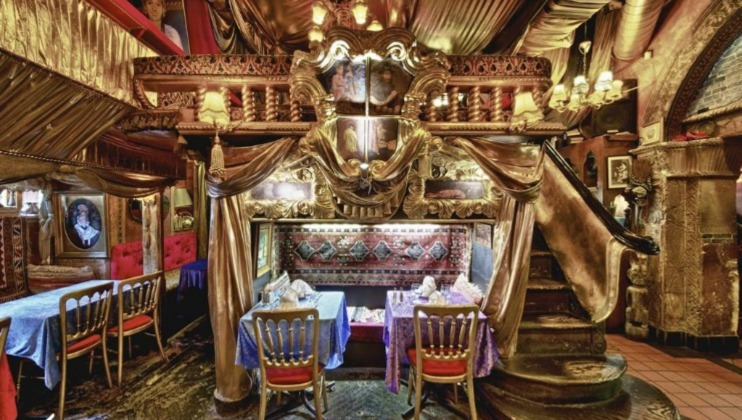 26 Drury Lane, London, WC2B 5SU
It's not just your booze that you can get with a theme in this great city. Sarastro, a Turkish-Mediterranean restaurant on Drury Lane, is not a venue for the faint of heart. This Grade II listed building has been kitted out with the most eye-wateringly kitsch decor (crushed velvet napkins! gold painted everything!), all in the name of opera. Most tables are in their own private box, each in a different historical style. On Sunday's and Monday's the experience is further enhanced by live performances, so expect proper dinner entertainment here.
For reservations and bookings click here.
---
Bunga Bunga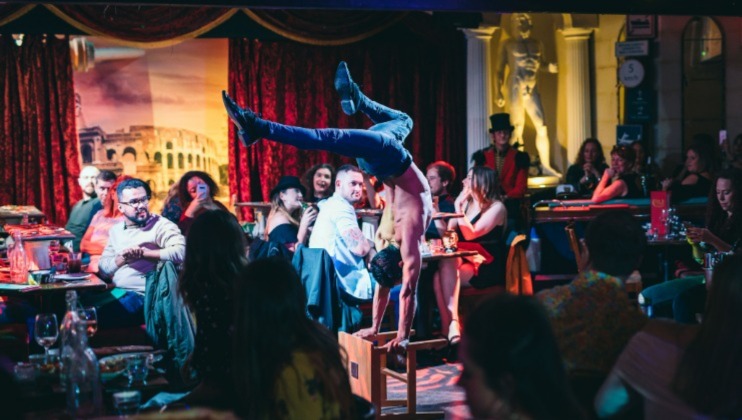 Covent Garden: 167 Drury Lane, London, WC2B 5PG
Battersea: 37 Battersea Bridge Road, London, SW11 3BA
Equally dazzling, albeit for slightly different reasons, is Bunga Bunga. Named after Silvio Berlusconi's infamous sex parties, this pizzeria-cum-karaoke-bar features depictions of Italy's favourite crook than anyone could wish for. Want to see Silvio's face on a whale? They have a picture of it! The theme is, inevitably, complemented by a range of 'typically Italian' decorations such as Sistine Chapel wallpaper.
The venue is filled with surprises, there's live tongue-in-cheek entertainment, bottomless brunches and even a karaoke night!
---
Dans Le Noir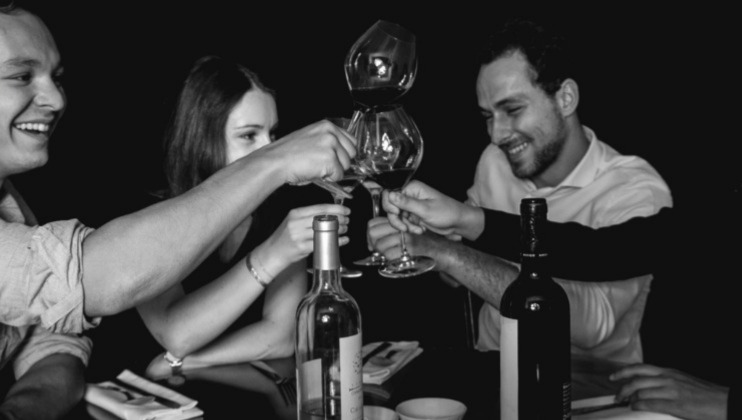 69-73 John Street, London, EC1M 4AN
If these places are rather impulse-heavy for you, Dans le Noir? could be just the ticket. Run almost entirely by visually impaired staff, the pitch black dining room gives customers the unique opportunity to go an entire evening without relying on their eyes. In the darkness, guests become more attuned to other senses like touch and smell, which makes eating quite a different experience. If you manage to get your food into your mouth, that is.
Of course, this being London, there's plenty more to choose from. We haven't even talked about the range of circus-themed venues. Or about all the places where you have to crawl through a fridge or phone booth to get inside. Or about the ones that you only get into with a special password. Or well, you get the point. Time to go out and explore!
---