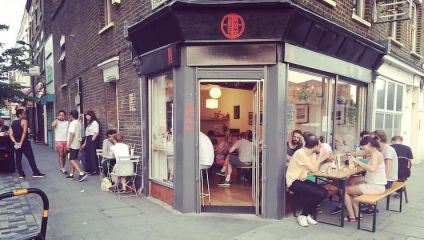 Delightful dumplings and terrific thali
House of MoMo is a Nepalese restaurant specialising in - you guessed it - momo, which are south Asian dumplings. It's a tiny place, fewer than 20 seats inside, but light and bright with a convivial atmosphere. They don't do reservations, and staff are hyper-aware of the perils of this approach at a popular restaurant, especially when there is no bar waiting area. This means they're pretty militant in their approach to keeping order: if you don't answer the phone first time, you'll lose your spot in the 'line', no questions asked. Once you're in though, you can enjoy what you came for: the dumplings.
The menu is essentially made up of four dumpling options, and you choose your filling for each. At 5 for £6.50, they're more than a bit of a steal - you can eat well and walk out the restaurant with change in your pocket from 20 quid. Though it might be tempting to go truly oily in your choices and get everything fried, the steamed dumplings are traditional, and just as good. The steamed dumplings provide pillowy softness and delicate cases, where fried gives you a nicely crispy crunch. They're perfect, plump, three-bite bursts of flavour: the vegetable filling was juicy and aromatic.
Dumplings and curry © House of MoMo via Facebook
Also on the menu is the thali of the day, a dish comprising of several curries, a light soup and fluffy rice. The freshness of the courgette and chickpea curry we tried was great to offset the delightfully dense dumplings - scoop it up with some salty roti. Drinks range from ginger beer to cold bottles of Asahi (which'll set you back almost as much as the dumplings) and there's even a sweet, creamy vegan mango lassi on offer, which does perfectly as a light dessert.
This is a fun option for lunch or a weekday dinner, and comes highly recommended. If you do plan on going on a weekend evening, make sure to get there before 8 for a slightly shorter wait, and make sure to order a good mix of dishes. One last hot tip: don't forget the 'House of' and just google 'MoMo', because you will get an image result of the creepy face claimed to be terrorising kids online a few months ago, and that will put you off your dumplings, and that would be a crime.
House of Momo, 52 Boleyn Road, N16 8JP