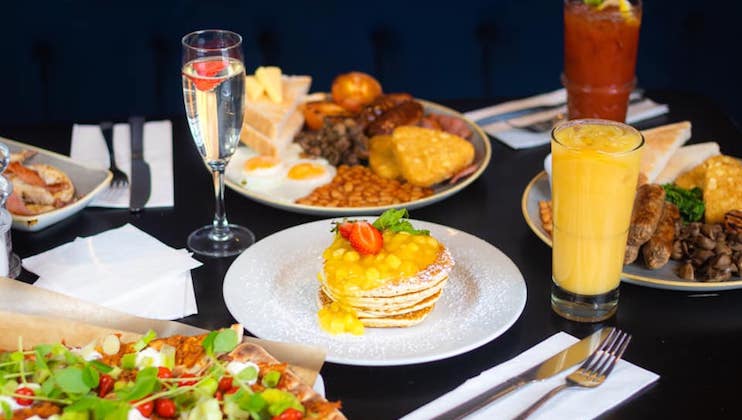 Blow away the cobwebs with these hearty brunches and breakfast cocktails
Whether you had a heavy one last night or you simply what to get a kick start on day drinking, a cocktail with brunch is the perfect weekend treat. Bloody Marys, Espresso Martinis and Mimosas are on the menu here in Chelmsford, so order those smashed avocados and start your day off right.
---
The Bootmaker
3 - 4 Moulsham Street, Chelmsford, Essex, CM2 0HR
An independent bar and restaurant in the centre of Chelmsford, you might find yourself stumbling out of The Bootmaker at midnight and stumbling back in for brunch at 11am. Their brunch menu is available until 2pm and offers plenty of original favourites and a few speciality dishes like the Halloumi Breakfast and a Chorizo Hash! The Bootmaker comes into their own with their breakfast cocktails, offering mimosas with freshly squeezed orange juice and Bloody Marys with fresh tomato juice, spices, fresh celery and cucumber. Their Breakfast Martini sounds like an interesting concoction - Chase Marmalade vodka, marmalade, Cointreau and lemon juice- a drink certain to wake you up!
---
Acanteen
35 New London Road, Chelmsford, CM2 0ND
This family run bar and restaurant has been a Chelmsford favourite since the early noughties, and brunch remains to be their speciality! Their ingredients are locally sourced and always made to order, ensuring a fresh and tasty brunch each and every morning. Grab breakfast here between 8am and 12pm Monday - Saturday and 9am - 12.45pm on a Sunday. They offer all the regular brunch favourites, including bubble and squeak which you rarely see on a restaurant menu. If you need rejuvenating then be sure to check out their Superfood Detox juice, before progressing onto a Cold Brew Espresso Martini to get the party started.
---
Côte Brasserie
1 Exchange Way, Chelmsford, CM1 1XB
The popular chain of Côte Brasserie offers 'relaxed all day dining inspired by the brasseries of Paris'. We know that the French don't turn their noses up at drinking with breakfast so neither should you. Choose between hot breakfast dishes like a Full English or French Breakfast, or simply stick with a pastry and fruits. Enjoy some French inspired dishes that you won't find anywhere else in Chelmsford, including the Crepe Complète which includes crepes, eggs, bacon and gruyere cheese! Enjoy a Mimosa or a Bloody Mary (or both) alongside some fresh Pomegranate juice or a typically français Café Crème.
---
The Meadows, 1-5 Annonay Walk, Chelmsford, CM2 6FL
Finally getting to the good stuff - Slug & Lettuce is one of the only places in Chelmsford to offer a Bottomless Brunch! This popular chain restaurant-come-bar is a night-out favourite in Chelmsford's town centre, and a bottomless brunch is the ideal way to kick off a Saturday of afternoon bar hopping. For £25 per person you can enjoy a dish from the brunch menu and bottomless cocktails for two hours. There's plenty on offer food wise, including Pornstar Pancakes (American-style pancakes with prosecco, vodka, mango and passionfruit compote) if you wanted a truly boozy experience! Enjoy Prosecco, Mimosas, Aperol Spritz, Bloody Marys, Amstel or various soft drinks to your hearts content. You must book in advance and sit down at either 11am, 12pm, 1pm or 2pm on a Friday, Saturday or Sunday. If you opt for a later booking, feel free to upgrade by £3 and enjoy a meal from the lunch menu.
---
Turtle Bay
22 - 24 The Exchange Way, Chelmsford, CM1 1XB
For brunch with a difference head to Turtle Bay, a Caribbean cuisine and rum shack restaurant. Enjoy brunch 10am - 3pm each and every day, or the Bottomless Brunch from 10am - 3pm on Saturday and Sunday! For £25pp you can enjoy one brunch dish and two hours of uninterrupted Sunshine Bellini's, a wonderful mix of passionfruit puree and prosecco. Try out their Blackwell Breakfast (coconut porridge with pomegranate and a shot of Blackwell's rum) or the Big Kingston Grill Down (jerk bacon, spicy sausage, mushroom, curried chickpeas, roast tomatoes, roti and eggs). If you fancy sticking to familiar ground then enjoy Avocado Smash or Scrambled Eggs on Toasted Roti, adding jerk bacon or spicy sausage to give it a Caribbean twist.