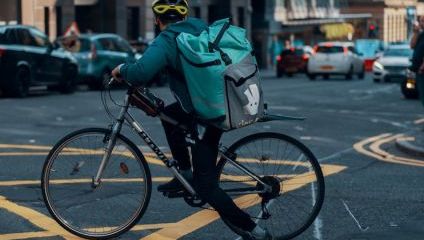 Deliveroo has introduced contact-free delivery, so get online and order a slap-up meal to cheer your household up
Deliveroo has introduced contact-free delivery, so get online and order a slap-up meal to cheer your household up.
---
Yoobi
Describing themselves as 'London's first temakeria', Yoobi is a fusion between Japanese and Latin cuisines, bringing together sushi hand rolls with Brazilian flavours, inspired by Brazil's Japanese community. Spice up your days inside with a yellowtail jalapeno temaki or some crunchy black tiger prawn maki. And since you don't need another worry on your plate right now: Yoobi uses only ethically-sourced fish.
---
La Fromagerie
If social distancing suddenly finds you with a hankering to create an extremely fancy cheese board, then look no further than La Fromagerie. Their cheeses are split into different categories: fresh, bloomy and soft, hard, and washed rind so you can make up the perfect board. Peruse their extensive drinks options for a bottle of something that'll match with the cheese you choose, from cider to chianti. You can also order a cheese for making raclette for an evening of fun for all the family.
---
Nobody can fail to feel fancy while chowing down on a whole lobster, even if it is in your sitting room. Burger & Lobster will deliver a whole 1.25LB wild Atlantic lobster served whole either grilled or steamed with clarified or lemon and garlic butter sauce right to your door. Light a few candles, tuck a napkin into your collar and get crackin'. If you're more turf than surf, order a burger with an 8oz Nebraskan beef patty, or take advantage of one of their combo deals.
---
Amathus Drinks
Recent events making you need a proper drink? Amathus Drinks, named for the ancient royal city of Cyprus, can provide you with just that. They've got everything for the discerning connoisseur, from whites, reds and sparklings to . Their 'Fine' range goes all the way up to a *deep breath* nine hundred and fourteen quid Chateau Mouton. You can also get various spirits, whiskies from around the world, and cocktail ingredients, should you want to play mixologist.
---
Duck & Rice is a blend of English pub culture and Cantonese cuisine from restaurant big cheese Alan Yau. There's been a lot of buzz around the restaurant, with exciting reviews from Time Out and The Guardian, and social distancing doesn't mean you have to miss out - you can get delicious dim sum and super-yummy chow mein delivered to your door.