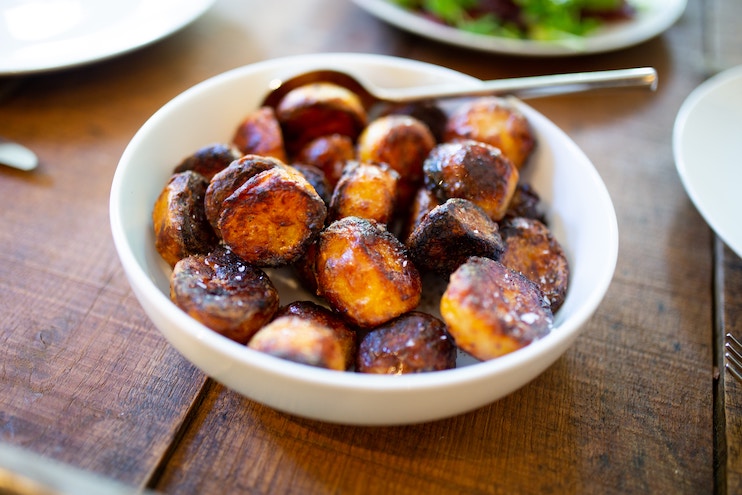 What's a vegan to do for Sunday lunch in London? Check out our top picks for the best vegan roast dinners in the city…
Karamel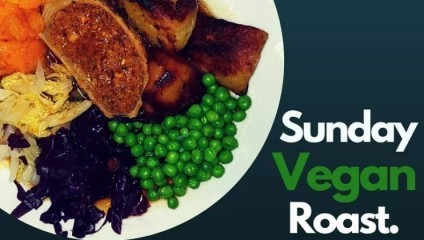 McQueens Theatre, MAAD, College Arts, 4 Coburg Road, London, N22 6JJ
You don't need to be vegan to enjoy Karamel on a Sunday. This not-for-profit space, gallery and venue plays host to a varied, plant-based cuisine, a selection of local beers and a varied roster of cultural events from spoken word to jazz (you can check out what's in store here). Being plant-based, they of course have several options for hungry herbivores. Choose from an almond wellington or veggie sausages. There's even gluten-free options! Check out their menu here.
---
Café Van Gogh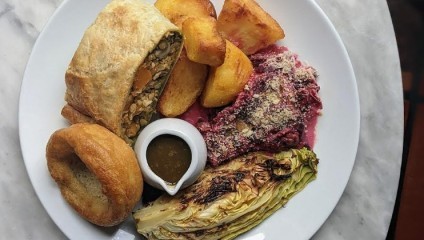 88 Brixton Road, Vassal, London, SW9 6BE
This arty South London café serves up a fabulous Sunday roast. Its cuisine is 100% vegan and not only can you eat healthily whilst you're here but you can also do good whilst you're at it. Café Van Gogh is a not-for-profit social enterprise that works with local charities to provide employment and training opportunities. They aspire to be zero-waste, eschew single-use plastics and serve up a delicious nut and butternut squash wellington with kale and pumpkin seed pesto, plus all the trimmings. If you want to explore the menu further, click here. Their dinners provide ever-changing specials so you're always in for a tasty surprise. For more information, click here.
---
The Duke of Cambridge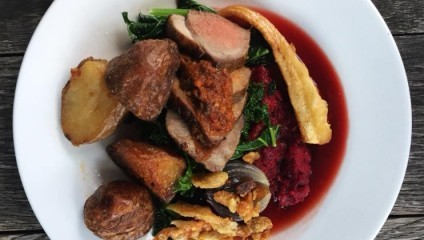 30 St Peter's Street, London, N1 8JT
If you like rustic sophistication, you'll like The Duke of Cambridge. As London's first organic pub it has garnered a reputation for great food with an inclination towards the natural and seasonal. Their roast options (which are a part of their regular menu, if you can't wait until Sunday) are representative of this and include a fantastic roast squash with polenta, truffle and of course, lashings of vegan gravy.
---
Manna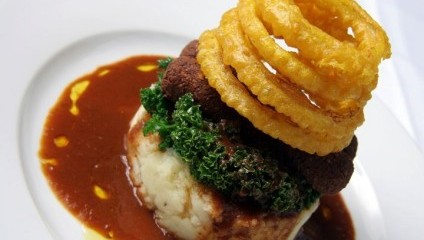 4 Erskine Road, NW3 3AJ
Where else to go for a sophisticated, healthy(ish) vegan Sunday lunch than Primrose Hill? Have a wander around the farmers' market to work up your appetite and then head to Manna, a West London institution specialising in all things vegan and in the business for just over 50 years. Their vegan Sunday lunch is the stuff of legend and always threatens to run out, so get there in good time.
---
The Old Queen's Head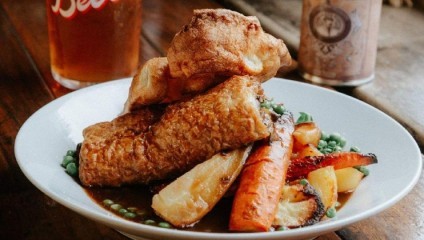 44 Essex Road, London, N1 8LN
The Old Queen's Head is well-known for its hit club nights, comedy and somewhat tatty Chesterfield sofas, but that's not all there is to this spacious and friendly boozer. Their vegan Sunday roast is something of a North London legend, a mushroom wellington to make even carnivores drool. Pair your roast with a cheeky round of their excellent cocktails - we recommend the sloe gin fizz.
---