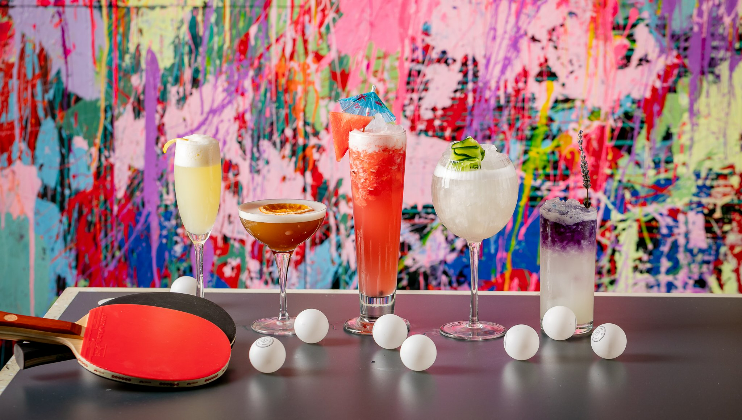 Getting bored of bars? Add a twist to your evening up by visiting one of the top activity bars in London…
Bowling at All-Star Lanes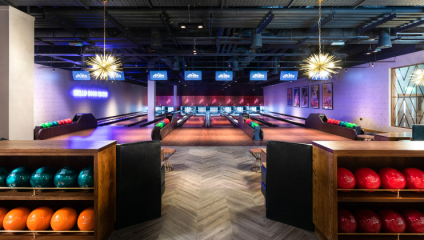 Let's start with a classic, and an easily accessible venue. All-Star Lanes have venues popping up all over the city, including their new one in White City, so you're more than likely to have one near you if you're struck by a sudden craving for some tip-top tenpin fun of an evening or a weekend. Travel back in time with their 1950s American diner kinda décor, and then get prepped with a beer pitcher, some hot snacks and start bowling! If that's not all, some venues also offer Karaoke if you're in for a post game sing-off round.
All-Star lanes have venues at the following locations:
Brick Lane: 95 Brick Lane, London, E1 6QL
Holborn: Victoria House, Bloomsbury Place, WC1B 4DA
Stratford: 2nd Floor, Westfield Stratford City, London, E20 1ET
White City: Westfield London Shopping Centre, Ariel Way, W12 7FU
---
Darts at Flight Club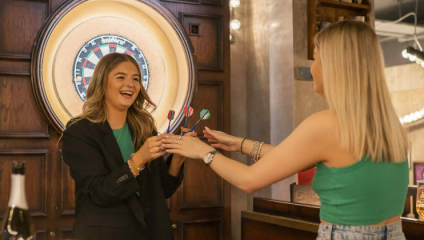 Flight Club's big idea is to get us being more sociable with one another, using one of the oldest games around. You'd think as Londoners we'd all be pooh-poohing this (talking to one another? Being nice? And sociable?) but Flight Club has proved itself as big a hit as its namesake film was in 1999. Don't be misled, however, this is darts made for 2019, fast-paced, multiplayer and with a whole bunch of tech that'll make your experience as easy and streamlined as poss. They'll deliver drinks and food right to your pre-booked area, too and with locations across the span of the city, there's always one nearby in case you fancy trying something different.
For bookings, reservations and more information, click here.
London Locations:
Bloomsbury: 55 New Oxford Street, London, WC1A 1BS
Islington: 56 Upper Street, London, N1 0NY
Shoreditch: 2A Worship Street, London, EC2A 2AH
Victoria: 6 Sir Simon Milton Square, London, SW1E 5DJ
---
Ping-pong at Bounce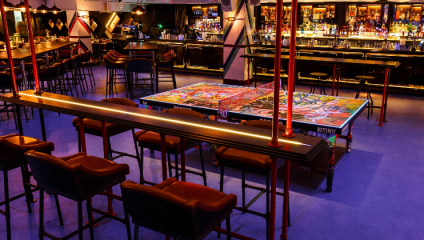 Bounce have been around since 2012 and are well-known and well-loved for being the best place to chuck a few balls around once you've reached the age that the Kidzmania lady will politely ask you to step out of the ball pit, please, ma'am, because you're scaring the children.
Bounce aren't just ping-pong purveyors, however. In all of their venues you'll be able to get food and cocktails, too, as well as soak up the good vibes and good tunes. Check out their new menu here.
Bounce are at the following locations:
Old Street: 241 Old Street, London, EC1V 9EY
Farringdon: 121 Farringdon, London, EC1N 2TD
Battersea Power Station: Battersea Power Station, London, SW8 5BN
---
Crazy golf at Swingers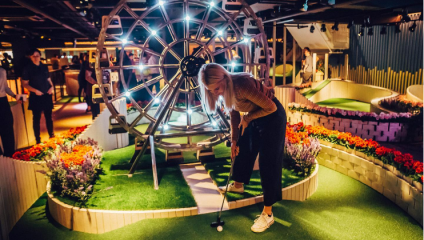 The one that started the craze for crazy golf in London; the original and best (in our humble opinion). With not one but two nine-hole courses that'll have you twisting and turning to try to get that hole-in-one, plus windmills, light-up trees and lighthouses.
Taking the 1920's visionary game of crazy golf from the quintessential British seaside, adding some Tanqueray infused beverages, chucking in some of London's tastiest street food and of course, music to get you moving and we can guarantee Swingers will have you ballin' for more.
Swingers are located at the following:
West End: 15 John Prince's Street, W1G 0AB
The City: 8 Brown's Building, London, EC3A 8AL
---
Axe-throwing at Whistlepunks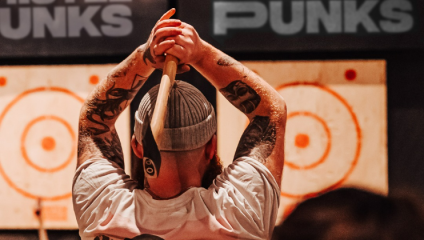 Arch 25, Handel Business Centre, 73 Bondway, London, SW8 1SQ
Now, there's no actual drinking at Whistlepunks (apart from the odd, very low percentage beverage), for fairly obvious reasons: you will not only be wielding a big heavy sharp thing, but attempting to chuck the big heavy sharp thing at a target. But you don't need to be drinking to have fun here - get a team of mates together and get hitting those bulls eyes. If nothing else, it's cheaper than therapy. And don't worry, each session is designed for first timers, and before you know it you'll be sinking axes like a pro!
Tickets start from £29 per person. For bookings or more information, click here.
---