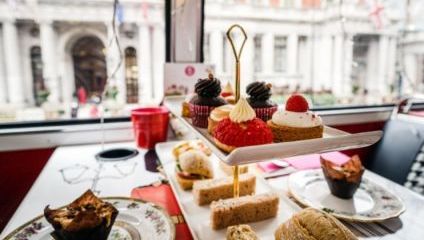 Discover the more unusual afternoon tea choices around London…
We can all doff our caps to Anna- the Seventh Duchess of Bedford- for the tradition if this well known British past time. In the early nineteenth century it was a standard practice to eat only twice a day: breakfast and late dinner at 8pm (I know, that made my tummy rumble just thinking about it). Anna felt the need for a mid-afternoon pick-me-up, and we as a country never looked back. Thanks Anna!
In homage to the wonderful practice of afternoon tea we have listed some of the more unusual locations. Read on to discover our favourite quirky spots for afternoon tea in London…
B Bakery
Leaves from 8 Northumberland Avenue and Victoria Coach Station daily, prices start at £45pp.
We like to multi-task these days and taking in London's many sites can be a time consuming process, it is a big city after all! The B-Bakery however offers the opportunity to kill two birds with one stone with the proverbial through their Afternoon Tea Bus Tour. Tea is served on both decks- complete with scones, sandwiches and mini pastries- as the Routemaster travels around Central London taking in the sights.
---
One Aldwych
1 Aldwych, London, WC2B 4BZ
We've all dreamed of witnessing the Roald Dahl classic of Charlie and the Chocolate factory come alive. And at One Aldwych, it does- their Pure Imagination afternoon tea is an elevating experience of crazy concoctions and masterful flavours. If you're really into the author you'll even come across some subtle references from the BFG.
In the heart of London's theatre land, you can feast on scrumptious savouries such as salmon and beetroot macaron's, to mouth watering sweets such as lemon sherbet tea, fizzy lifting champagne, cakes, mallows and creams: the list just goes on.
Prices start at £52 per person. Reservations can be made here.
---
Science Afternoon Tea
10 Harrington Road, South Kensington, London, SW7 3ER
Inspired by their South Kensington neighbour: The Science Museum, The Ampersand Hotel experiments with sounds, visuals and, of course, flavour to create an afternoon tea experience that will take you out of this world. With vegetarian, vegan and gluten-free menu's available this is afternoon tea that will not only be suitable for everyone but will delight at the same time. Indulge in their white chocolate and mixes berries planet that will shoot you into the stratosphere, to jellies served in petri dishes, mooncakes, space men and much more!
A truly one-of-a kind experience expertly prepared to bring the unusual to afternoon tea.
Prices start from £49.50 per person. For more information click here.
---
Indian- Inspired Afternoon Tea
14-16 Craven Hill, Lancaster Gate, London, W2 3DU
If you're craving sugar, spice and all that is nice head to the Park Grand at Lancaster Gate where you can experience afternoon tea inspired by the flavours of India. They offer a wide selection of sumptuous Indian treats providing the traditional with a twist.
A really flavoursome choice, especially for those that are vegetarian, you can enjoy Mumbai's favourite tea time snack, the 'Bombay Aloo Bonda Pay', a mini mango tart, and many other sabot street food favourites that'll have your taste buds dancing with excitement.
If this is not something you're entirely partial to, the Park Grand offers many other variations of afternoon tea that we are sure you'll enjoy.
Prices start at £35 for two people. More information can be found here.
---
Pret-A-Portea
The Berkeley, Wilton Place, London, SW1X 7RL
If you're fashion-centric, appreciate couture or just fancy something a little more different to the tourism aspect of afternoon tea, then Pret-A-Portea at the Berkeley hotel may be what you're looking for. The cakes and pastries resemble the latest and popular fashion designs with the menu changing seasonally (SS22 we are ready for you).
This playful and stylish approach to afternoon tea proposes an edible version of Balenciaga's new collection- reimagined with velvety cheesecake and adorned with an oversized chocolate hat.
Enjoy its elegance whilst having fun discovering what's come fresh off the runway.
Prices start at £79 pp. More information can be found here.
---