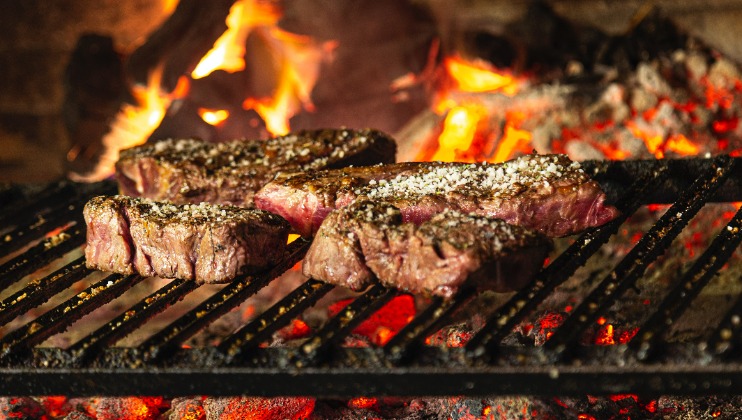 London's BBQ Revelation: 5 All-American Smokehouses Worth Crossing the Pond For!
London's culinary scene has been set ablaze with the irresistible allure of American smokehouses. From the heart of the United States to the heart of the British capital, these five sizzling hotspots have mastered the art of mouthwatering BBQ. So, whether you're a homesick American seeking a taste of nostalgia or a curious foodie craving a sensational experience, join us on a finger-licking journey through London's top 5 American smokehouses that will leave you smokin' with delight!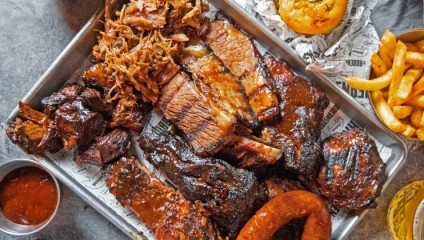 ---
Bodean's
Step into Bodean's smokehouse in London, and you'll be greeted with a BBQ symphony that could make even the toughest carnivore shed a tear of joy.
Their menu is a love letter to meat, with tender ribs that fall off the bone like a dramatic mic drop and brisket so smoky, it's like a ninja hiding in a cloud of flavor. But fear not, the prices won't leave your wallet in a state of shock! Bodean's is all about giving you a taste of the American dream without breaking the bank with main meal dishes starting from £10 per person. And speaking of dreams, keep an eye out for their upcoming events - from 'Meat Madness Mondays' to 'Wing Fling Wednesdays,' they've got you covered with mouthwatering deals. Oh, and did we mention their ingredients are sourced from only the finest farms, because happy pigs make even happier BBQ enthusiasts! So, unleash your inner carnivore, and let Bodean's take your taste buds on a wild and delicious ride! Check out more of what's on, here.
---
The Blues Kitchen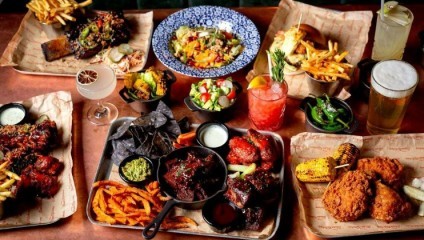 This London based Texan BBQ restaurant and blues bar hosts live sessions that will have you tapping your feet as you sink your teeth into one of the juiciest, most succulent 16-hour slow-cooked short ribs this side of the Atlantic. They also boast the largest selection of rare and vintage bourbon in the city, including a Culture Calling favourite, Jameson Caskmates. Not bourbon, but a heavenly Irish whisky aged in beer barrels for a deep nose of butterscotch, caramel, and rich coffee notes. Make sure you also check out Blues Kitchen Radio if you want to take home the sounds of the South.
Explore their menus here.
---
Big Easy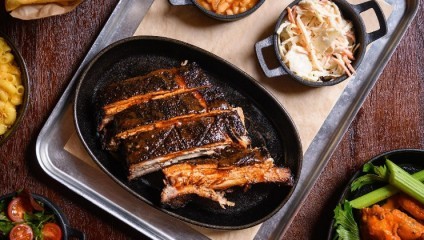 Big Easy is a spot where you go big or go home. Launched on the Kings Road in the nineties, their hearty portions of old fashioned home cooking pay homage to 19th century American BBQ and crab shacks.
This smokehouse is fantastic for deals, with a daily 'Express Lunch' offer and a different evening offer every day, plus unlimited boozy brunches every weekend. With live music and an even livelier atmosphere, Big Easy's reputation as one of the best grill houses in London is firmly intact.
---
Smokestak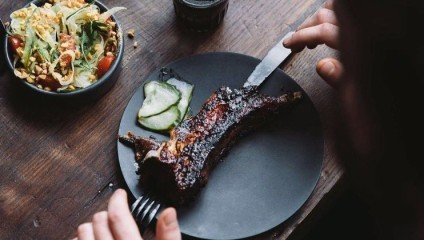 35 Sclater St, London E1 6LB
This no-frills restaurant isn't hiding anything - it just doesn't need to do much talking when the food is so good.
The open kitchen and industrial aesthetic perfectly match the big, bold flavours on the menu. If you're in the mood for a BBQ in London, then their oak-smoked brisket and ribs with sweet 'n' sour BBQ sauce is almost guaranteed to hit the spot and they won't leave your pockets empty either, with meals starting from just £8.50. Explore more of their menu here.
---
HotBox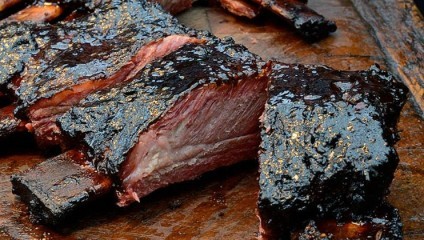 As with many of London's best restaurants, HotBox started life as a street-food vendor, before expanding across the city. They still travel all over the UK at various festivals, and you'll find them in other London food markets, but it's handy to know you can sit down and enjoy their slow cooked meats too.
Their menu isn't the cheapest on our list, with meals starting at around £12, but with a reputation as one of the best BBQ smokehouses in the city, it's worth the treat.
---
Smokehouse Islington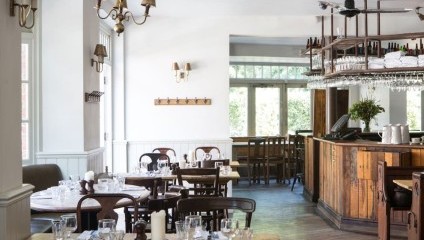 63-69 Canonbury Rd, London N1 2DG
Smokehouse Islington, a quaint pub in the North of London where smoke meets sizzle. With a beer range that can put London's wildest pubs to shame, you'll be toasting to their creativity in no time. And when it comes to wine, they've got the exclusive hookup with small family-owned vineyards, giving you the perfect excuse to swirl, sniff, and sip like a true connoisseur. As for the menu, it's a 'does what it says on the tin' establishment. They work with the best farms in the UK, butchering their meat on-site, resulting in a specials board that's nothing short of a carnivore's fairy tale. From coal-grilled prime cuts that'll make your taste buds do the happy dance to slow-cooked delicacies that will leave you humming with delight - Smokehouse Islington knows how to take you on a lip-smacking adventure like no other!
Their website is under construction but you can follow their instagram here for updates!
---
<> Acme Fire Cult >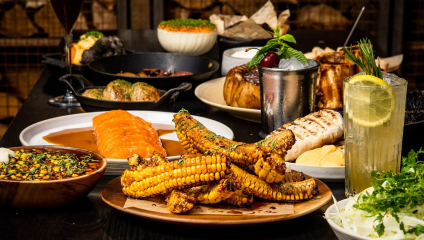 Abbot St, London E8 3DP
Welcome to Acme Fire Cult, where inspiration from around the globe infuses their grilling and fermentation techniques, along with their fiery affair with chili and spices.
Their seasonal menu evolves constantly, putting vegetables at its heart, while rare and native breed meats from Lyon Hill Farm and Swaledale Butchers, alongside dayboat fish from Fin & Flounder and Bethnal Green Fish, take supporting roles - all sourced from regenerative farms and sustainable suppliers. Don't miss out on their reduced menu of delectable small plates and flatbreads available for takeaway or served at the 40FT Brewery taproom just across the yard.
Check out their menu here.
---
Humo
12 St George St, London W1S 2FB
A wood-fired restaurant nestled in the heart of Mayfair, Humo is where smoke is not just a flavor, but an all-consuming passion for barbecue enthusiasts with a side of gastronomic geekery! They take grilling to a whole new level, flavoring food with a meticulous selection of six different woods, as if the culinary stars themselves aligned in a Japanese perfectionist symphony. And if you think this is surprising, wait till you hear about their executive head chef, Miller Prada, a protege of the Michelin-starred Endo Kazutoshi! They've got cauliflower dancing under ash, and even the Hampshire trout gets the royal treatment, aging gracefully for nine days with a kiss of oak. Oh, and let's not forget the signature cocktail - it arrives like a divine apparition, crowned with a flaming halo of smoked wire wool! The best seat in the house? The counter, baby! Get ready for a front-row view of their four-meter-long wood grill - it's the ultimate sizzle spectacle! So, if you're craving a culinary adventure where smoke is the flavor guru and wood is the culinary wizard, Humo is your smokin' hot ticket to flavor paradise!
To explore their menu's, click here.
---
Cinder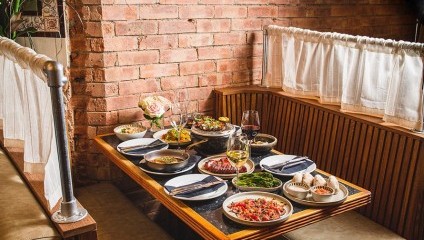 66 Belsize Ln, Belsize Park, London NW3 5BJ
Step into Cinder, the blazing culinary creation from former Ritz chef Jake Finn! With two vibrant locations in Belsize Park and St John's Wood, it's the perfect haven for north Londoners seeking flame-licked magic without braving the east. Picture a Josper oven as the fiery maestro, infusing flavors into chicken thighs, lamb chops, tiger prawns, and whole sea bream. But that's not all – Finn's wizardry amplifies the experience with rib-eye entwined in Szechuan and chili sauce, igniting taste buds like a flavor firestorm! If you're ready to embark on a gastronomic adventure that will leave you mesmerized, Cinder is the hottest spot in town for a feast that's truly enchanting!
Main meals start from £24 per person. Check out the menu here.
---
The Barbary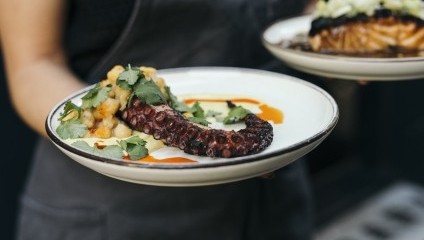 16 Neal's Yard, London WC2H 9DP
The Barbary, where North African charm meets Chinatown flair, and the grill takes center stage. The menu reflects a culinary heritage from the Atlantic Coast to the Mediterranean Sea, embracing seasonality and the purest form of cooking - with fire. The sizzling delights range from blackened octopus to Jaffa-style cauliflower, all accompanied by superb cocktails. Join the fiery adventure, and embrace some history, a little romance, and a kitchen bar! Dishes start from just £7 so you won't leave empty pocketed either.
Explore the menu here.