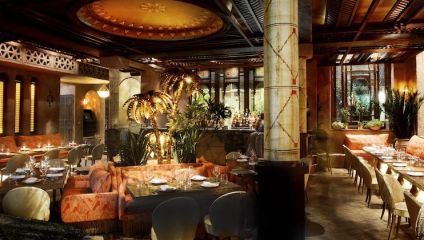 The five finest spots in London to shoot the breeze and pass the pipe
There's a multitude of great places in London to enjoy shisha. From Moroccan dens to Lebanese lunch spots and a magical wonderland in Clapham, we've rounded up our top five spots to sit back and have a good, old-fashioned shisha session.
---
Beirut Nights
Known as London's best Lebanese restaurant, the award-winning Beirut Nights lights up Abbey Road with a warm Middle Eastern ambience and top quality shisha. The heated terrace provides a gorgeous backdrop for their impressively lit pipes resembling bubbling science lab experiments. For £20 you can choose from their range of Al Fakher or Starbuzz flavours, putting a deliciously fruity twist to the perfect night out.
Beirut Nights can be found at 19 Abbey Road, North Acton NW10 7RB
---
Drunch
Drunch work with three key ingredients: "great people, great food, and a cool vibe." Put them all together, and you get a chilled session in Mayfair, munching on their eclectic menu of halal comfort food with a contemporary fusion twist. So whatever you opt for - their jerk chicken and avocado sliders, their famous cheeseburger, or their classic "RIP Diet" cheesecake - just make sure to round it off with a late night shisha sesh. The terrace is open until midnight every day (except Sundays).
Drunch can be found at 1 Woodstock St, Mayfair W1C 2AA
Image courtesy of Drunch
---
Momo
Once described by The Sunday Times as "effortlessly cool", Parisian-Algerian Mourad Mazouz opened this decadent North African den in the nineties, after searching in vain for a London spot to enjoy his homely couscous. Today Momo serves as a sparkling Mayfair gem providing something for every mood. So if you've had your fill of their mezze, brunch and dinner menus then head onto the elegant terrace for a spot of Moroccan Afternoon Tea, with shisha flavours changing every day. The fresh flowing mint tea is an ideal accompaniment to the mouth-watering Moroccan delights on offer, from chocolate argan oil delice to chocolate harissa mousse, date scones and rosewater cheesecake.
Momo can be found at 23 - 25 Heddon St, Mayfair W1B 4BH
---
Mamounia Lounge
Mamounia Lounge is the home of Arabic drinking, dining and entertainment - in the form of belly-dancing and live music - as well as having one of the most decadent shisha menus around. Their Mamounia Special Shisha consists of fresh whole fruits packed with tobacco for an intense fruit infusion, with a choice of apple, lemon, pineapple and watermelon available. You can also have it blended with your favourite juices, spirits, wine and even champagne for those really looking to impress. Either way, their fresh shisha is always produced with the finest molasses, ensuring top quality in every puff. Plus, if you're not the outdoorsy type, you can enjoy their electronic shisha inside.
Top Tip: For £5, Mamounia's fresh range of homemade lemonades are the perfect accompaniment for your shisha - available in a range of strawberry, peach, cherry, apple or classic for those who want to keep it simple.
Mamounia Lounge can be found at 136 Brompton Rd, Knightsbridge SW3 1HY and 37A Curzon St, Mayfair W1J 7TX
---
Café Cairo
Café Cairo is more than just any old Clapham bar. From the moment you cross the threshold, you step into a fantasy realm that takes you on a journey of warmth, colour and wonder. Upon entry you'll meet the elaborate café, which offers a mélange of delicious sweet treats - from Turkish delights to baklavas, and chocolates made by Van Coillie Pralineur. As well as their range of teas, coffees and cocktails, you can make your own free toast with fresh bread provided by the Old Post Office Bakery. Take a further nosey around the travellers' lounge - full of books, chess and backgammon by the open fire. The magic really happens in their shisha garden - with their tent replicating the bazaars of Cairo - adorned with cushions, blankets, low tables and shisha bars. The tent also transforms into a free cinema once a week, so there's no reason not to get cosy while enjoying their nicotine and tar-free shisha.
Café Cairo can be found at 88 Landor Rd, Clapham SW9 9PE
Image courtesy of Café Cairo