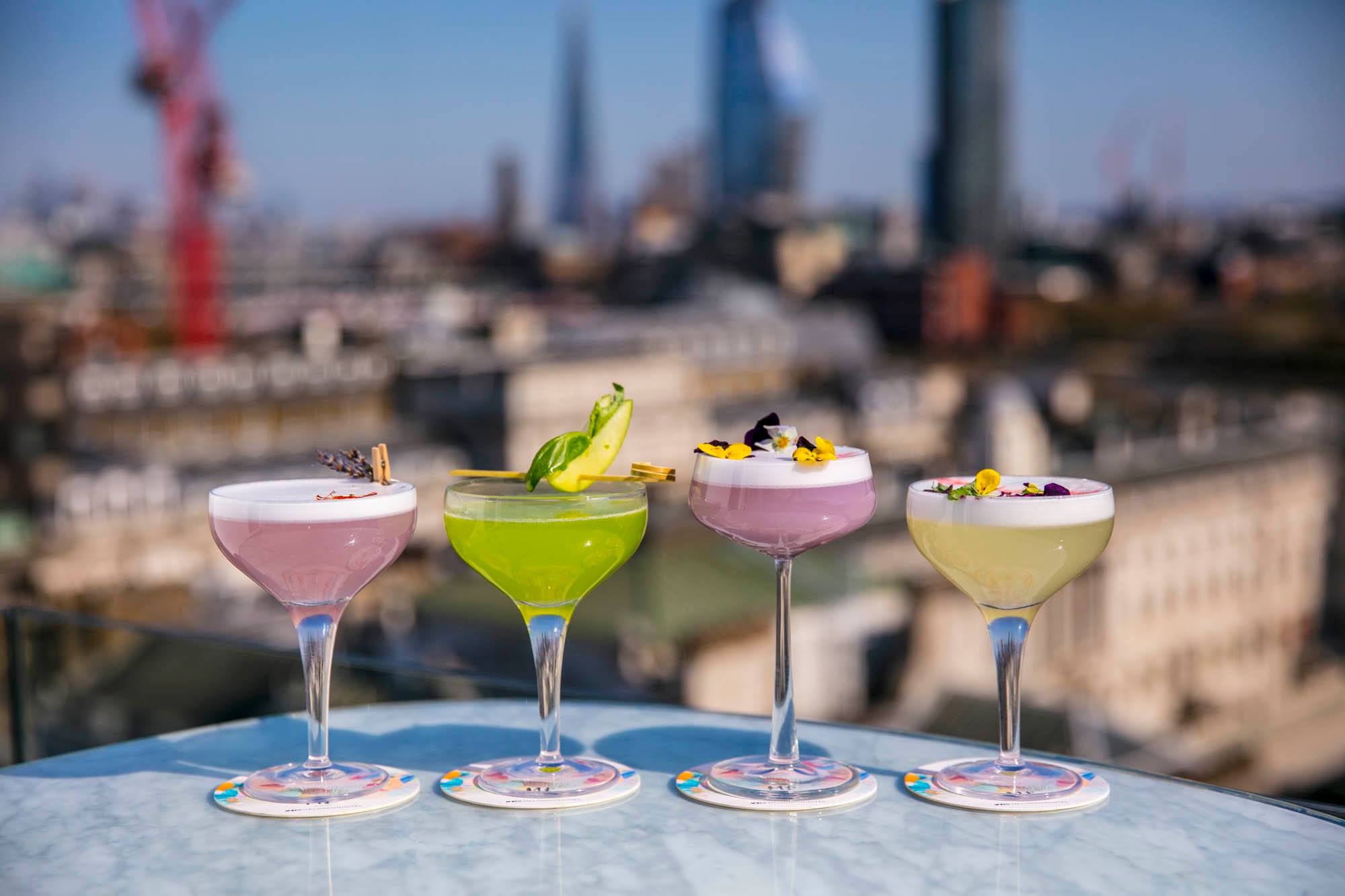 Covent Garden is stacked to the brim with bars, so we've done the 'hard work' for you and sampled them all to bring you our top 5!
Covent Garden, the heart of London's West End, is renowned for its vibrant atmosphere, cultural heritage, and thriving nightlife. With an abundance of bars and restaurants to choose from, it can be overwhelming to find the perfect spot - whether you're looking for simple post work drinks with pals or an unforgettable evening. Fear not, as we have done the legwork for you and compiled a list of the top five bars in Covent Garden. Prepare to be captivated by these exceptional establishments that promise an experience like no other...
---
Circus Covent Garden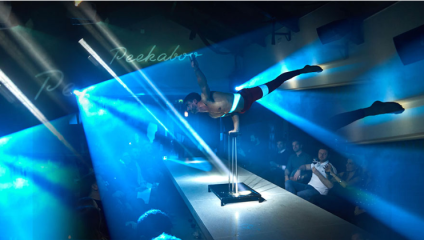 27-29 Endell St, London WC2H 9BA
Price Range: £££
Step into a world of wonder and excitement at Circus Covent Garden, a bar that seamlessly blends mixology, live entertainment, and theatrical flair. An establishment where they believe that dining out is about more than a meal.
So they've taken everything a step further and created a unique experience, with acrobatics, cabaret and mixology all blended together in a stylish and intimate venue.
As you sip on expertly crafted cocktails, you'll be treated to mesmerizing performances by talented aerialists, contortionists, and fire-breathers. The interior exudes an upscale and glamorous ambiance, with plush seating and dazzling lighting that sets the stage for an unforgettable night out. It's time for some razzle dazzle.
Menu Highlights: Enjoy innovative concoctions like the Circus Sour, a refreshing blend of gin, elderflower liqueur, lemon juice, and a touch of fizz, or the Flaming Tiki, a tropical mix of rum, passion fruit, and a fiery spectacle of flaming garnishes. Complement your drinks with a selection of gourmet bar bites, including mini sliders, crispy calamari, and truffle fries. Check out the full menu here.
---
The Alchemist
63-66 St Martin's Ln, London WC2N 4JS
Price Range: £££
Prepare to be mesmerized by the enchanting world of The Alchemist, another bar that combines mixology with theatrical flair; just less acrobatics. This establishment is known for its innovative cocktails that are as visually captivating as they are delicious.
The interior design is a mix of industrial chic and contemporary elegance, with exposed brick walls, metallic accents, and intriguing laboratory-inspired decor- perfect for pre-theatre drinks we say, and only a stones throw from the opera house. Marvel at the bartenders' captivating mixology skills as they create potions and concoctions that defy expectations.
Menu Highlights: Delight in unique creations like the famous Lightbulb Moment, a gin-based cocktail served in a glass bulb with an aromatic cloud of citrus, or the mesmerizing Bubblebath, a blend of vodka, peach liqueur, and cranberry juice topped with a cloud of bubbly foam. Discover more of the menu here.
---
The Escapologist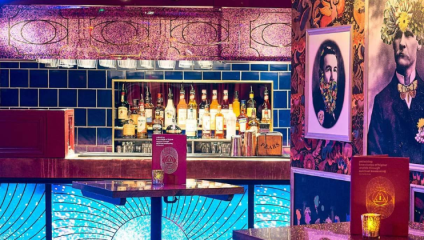 35 Earlham St, Seven Dials, London WC2H 9LD
Price Range: ££
Step into a world of intrigue and adventure at The Escapologist, a bar inspired by the fictional exploits of infamous Victorian escapologist Baron Von Took. The venue boasts a rustic and vintage aesthetic, complete with exposed brickwork, eclectic props, and dimmed lighting.
Immerse yourself in the lively atmosphere and enjoy their selection of craft beers, ciders, and expertly mixed cocktails. Don't miss their immersive events, including live magic performances and interactive storytelling sessions.
Menu Highlights: Savor their handcrafted cocktails, such as the Enigma Elixir, a mesmerizing blend of rum, passion fruit, and citrus with a hint of exotic spices, or the Great Houdini, a concoction of gin, elderflower liqueur, and fresh cucumber. Indulge in their delectable small plates like crispy calamari, gourmet sliders, and truffle mac and cheese bites, all perfect for sharing with friends. Discover more of the menu here.
---
Radio Rooftop Bar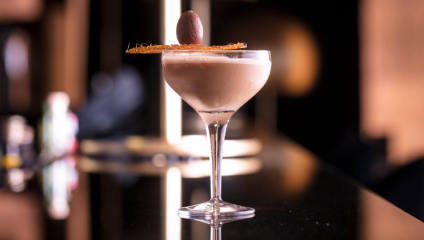 336-337 Strand, London WC2R 1HA
Price Range: ££££
Elevate your evening at the Radio Rooftop Bar, perched atop the luxurious ME London hotel. As you step onto the terrace, you'll be greeted by breathtaking panoramic views of the London skyline.
The sleek and sophisticated interior boasts a modern design, with stylish seating areas and chic lighting. Indulge in an extensive range of innovative cocktails while enjoying the vibrant atmosphere. Be sure to check their calendar for exclusive events, including guest DJ nights and themed parties.
Menu Highlights: Sample their exquisite mixology creations, such as the Elderflower & Lychee Martini or the Smoked Old Fashioned. For a culinary delight, try the artisanal sharing plates like the Iberian Platter, featuring a selection of premium cured meats and cheeses.
---
Mr. Fogg's Tavern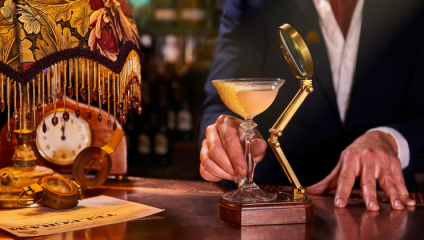 58 St Martin's Ln, London WC2N 4EA
Price Range: ££
Transport yourself to a Victorian-era tavern at Mr. Fogg's Tavern, a whimsical bar inspired by the adventures of fictional explorer Phileas Fogg. The lively atmosphere, complete with vintage memorabilia and staff dressed in period costumes, adds an element of theatricality to your night out.
Sip on classic cocktails or choose from their extensive selection of craft beers, ciders, and ales. Don't miss the weekly pub quizzes and live music nights that guarantee a jovial experience.
Menu Highlights: Enjoy hearty British fare such as the Tavern Burger with a side of triple-cooked chips, or opt for the mouthwatering Shepherd's Pie. Pair your meal with a pint of Mr. Fogg's very own ale, specially brewed for the tavern. Read more of the menu here.
---