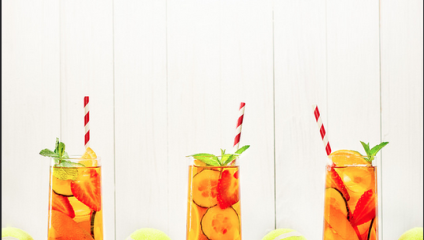 Game, Set and Match! Tennis-fever returns once again to the UK with the Wimbledon Tennis Championships from 2 July until 15 July 2018.
As the professionals take to the court to warm up their first and second serves, restaurants and hotspots around London will be doing the same! There are plenty of pop-up screens all over London to watch the matches, but why not take things to the next level? While Andy Murray and co are breaking out a sweat, imagine yourself carefully breaking the white chocolate crust of a tennis ball shaped cheese cake and drowning in Pimm's ... classy!
---
'The Perfect Serve' Afternoon Tea at The Arch London
Celebrate Wimbledon in style with a special themed Afternoon Tea at The Arch London. At this Marylebone boutique hotel you can expect to be treated like Royalty with a procession of dishes worthy of the Royal seal of approval, including gingerbread tennis rackets, a centre court almond financier cake, and an orange and lemon tennis ball mousse. The tea is complete with warm baked scones and classic British sandwiches. Upgrade and make it a boozy treat with either a glass of Taittinger Brut Reserve or a Pimm's Cocktail.
Wimbledon Afternoon Tea is available at The Arch from 2-15 July for £29.95, or £39.95 with a glass of Taittinger Brut Reserve or a Pimm's cocktail.
---
Championship Fine Dining at The Petersham
The prestigious fine-dining establishment in Richmond is running its quintessential Afternoon Tea with a delightful Wimbledon twist, featuring innovative treats such as Pimm's jelly and cucumber foam and mini mango tennis ball cheesecakes. Head Chef Jean-Didier Gouges has also designed a playful dessert for the à la carte menu - a refreshing strawberry and elderflower mousse encased in a hand-crafted crisp white chocolate tennis ball. It's a grand slam of Wimbledon flavours. The Afternoon Tea also includes a classic selection of finger sandwiches, scones, exquisite patisseries including Petersham Victoria sponge, opera and fruit cakes, a selection of quality teas, all your favourite fizzes, and sunshine, of course.
The Petersham's Wimbledon Afternoon Tea is available from 2 July -15 July and is priced at £27.50 Monday to Friday and £29.50 Saturday and Sunday (add a glass of champagne for £12.75).
---
Pimm's Pop-Up at The Refinery, Bankside
Less desserts and more actual tennis you say? Head to the Refinery Bankside for a Pimm's-tastic pop-up like no other. In a special English garden-themed screening area, you can watch all the matches on a large screen, chill in red and white striped deckchairs and enjoy a special Pimm's drinks menu including the classic Pimm's No.1 cocktail, the new Pimm's Spritz cocktail, which includes a splash of sparkling wine, and Pimm's No.6 (Vodka Cup) with botanical or citrus tonic. For a frozen treat, there will also be Pimm's POPS ice lollies available, and Tennis fans can indulge in a limited edition Pimm's-inspired afternoon tea including scones paired with Pimm's-infused jam and clotted cream, waffles with strawberries soaked in Pimm's, and a Pimm's Eton Mess. You can even win tickets to the actual Championships by entering the
---
Pimm's social media competition.
The Pimm's Pop Up at The Refinery, Bankside will be open from2 - 15 July and advanced booking is encouraged.
---
Summer Love at King's Cross
For something more laidback and urban, head to King's Cross where this year you can see all the live tennis action from the canal side steps at Granary Square. The King's Cross screen, which is set up for the Summer Love Film festival taking place in the evenings, is one of the biggest and best-quality in central London, making it the perfect place to watch the tennis. The first 50 or so visitors will be able to grab one of the free deck chairs, but for real a really authentic Wimbledon feeling, sit down on the canal side steps covered in fake grass and bring your own strawberries and cream. Of course there will also be food on hand, courtesy of KERB street food and for those who want to indulge in the spirit of summer, Pimms, Prosecco, cold beers and soft drinks will be on offer all week from the Summer Love bar.
The Summer Love screen is at Granary Square, King's Cross from 29 June - 12 July.
---
Wimbledon Workout Week
If you are feeling guilty about indulging in cocktails while others are running after tennis balls, Wimbledon Workout Week might be just the thing to ease your mind. Taking place the week before the tournament begins, you can take part in a host of outdoor fitness classes with a Wimbeldon twist in three locations across the capital: Cardinal Place in Victoria, New Street Square in Holborn and One New Change near St. Paul's. Over 20 outdoor fitness classes are scheduled including from strength, conditioning, pilates, yoga and more by some of London's most popular gyms and fitness experts such as TriYoga, WIT, 1Rebel, Frame, Yogangster & Gymbox. All classes are only £5 as a charity donation to Barnardo's, the UK's largest children's charity, so you can do some good in the world and for your body. After a week of working out, you can flop in that deckchair with a cocktail guilt free - you deserve it!
Wimbledon Workout Week takes place from 25th - 30th June in various locations. For the full class timetable check out the website.