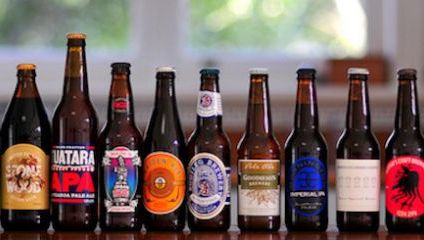 Surrey may now be officially the most expensive place in the UK to buy a pint, but with the range of fantastic beers brewed in the county there is some real justification behind this! Whether you're a beer expert looking for a tasting challenge or a novice looking to find out more about craft beer culture, we've got the essential run down of the best brewery tours and tastings in Surrey.
Check out our selection of the best brewery tours in Surrey
---
The Hogsback Brewery
A cup of tea means a whole different thing at the Hogsback Brewery. One of the UK's best independent brewers, their award-winning flagship beer TEA (Traditional English Ale) has proven to be a favourite of cask conditioned ale drinkers throughout the UK and you can find out exactly how it's made! Hogsback offers tours for groups of 20 with one of their expert brewers who will show you around the brewery, still housed in the original 18th century farm building. Tours are 1.5 hours and including an expert led tasting which allows you to sample a generous range of their ales - and even includes a free Hogsback brewery glass. The tour finishes off in the brewery shop that houses over 300 different beers.
Image Credit: Justin Van Leeuwen via Flickr
Tours cost £15.00 and spaces must be booked in advance through the website. Find the Hogsback Brewery
---
at Manor Farm, The Street, Tongham, GU10 1DE.
---
Surrey Hills Brewery
Located right in the heart of the Surrey Hills on the Denbies Wine Estate, the Surrey Hills Brewery is an independent team of brewers making locally inspired beers. Brewery favourites include their award winning 'Shere Drop' Bitter and 'Greensand' IPA. Their shop is open Monday - Wednesday from 10am-3pm and stocks a variety of Surrey Hill's regular and seasonal beers, and tours of the brewery are available when booked in advance. The team offer a Standard Tour (around 50 mins) where you can see the brewing process in action and try 3 different beers. They also offer a Detailed Tour (around 90 mins), which takes you through the brewing process in more depth and, of course, offers more beer!
Image Credit: Andrew Sampson via Flickr
Tours cost from £8.50-£12 per person and must be booked in advance. Find the Surrey Hills Brewery at the Denbies Wine Estate, London Road, Dorking. RH5 6AA
---
.
The Little Beer Corporation
The Little Beer Corporation is a hidden gem located in Guildford. A micro-brewery made up of a team of expert brewers, this is ideal for those looking to sample beers from across the world. Their tours are open to groups of 10 and allow you to sample a variety of their eight core beers, two seasonal beers and their excitingly named innovation beers. The aim of the tour is to guide your palette through the different beer styles from around the world. After trying 10 different beers, discussing their strengths and styles, the team will even treat you to a game of beer pong (so probably best to leave the car at home for this one!) Tours last around 2 hours and can be booked in advance or on the day.
Image Source: littlebeer.co.uk
Tours cost £10 a head and the brewery is open 9am-3pm on weekdays and 9am-1pm on Saturdays. Find The Little Beer Corporation
---
at Blg 3, 14-15 Midleton Road, Guildford, GU2 8XW.
---
Brightwater Brewery
Technically, not a brewery tour but well worth a visit, the Brightwater Brewery was established in 2012 and, as a result, duo Alex and Sue Harding created a micro-pub called Platform 3 next to Claygate Train Station. Platform 3 offers a range of homemade beers and ciders on tap and to take home. Named by the BBC as one of the smallest pubs in the UK, Platform 3 may be small but it offers a wealth of friendly expertise and fine cask ales. The pub is open for visitors from Thursday - Sunday. We'd recommend trying their flagship beer 'Daisy Gold' which was shortlisted for 'Best Beer' at the Great British Food Awards 2016. All seating at the pub is outside so remember to wrap up warm!
Image Credit: Brightwater Brewery 2013
Find Platform 3 on The Parade, Claygate, Surrey, KT10 0PB. Tel:
---
01372 462 334
---
Tillingbourne Brewery
Named after the river running through the Surrey Hills, the Tillingbourne Brewery was established in 2011 and is located just outside the picturesque village of Shere. This brewery boats a wide portfolio of expertly crafted beers, supplying to over 50 different pubs and specialist outlets in Surrey. Brewery favourites include their award winning golden ale 'The Source' and their 'The Summit' IPA. Tours of the brewery are available on request and their brewery shop offers a wide range of beers for you take home!
Image Credit: Susannah Wheeler via Flickr
Find the Tilingbourne Brewery at
---
Old Scotland Farm, Staple Lane, Shere, Surrey GU5 9TE.