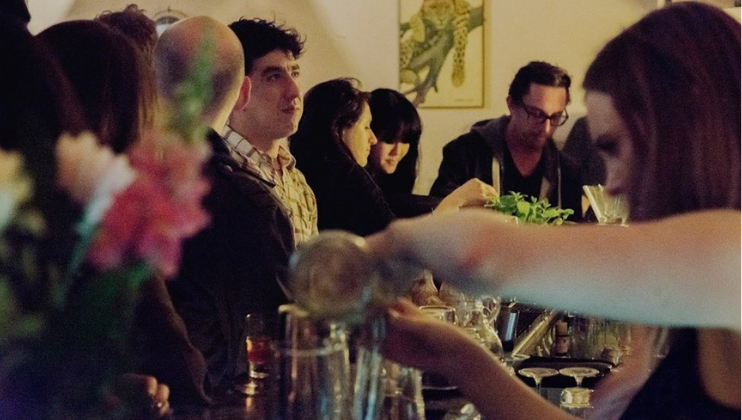 London is awash with great bars. Arguably, East London can be considered one of the coolest for a night out with Brick Lane, Bethnal Green, Hackney Wick and Shoreditch offering good vibes and some great cocktail menus.
If you're looking for the best cocktail bar in East London, you could feasibly get round Culture Calling's Top 5 picks in one night to do some sampling.
There are bars for all occasions - lazy summer rooftop spots, dimly lit speakeasies which are perfect for a date, or lively late night bars for Birthday's. Here's our pick of the best:
Coupette, Bethnal Green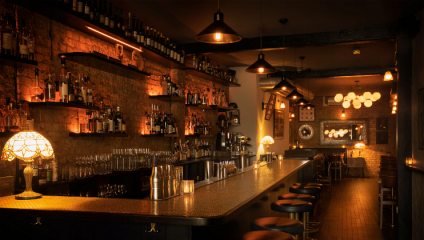 423 Bethnal Green Road, E2 0AN
We're starting with one of the best bars in East London. In fact, voted one of the World's Best Bars in 2019 no less. Inspired by France, but proudly London, think exposed brick walls, bar stools, live music and an impressive cocktail menu.
The mixologists are exceptional, pushing the boundaries with their ever-evolving line-up of concoctions using the finest spirits, local ingredients. Take your pick from the tastebud sounding sensations – Fizzy Fiesta, Ecrureuil Highball and Burnt Affogato – to go with their live music line-up.
You'll also find seasonal specials which is great touch!
For more info see here
---
Barge East, Hackney Wick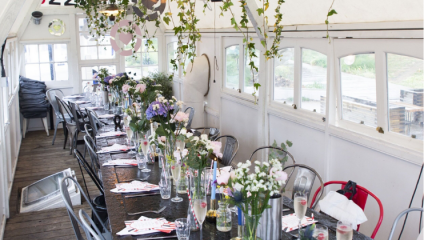 Sweetwater Mooring, River Lee, White Post Lane, E9 5EN
Like to sip your cocktails on the water? It's not the French riviera but award-winning Barge East on the River Lee is impressive.
This 120 year old Dutch barge has one of the largest outdoor drinking and dining areas in London and serves up some rather tasty cocktails from its deck. The Garden Marg with a blend of Tequila, watermelon, strawberry and lime is the perfect accompaniment to a balmy summer's eve. Meanwhile, the Tangled Root laced with rum, ginger and lemon sounds like a tantalising winter warmer.
Barge East also serves up award-winning food from its on-board restaurant and prides itself on sourcing the best local ingredients, together with handpicked homegrown ingredients from the barge's own garden. Impressed? We've got our table booked!
For more information, click here
---
Discount Suit Company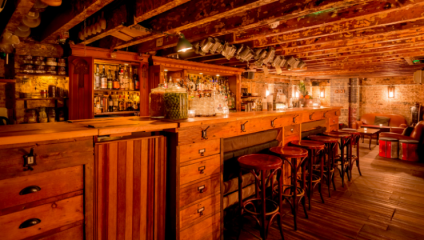 29 Wentworth Street, E1 7TB
We've been into some quirky hidden bars in the backstreets of Soho, but we're loving everything about this joint in East London. It's hidden in the basement of a former suit tailor's stock room just a short stroll from Liverpool Street station.
The scruffy sign at street level leads you to a black door and a descent into a dimly-lit cocktail bar. There you'll be greeted by Dorian – who's travelled the world looking for cocktail inspiration – and now mixes up playful sounding delights including – Uncle Waldo, Drugstore Cowboy and Wigan Casino.
Be warned, they are addictive. But there's a tasty cheeseboard to nibble on whilst you sink into a worn leather armchair and listen to some Motown and Northern Soul classics.
To book a table, click here
---
City of London Distillery & Bar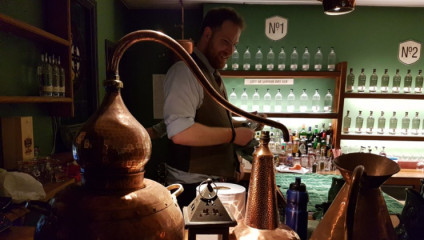 22-24 Bride Lane, EC4Y 8DT
This hidden cocktail gem is somewhat overshadowed by the multi award winning on-site gin distillery producing Whitley Neill gin since 2012.
The cocktail bar overlooks the striking copper stills of the distillers and the faint aroma of gin hangs in the air while you sip on gin based cocktails.
There's also a nice selection of bar snacks to nibble on, including deli platters of meats and cheeses, while you work your way through the cocktail list.
You can take a full guided tour of the stills and learn about the history gin making in the City here
If you fancy a table at the bar click here
---
Servant Jazz Quarters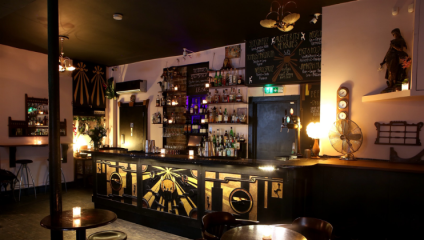 10A Bradbury Street, N16 8JN
If you like some cool beats with your Bee's Knees, then you're in for a treat at this little bar. SJQ is in the heart of Dalston and a great place to experience London's live music scene during the week and dive into some of the capital's hottest DJS at the weekend.
Its classic cocktail menu serves up well-known faves including – Negroni, Margarita and their Expresso Martini's will help keep your feet tapping into the early hours. They run happy hour from 6-8pm on selected cocktails every weekend.
Don't miss their stonking line-up of well-known DJ's and up-coming artists playing. Check out their line-up here