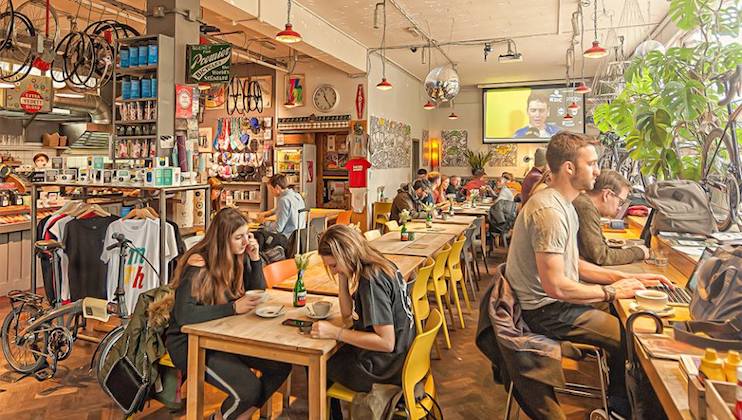 The best spots in London to grab a coffee and take a brake.
It's National Bike Week from June 10 - 18, so we thought it was high time we celebrated some of the finest cycle cafés London has to offer. You can't beat cycling through London. You learn how all the dots connect, you get fantastic views of the architecture and the river, you get freedom and space rather than the cramped Underground, you get exercise and you're the master of your own time. What's not to like? So get on your bike, and take a pit stop at these fantastic cycle cafés dotted around the capital.
---
Cycle PS
Cycle PS is located just past Camberwell Green, on the way to Peckham, on one of the busiest cycle routes in SE London. It's perfectly located for any 'en-route' issues that crop up, and they also serve a decent cup of joe. It's evening time when the place livens up however, with the stone-baked pizzas, beers on tap and pool/N64 entertaining cyclists and Camberwellians alike.
Cycle PS can be found at 41 Camberwell Church Street, Camberwell, SE5 8TR
Image courtesy of Cycle PS
---
Brixton Cycle
This fantastic co-operative is full of friendly, helpful staff. Having been forced to relocate from their previous home on Stockwell Road, their new digs on Brixton Road are roomier and have allowed them to set up a relaxed café to go alongside the workshop and accessories. Being a co-op, all the profits, having been distributed evenly among the staff, go toward improving the shop itself. Marvellous.
Brixton Cycles can be found at 296-298 Brixton Road, Brixton, SW9 6AG
---
Look Mum No Hands
A cycle café institution, Look Mum No Hands have been catering to cyclists since 2010, and the friendly, easy-going staff are as happy to chat serious bike as they are to change your puncture (no judging) or serve you a banging cup of coffee. They screen the Tour de France and serve up breakfast, lunch and dinner - with vegetarian and vegan options given proper consideration. Add draught beer to the equation, and you've got yourself a first-rate cycle café.
Look Mum No Hands can be found at 49 Old Street, Old Street, EC1V 9HX
Image courtesy of Look Mum No Hands
---
Soho Bikes
If you're anywhere in Central, Soho Bikes is the number-one spot to head for any bike emergencies that may befall you. It's a no-frills alternative to some of the more expensive bike shops out there, and they do a great cup of coffee to enjoy whilst you wait for your repairs. The care and attention given to bikes is applied to coffee as well, with a whole host of top machinery getting the most from the humble bean.
Soho Bikes can be found at 26 Berwick Street, Soho, W1F 8RG
---
Peloton's food offerings take them into the upper echelons of cycle cafés. With a former Jamie Oliver protégé cooking up a storm, you can tuck in to artisan pastries, toasties, seasonal salads, soups and stews to go alongside the coffees from independent roasteries. It's almost enough to make you forget that they do also provide excellent bicycle service and stock a wide range of cycling gear. Honestly though, those toasties…
Peloton & Co Cycle Café can be found at 4 Market Street, Spitalfields, E1 6DT
Image courtesy of Peloton