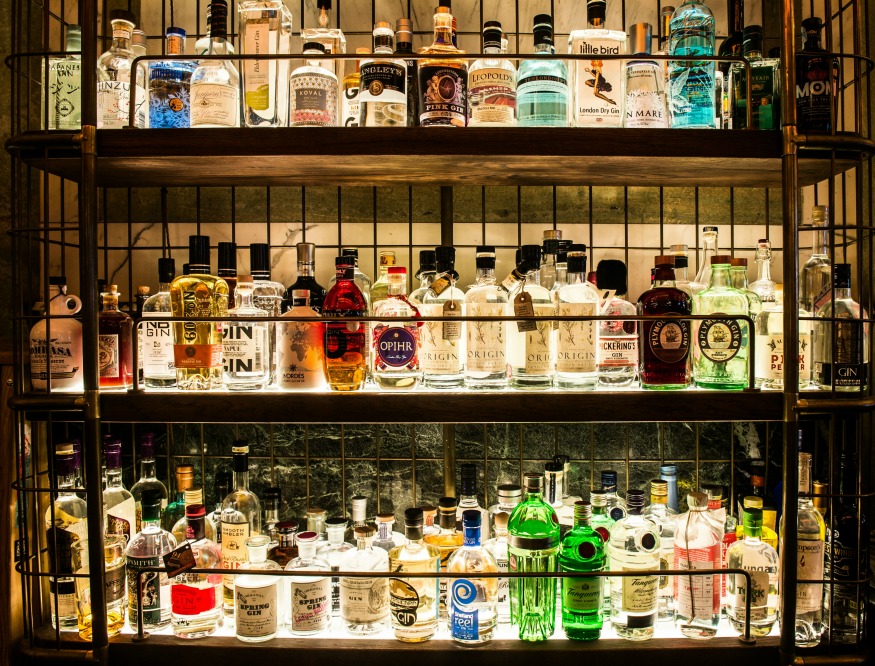 Ladies Delight, Mother's Ruin...Learn all there is to know about the popular drink
Gin is huge right now and so trendy, it is literally on everybody's lips. Not since the gin palaces of 18th Century London has this iconic spirit been so popular in the capital. We at London Calling love a good G&T and for all the Juniper lovers out there, London is positively flushed with activities and experiences to celebrate the ultimate British cocktail. Lord Byron credited Gin for all his artistic output, stating "Gin-and-water is the source of all my inspiration. If you were to drink as much as I do, you would write as good verses." We can't guarantee any poetic side effects but you'll leave any of these 5 experiences with some extra knowledge (and possibly a little stagger, too).
Classic Mini Cooper Gin Bar Adventure
Iconic car, iconic drink. Jump into a classic Mini Cooper and get whisked off by your very own (and sober) driver for a two-hour trip round the best, hippest gin bars and distilleries in Central London. Up to three passengers fit into a Mini, but if you are a popular person with lots of friends, you can order up a fleet! All the drivers are highly trained, local guides, keen to show you London's hidden gems. The visit stops off at a minimum of three of the best gin bars in London, and a distillery, with a gin included at each stop.
The 2-hour tour is £229 per car & driver and can be booked here.
Half Hitch Gin School
Half Hitch are producing gin down by Camden Lock again for the first time in fifty years. In their bespoke gin-making classes at the micro-distillery, Half Hitch distiller Chris will teach you all about the gin-making process over the course of an hour at their very own Gin School. Make sure to take notes, because it will then be your turn to try your hand. Bring a friend, as you'll be creating your bespoke gin in pairs, and remember to bring your own ingredients. You can use anything from fruit to botanicals to flavour your gin, so get creative. You'll get a 100ml bottle of your bespoke blend as well as a 100ml of Half Hitch to take home.
The Gin School and bespoke Gin making is £60 per person and can be booked here.
Sipsmith Distillery
If you want to visit a proper working distillery, Sipsmith was the first of the new wave of London gin distilleries. Learn about the founders, and discover why they were the first copper-pot distillery to set up shop in London in almost 200 years. Hear about the highs and lows from gin's long history, plus the present-day ginaissance we're now lucky enough to enjoy. Then get acquainted with the ladies: Patience, Prudence, Constance and baby Cygnet, the beautiful, hand-crafted copper stills who are responsible for making the gin as good as it can be. Once you've learned how the gin is made, you'll sample several gins in a guided tasting. If you are still thirsty for more you can drink deeper with the Sipsmith Sipper Club: after the distillery head to Charlotte's Bistro to enjoy a decadent, ginful four-course supper.
The Sipsmith Sipper Club takes place Tuesday evenings and is £85 per person.
Tours of the distillery can be booked Monday, Wednesday and Thursday evenings (and selected Fridays) at 6.30pm - 8.00pm and are £25 including a G&T.
Mr Foggs Gin Parlour Gin Safari
If you thought you knew all there was to know about gin and tonic, prepare to have your world shaken, and maybe a little bit stirred too. London bar Mr Fogg's Tavern has launched a gin masterclass that will deepen your love for gin to new and dangerous levels. With more than 300 gins, 25 tonics and 36 botanicals at their disposal, Mr Fogg's can make millions of potential combinations. Let yourself be transported by the bar's opulent Victorian interior back to the time when gin was first made into a drink in the UK, and even further back to the drink's earliest origins - as a medicinal tonic created in Holland to treat infection. The safari takes place upstairs in the atmospheric salon of Mr Fogg's, adorned with genuine Victorian artefacts and staff in Victorian costume.
The Gin Safari is £40 per person and you can hire the entire parlour as groups of 6 - 15 or book for smaller groups, couples or individuals.
Ginstitute
The folks at Portobello Road Gin offer their own Gin experience at the Ginstitute in Notting Hill. After a little history lesson and an overview of the rules and regulations of gin making, you will select your favourite botanicals via tasting and 'nosing' with on-hand assistance from your ginstructor, who will also help with blending the various distilled botanicals together to create your completely unique recipe. A full bottle of this will be assembled for each guest to take home with them on the night. Your recipe is also recorded in their database so you can reorder your very own handcrafted gin any time you need to stock up supplies.
The three-hour experience at the Ginstitute is £120pp. One hour masterclasses are available Thursdays and Fridays for £60pp.