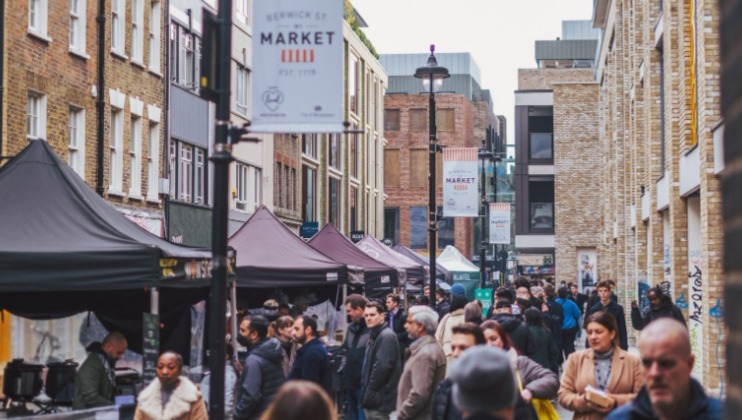 From falafel to tacos, from fast food to fresh produce, whether you want to mangier or to wander, we've compiled a list of where to find the tastiest street food markets in London. The capital is, without a doubt, a foodie's heaven, with many a vibrant street food market that will make your senses sing. There's nary an area without some form of street food available within walking distance, and these are just some of our favourites… 
Borough Market
8 Southwark Street, London, SE1 1TL
Supplying hungry Londoners for over 1,000 years (!), Borough Market is the original and still one of the best. Local suppliers are in abundance, they've adopted a superb approach to sustainability and, with stalls like Bermondsey's raclette masters: Kappacasein, delicious and healthy Egyptian fare from Koshari and famous vegetarian Indian Gujarati Rasoi, top notch street food abounds. Here's to 1,000 more years!
---
Berwick Street Market
Berwick Street, London, W1F 0PH
Although Berwick Street Market has been going for a mere 239 years, it nonetheless has a rich history of satisfying hungry Soho visitors. Fayz Hamidi specialise in Afghan Street Food, Jerusalem Falafel is one of the best wraps you'll find anywhere in London and for something a little healthier, but no less filling, Savage Salads is your stall.
---
Maltby Street Market
Arch 46, Ropewalk, Maltby Street, London, SE1 3PA
Boasting a fine balance of historic merchants and funky food stalls, and surrounded by a gorgeous Victorian railway viaduct, Maltby Street Market oozes atmosphere. The infamous Sub Cult can be found serving up jam-packed gourmet sandwiches, Herman ze German supply the finest German sausages in London and The Cheese Truck's ridiculously good toasties never get old.
You can find their opening hours here.
---
Mercato Metropolitano
42 Newington Causeway, SE1 6DR
Also coming in with fantastic sustainability and community credentials, Mercato Metropolitano is a food haven. There's a garden, a shop, regular events and, of course, a wide variety of stalls. Tortellino & Co. provide beautifully fresh pasta, Fresco deliver another Italian staple with generously topped pizzas, and to round off the Mediterranean theme, try the award-winning gelato from Badiani.
Mercato Metropolitano, 42 Newington Causeway, Southwark, Tuesday to Saturday from 11am - 11pm and Sunday from 11am - 10pm.
---
Victoria Park Market
Between Bonner Gate and Gore Gate E2 9JW
Every Sunday, between 10am and 4pm, a beautifully pedestrianised street in Victoria Park comes alive with fresh produce, delicious delights and, of course, street food that will have you drooling. Whether you're looking to do a locally sourced Sunday food shop or to grab a mouth watering bite you'll find plenty to sink your teeth into.
You'll also often find live music and stalls selling locally brewed beer and wine! A perfect way to round off your week I'd say! For more information click here.
---