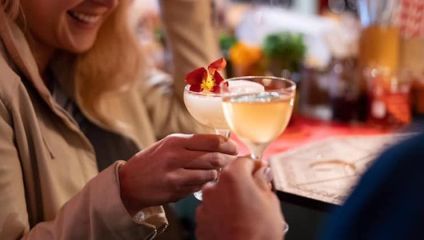 Ever wondered where all those amazing bars are that you overhear people talking about but you never seem to stumble upon?
Have you ever wondered where all those amazing bars are that you overhear people talking about and yet you never seem to stumble upon them yourself? Well fret no more as we at London Calling like two things, a cheeky tipple and discovering a local gem. We sent our intrepid reporter, Meena Toor, to find the venues that will improve your social lives immeasurably!
Opium Cocktail & Dim Sum Parlour
The dimly-lit comforts of high back chairs and low-swung lights, mixed with the oriental touches of leather, suede and vintage furniture make the Opium Cocktail and Dim Sum parlour a must-see secret bar visited by city workers and young go-getters. Established within the breed of quiet but chic speak-easies, these places are perfect for after work drinks or an exciting first date.
The bar stools are perching spots, where you can see the bar tenders working on unusual drinks from the list of contemporary cocktails. With Chinese names like Mei Qiannian, this drink was a splash of cherry and vanilla. The other drinks also include Chinese ingredients like Hibiscus and Aloe Vera. For special occasions or a night out, champagne and a range of Manhattan-style cocktails are on offer, each with their own story about the origins.
Scallop dumplings for the meat eaters and mushrooms and truffle dumplings for the vegetarians. Whichever floor you're on over three floors, you'll be sitting comfortably. The attic has a bar that also serves as an open-kitchen. And the best part? Open late until 3am at weekends.
For the likes of Tracy Beaker actress, Dani Harmer, the Phoenix Artist Club is the spot for a drink. Set among old theatre pictures, dainty wooden chairs and a woody den-vibe, this club is the perfect hang out for actors and non-actors alike. Walking down the steps, found next to the Phoenix theatre, you pass velvet curtails to enter a large open bar area with booths and seating at different angles. You'll find a quiet but electric atmosphere, and wonderfully helpful staff.
Help yourself to a drink and then feel part of the furniture as you take a seat, or meet friends or work colleagues for a drink. Many projects and arts patrons come to the basement to mingle or find a quiet spot away from London's Charing Cross road. But don't be thinking that this place is quiet! The back room of the club is regularly housed with live music or play readings.
The back room, which has a stage and more comfortable booth seating, can be rented out to theatre production teams, and actors rehearsing. There's always a chance to sneak a peak during the day at some famous actors, and then return for a bustling scene for all ages that enjoy their performance - including Wii team games, jazz and join-in music nights.
Set in the heart of theatre land, at the grand address of Zero Aldwych, the Cellar Door could be easily walked past. The entrance looks like a cross between the Sydney Opera House and an alien space ship, with purple lights and a velvet red rope.
With its proximity to theatre land, the cabaret and dance shows on offer are a sparkling display of showgirl dresses with vintage glamour. The capacity of this renovated Victorian toilet is deceptively big, though with a large crowd and a live show, the venue can feel very intimate.
A fun feature is the UK's first SMS juke box, but strangely there are also various flavours of snuff available - try it if you dare! Unashamedly sensual and a definite place for a lads or ladies night out, the burlesque shows and live music are sure to entertain. Check out the Saturday High Tea and Tease show at 2pm, a tourist treat for the theatrically adventurous.
Bitter Sweet Soho Cocktail Bar
This underground cocktail bar may be a little hard to find in Soho's winding streets, but when you do you'll be impressed with the cool modern décor mirrors and patterns, leather coaches and secret padded seating areas, hidden in caves. Reminiscent of an old cellar space, this version is swish and swanky for people who like their cocktails and their music.
For sweet tooth tasters, try the Vanilla Monk which mixes Baileys, espresso and chocolate syrup with Absolut vanilla and cream. Otherwise, the cocktail menu is sophisticated, varied enough to handle any taste. With good happy hours, it's sure to suit a party group or after-work party people.
After drinks, the small but perfectly cosy space plays great music and you'll see couples and party groups dancing away.
There's a mish-mash of furniture and tables, and in this ordered chaos of patterned and chic retro, there's an effortless elegance that results. Beaded curtains, tasselled lampshades and piles of magazines lie carelessly on the table tops. People arrive either casually dressed or after work for tea, coffee or an alcohol drink on the footsteps of the London film scene.
Although the variety of drinks on offer is limited, the Benugo name means good quality food and drink, and good value. In the interesting and far-reaching land of the sofas, the bar area looks small in comparison but it adds a welcome excuse to move around and break the intellectual comfort you get in sitting down and discussing art and news topics.
If you're lucky, you may see emerging directors and actors visiting the BFI shop next door, then taking a break at the bar area. Often it's busy and mixed in company, so get there early or squeeze in where you can - which is half the fun.