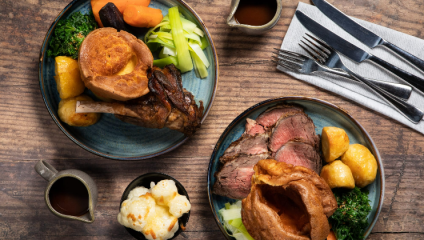 Our handy guide to finding the best roast in Camberwell
Camberwell is home to many a great pub and where there are pubs, there are roast dinners. "But where can you find the best roast dinner in Camberwell?" we hear you cry. Read on to find out…
The Crooked Well
Widely regarded as one of the best roasts in South East London, The Crooked Well is a luxury pub-come-restaurant with an amazing food menu. A short walk from Denmark Hill station, this pretty pub is always packed out with cosy diners on a wet and windy Sunday afternoon. While it's not cheap, the quality is top-drawer. Sumptuous 21-day-aged roast beef or a delicious vegan Welllington will leave you feeling very satisfied, whilst two people dining together can delve into the shared roast corn-fed chicken. Naturally, all the trimmings come in abundance and you can add another Yorkie for a quid or a sharer cauliflower cheese for a fiver.
The Crooked Well is found at 16 Grove Lane, SE5 8SY
---
The Camberwell Arms
The Camberwell Arms isn't just the best roast in Camberwell - it's one of the best roasts in South London. It's a quality over quantity kind of eatery, offering artisan style British dishes that are a bit different from your standard roastie. Most of the Sunday menu is perfect for sharing, with half a spit-roast chicken, braised spinach and garlic yoghurt or overnight braised lamb with braised escarole, raisins, almond and mint whetting our appetites instantly. Everything comes with roast potatoes, of course, and we really can't understate how fine this roast is.
The Camberwell Arms is located at 65 Camberwell Church Street, SE5 8TR
---
The Sun of Camberwell
In between Camberwell and Loughborough Junction is the wonderful Sun of Camberwell, a fab and friendly pub with locally sourced British food. You get a hearty plate of roast at The Sun, all piled on top of a generous Yorkshire pudding with lashings of gravy. Their meat options are well sourced and deliciously prepared, but it's the veggie and vegan options that make The Sun one of Camberwell's best Sunday Roast spots. The chestnut mushroom wellington comes enveloped in a tasty duvet of pastry alongside a selection of vegan roasted veg. At just £12 it's also one of the cheapest options for a Sunday Roast in London. Make a meal of it and order a shared baked camembert to start off with.
The Sun in Camberwell is found at 61-63 Coldharbour Lane, SE5 9NS
---
The Phoenix
Work up an appetite for a plate piled high with a walk around the wonderful Ruskin Park, before heading over the road to The Phoenix. A charming local pub, The Phoenix is perfect for families and couples looking for a tasty roast dinner. Huge Yorkshire puddings come with 21 day-aged sirloin of roast beef or a half roast-chicken - and all the mains are available for two people to share. Over Christmas The Phoenix offers pigs-in-blankets and gingerbread stuffing, alongside an incredibly popular nut roast for vegan and veggies.
The Phoenix is located at Windsor Walk, SE5 8BB
---
Grove House Tavern
Grove House Tavern is an independent pub - we've nothing against chains, but it's always nice to support the independents! - that serves up incredibly tasty food via Mondo Sando, who started life serving superb sandwiches to SE5 residents before graduating to running Grove House's kitchen full-time. Their Sunday Roast offering includes roast rolled shoulder of lamb with merguez and apricot stuffing and mint chermoula as well as a mouth-watering confit butternut squash wellington with oyster mushroom duxelles, spinach and hazelnuts (everything comes with the standard trimmings). Variety is the key with roast dinners, and Grove House offer something refreshingly different.
Grove House Tavern is found at 26 Camberwell Grove, SE5 8RE
---