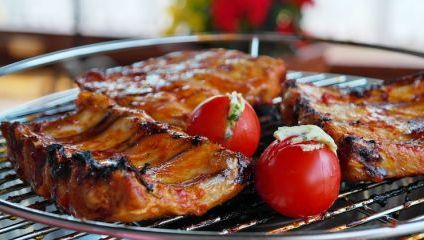 Head east for some of the capital's best smoked meat joints
If you want to avoid the long queues for the last disposable barbeques at your local supermarket, the hustle for a good spot on the Common and the fear of pink chicken wings, head to East London, where you can get the smokey taste of American BBQ at some of the capital's best meat joints.
---
Smokestak, Shoreditch
After delighting Londoners as a stellar street food vendor, Smokestak opened its first permanent home in Sclater Street back in 2017 and has been serving up tons of its signature 14 hour slow cooked beef brisket ever since. Cooked over English oak for more than half a day, this dish is beautifully tender, melting in your mouth with a smoky, tangy, rich sauce and sprinkled with fresh chilli for a welcome kick. The brisket comes in a variety of forms; on top of a pillowy bun as a snack size, served as a big hunk with a mustard glaze or as a feasting joint for the whole table. The sides of coal roasted aubergine with red miso and toasted cashews and the daikon slaw with lime and sesame totally threaten to steal the show.
---
Bodean's, Old Street
Known for bringing true BBQ flavour to multiple locations throughout the capital, Bodean's is a firm favourite for those that like to work up serious meat sweats. Their famous burnt ends are mouth wateringly delicious, packed with smokiness and just the right balance of tender and chewy. Combo these burnt ends up with some of the other BBQ dishes on offer: sweet, tomatoey pulled pork, juicy chicken wings or supreme ribs. Sides include BBQ beans, made extra gelatinous with little morsels of meat as well as cornbread muffins to soak up those sublime juices.
---
Berber + Q, Haggerston
While Berber + Q takes inspiration from all over the globe for its flavour combinations, their cooking technique is an age-old BBQ classic: smoking meat to lock in added flavour before grilling over charcoal for delicious, blackened taste. The grilled lamb neck is sumptuously tender; the richness of the meat only intensified by the roasted pepper and tomato matbucha sauce. For something a little lighter but still full of super-smokiness, the wood roasted prawns, served with confit garlic and zingy lime salt, are big, juicy and sweet. Partner your meal with one of their homemade fragrant vermouths, infused with a careful blend of herbs and spices.
---
Hotbox, Whitechapel
Located on the bustling Commercial Street, Hot Box is the best spot for sharing your love of BBQ with fellow carnivorous friends. Their Hot Box smoked selection offers a variety of their best meat cuts, smoked in their one-ton rotisserie over hickory and oak wood for a distinct flavour. Jalapeno chicken thigh, hunky pork chops, pulled pork, sliced brisket and hotlink sausages - the ideal meat feast. For something less artery-clogging, their miso glazed salmon with a ponzo and ginger slaw is a fresher option which still incorporates the charred barbecue goodness. To drink, try their Smokey Gonzales, which blends mezcal, chilli liqueur, lime and agave syrup.
---
Temper City, Liverpool Street
Housing one of the world's largest in-restaurant fire pits, walking into Temper City is like walking into a BBQ itself - drool worthy smoky fumes welcome you the moment you enter.
Choose from a range of British beef cuts - butchered in-house and cooked in flames in front of guests. Or for a vegetarian BBQ experience, choose their whole fire-roasted cauliflower which is charred, nutty and delicious, served with a zingy kimchi. Head there for a weekday lunch where you can steal Mexican fried chicken for just over a tenner for BBQ on a budget.