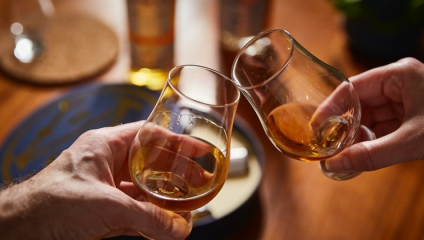 There's a whole world of whisky to discover and we've rounded up the finest ones in London for you experience…
Whether you like your whisky Irish, American, Japanese, Scotch, on the rocks, or you just like whisky full stop, London's food and drink scene will sort you out with some tempting tipple right to your taste. We've rounded up London's best whisky bars.
Milroy's
3 Greek Street, W1D 4NX
Milroy's started off as a humble wine shop in Greek Street. Soon after Scottish single malts stormed the UK market, its founder Jack Milroy began stocking the largest whisky selection in London, with the prime minister being a regular customer. Today, with an established cellar and whisky bar, their passionate and knowledgeable staff can help you choose the perfect dram or gift with a tasting session. Their whiskies travel across the globe in over 200 varieties (including Milroy's own bottled range), from Scotland, to Japan, Sweden and Oz.
---
Scotch Malt Whiskey Society
19 Greville Street, London, EC1N 8SQ
The Scotch Malt Whiskey Society is a club connecting like-minded whisky lovers founded by a group of friends in 1983. The members have since been buying and sharing their discoveries, establishing their selection of single cask whiskies as the widest in the world. To ensure that their fine selection remains in safe hands and palates, each whisky must win the approval of the Tasting Panel, before earning the classic society green bottle. Plus, with no chill filtration or interference whatsoever, all the whiskies are bottled at cask strength, allowing you to enjoy every dram as if straight from the barrel.
---
Salt Whisky Bar & Dining Room
83 Seymour Street, Tyburnia, London, W2 2JB
One of London's more revered whisky bars, Salt boasts over 180 premium gems from around the globe. You can push the boat out with their selection of Indian, Japanese, and Taiwanese whiskies, all available to pair with a fruity shisha menu on their elegant patio. If you're looking to explore the world with your taste buds, their specialised whisky tastings take you through Kentucky and Tennessee via their Bourbons, or on an international adventure with their eclectic world mix.
---
Cadenhead's Whisky Shop & Tasting Room
26 Chiltern St, Marylebone W1U 7QF
If you're looking for a whisky icon, go no further than Scotland's oldest independent bottler. Cadenhead's selection goes way beyond their main Scottish room, presenting a world of whisky that includes their international range, single cask range, commercial bottling's, and a rum range for those who fancy enjoying something a little different in one of their two tasting rooms.
---