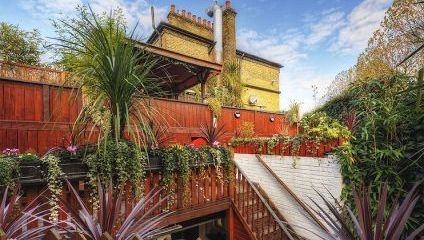 The best sun traps for a pint or three across the northern end of the capital…
We're sure that the last thing you want to do when looking to enjoy the limited sunshine we have is scroll through the world wide web looking for the best beer gardens in North London, so we've done it for you. From the trendy to the relaxed, here are our top pics for beer gardens in North London.
Faltering Fullback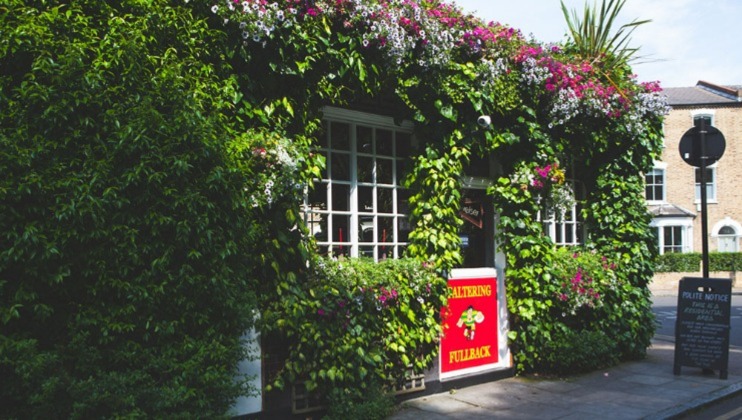 19 Perth Road, Finsbury Park, London, N4 3HB
The Faltering Fullback is something of a legend in North London. If you've ever lived remotely near Finsbury Park, it's probably the place you flock to as soon as the sun's out, or when temperatures soar to a baking 15 degrees, and it's all because of that beer garden. If you haven't been, the beer garden you are imagining is not the beer garden of reality. Is there grass? No. Umbrellas? No. Can it even really be called a garden? Debatable.
That's because when the owners first moved into the pub, they realised the only way to make the tiny space out back into a proper good place to drink in the summer, there was only one way they could go: up. What we have now is a lovely multi-level 'garden', with decking heading up into the clouds (well, nearly), potted plants and flowers, and heaters for wintertime.
But there's more to the Fullback than just the beer garden. The outside is covered in bright floral displays, so hanging around outside or sitting on the steps is a just-about-alright substitute for a spot in the garden. Inside, the circular bar area creates several cosy corners for when the weather's a bit more British outside. And then there's yet another area where you can watch sports on several screens or chow down on some Thai food at long benches.
---
Crooked Billet
84 Upper Clapton Road, London, E5 9JP
What? Buzzy pub
Where? Clapton, two steps from the station
Why? The Crooked Billet's garden is huge, with fairy lights, a ping-pong table and several seating areas including covered areas and heaters for cold evenings.
---
Alwyne Castle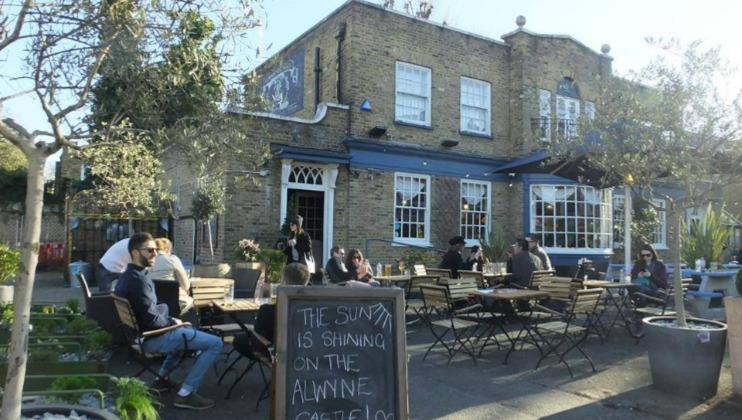 83 St. Paul's Road, Greater London, N1 2LY
What? Pub with a conservatory and courtyard out front
Where? Just down from Highbury & Islington, towards Canonbury
Why? If you don't want to ever forget you're in the city, but you do want to share an evening with friends - The Alwyne Castles garden borders St Paul's Road and you definitely won't run out of space here.
---
The Spaniards Inn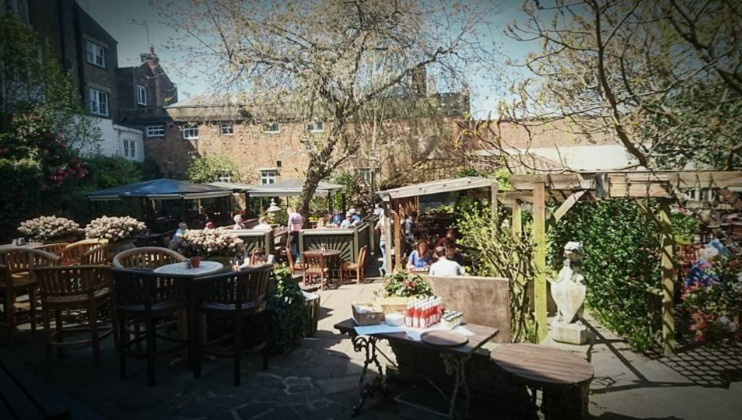 Spaniards Road, NW3 7JJ
What? A country-style pub on the heath with a few ghost stories behind it
Where? Hampstead Heath
Why? Apart from its spoooooky backstory, The Spaniards Inn wood-panelled interior is characterful and cosy, and the garden is perfect for lazing about in after a walk on the Heath.
---
The Edinboro Castle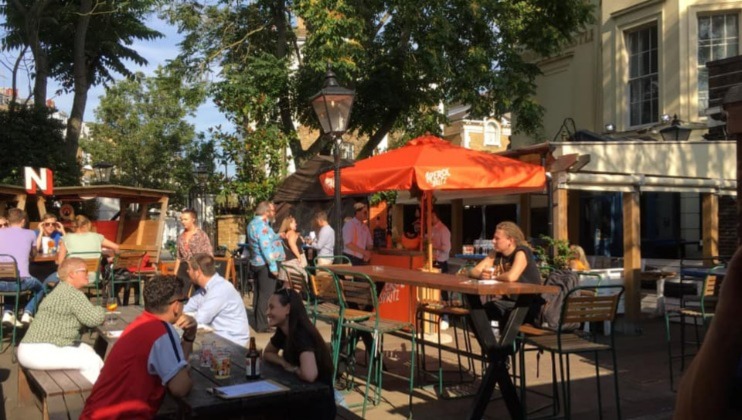 57 Mornington Terrace, London, NW1 7RU
What? Gastropub serving tapas
Where? Camden Town
Why? The Edinboro Castles bright and colourful interior, and the bright and colourful exterior. Plus, you'll never feel more summery than eating tapas on their white-painted benches.
---