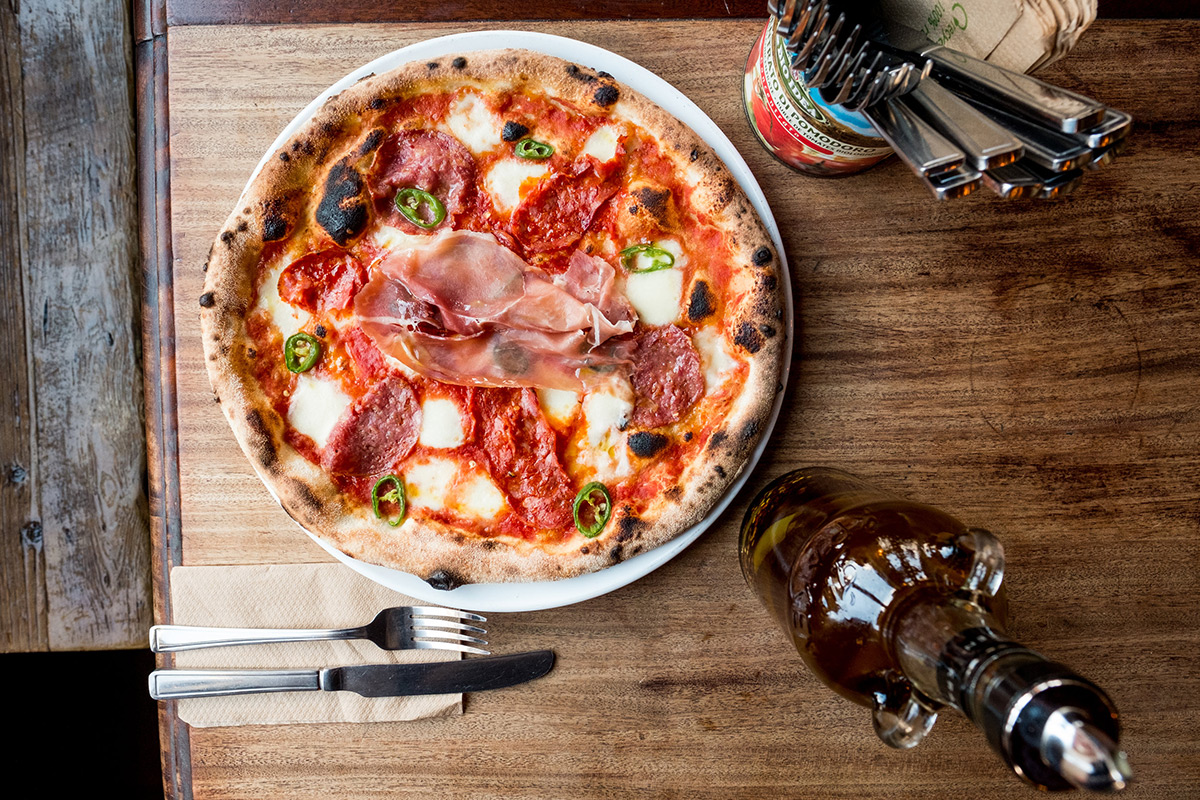 London's Pizza Quest: Slicing through the city's dough-licious delights to uncover the sauciest, cheesiest, and most heavenly pizza havens that'll leave you saying, 'That's amore!'
Join us on the ultimate pizza expedition around London – where the search for the perfect slice is no mere cheesy adventure, but a journey through flavor euphoria! Brace yourself as we unmask the doughy divas, sassy sauce sorcerers, and cheese champions that make this city a pizza lover's paradise. So grab a napkin (or two), because we're about to embark on a tantalizing quest that will leave your taste buds doing the happy dance. Get ready to say arrivederci to bland and ciao to the best pizza in London!
---
Yard Sale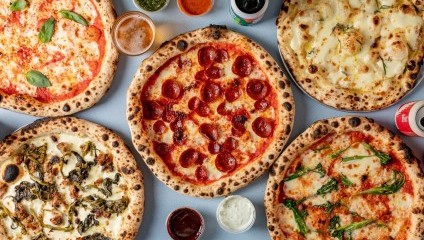 Yard Sale Pizza, a pizza haven born from humble backyard beginnings, has risen to cult status in London, taking the city's pizza scene by storm. From celeb collaborations with Macaulay Culkin to tantalizing vegan options, this joint knows how to make us salivate. Their pizzas, ranging from 12 to 18 inches, cater to all tastes, whether you're craving a meaty mountain or a vegan sensation. And let's not forget the daring 'TSB' creation with broccoli, pine nuts, and garlic, a broccoli bonanza that'll have you craving your greens! With pizzas fresh out of the oven, accompanied by a jazz-funk soundtrack and chatty staff, Yard Sale serves up good vibes with every slice. So, head on over, grab your pizza, and get ready to boogie with Asahi beer, Brooklyn Summer Ale, or wine – just be sure to leave the covers to Macaulay Culkin's band, and let the pizza steal the show!
Check out the menu here.
---
Sodo Pizza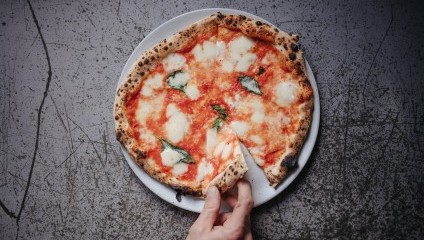 Welcome to Sodo Pizza, where the art of crafting witty pizza names meets the mastery of creating dough that's light on the stomach and heavy on deliciousness! With a 48-hour fermentation process and baking at a fiery 450 degrees, these guys take their dough seriously. But don't let the serious dough talk fool you; they've got a playful side too, with pizzas like the 'Jon Bon Chovy' rockin' your taste buds. This sourdough sensation (sodo-geddit?) has risen from a humble pop-up to a chain of popular stores, all thanks to their Neapolitan-style pizzas that are thin, crispy, and generously topped. From the rich and cheesy White Goat to the innovative Wicker Man with nduja and chilli honey, they've got all bases covered. Plus, with gluten-free and vegan options, no pizza lover is left behind. So, whether you're seeking brunch delights, natural wine, or craft beers, Sodo's got your back. Embrace the bearded East London charm, dive into their garden oasis, and let the pizzas do the talking. Starting at just £9, you can savor the taste of success without breaking the bank. Get ready to fall in love with Sodo – where pizzas and puns go hand in hand!
---
Santa Maria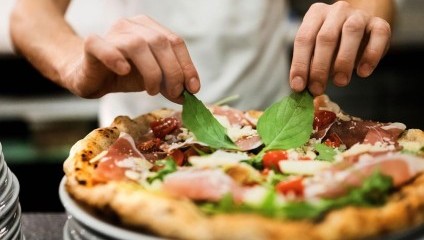 The team at Santa Maria are veterans of pizza in London, and their method of making is just as militant. It's co-owners Pasquale and Angelo are Neapolitan to their core, creating pizzas with delicate yet doughy crusts, San Marzano tomatoes, incredibly fresh toppings including regional Yorkshire sausage but the pis de resistance is the wood fired oven, imported all the way over from a spot near a volcano. Over the years this pizzeria has become a pilgrimage for both locals and Italian expats alike and we can see why, the menu is packed with delicious options. For the true flavour of Napoli, why not try the San Gennaro; topped with tomatoe sauce, fiordilatte, Anchovies, Black Olives, Capers and Oregano.
Suprisingly, for a restaurant that is hyper focused on it's authenticity, it has some delicious vegan choices. Santa Maria pride themselves on their ethos of 'quality and quantity at honest prices' and true to their word, they stand. Pizzas start from £7.50. Belissima.
---
Pizza Pilgrims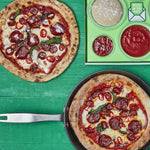 Most tourists would come back from Italy with a fridge magnet or maybe a bottle opener; some nice olive oil perhaps- but the guys at Pizza Pilgrim had a totally different idea. After a 6- week trip through Italy at 19mph the founders decided that the flavours of Italy should be shared with the likes of London. With inspiration from fantastic pizza hot spots including all Italian secrets, it's no suprise that the people of London all take their own pilgrimage to this pizza haven.
These champions on Neapolitan pizza have a menu stacked with flavour and toppings, there's gluten free, vegan and halal options too meaning everyone can enjoy the delicious doughy goodness. Make sure you save some room for dessert- their nutella pizza rings go down a treat! If you fancy a go at home yourself, Pizza Pilgrim offer make your own at home pizza in a box kits. Time to get your chef on!

---
Pizza East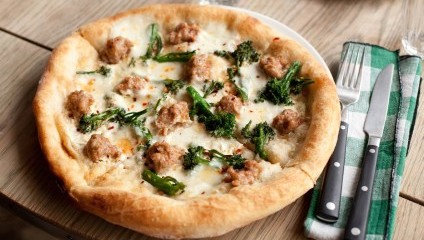 56A Shoreditch High St, London E1 6JJ
Situated in a former tea warehouse is this unassuming pizzeria. The brainchild of Soho House's Nick Jones, this establishment is meant to be a place where you can start your dinner with simple mozarella sticks and finish with extravagent limoncello drizzled meringue pie. But we digress, we're here for the pizza. Served on fluffy ciabatta shaped dough are flavoursome sauces and toppings. Pair a pizza with some wood oven favourittes such as mac and cheese to get your carb fix. There's also a brunch menu and a Sunday menu with further options- all the more reason to frequent Pizza East.
Less Neapolitan and more of an LA mish-mash, Pizza East is proof that this international menu has something to bring to the table.
---
Homeslice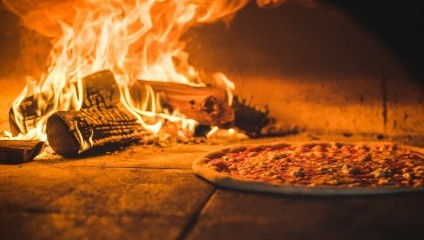 Once upon a time in 2011, Homeslice burst onto the pizza scene with a sizzling start - fueled by a hand-built mobile wood-fired oven that had folks flocking like hungry pigeons to a park picnic. They rolled in like rockstars, serving up slices with Kerb, Street Feast, and even Frieze. It was a pizza frenzy! And just like any epic tale, they found their brick and mortar haven at 13 Neal's Yard, thanks to Mark Wogan's stroke of culinary fate. With Mark's brother Alan handling the business groove, they cooked up a recipe for success - simplicity done superbly! Picture this: a simple menu of pizza, beer, and wine, and in the spirit of adventure, they spiced up the classics with bold and unique flavors. Seasonal produce was their secret weapon, and they served it all up in a friendly, laid-back space - a true slice of pizza paradise! So if you're on a quest for the best pizza in London, Homeslice is where the magic happens, and the pizza dreams come true, with prices that won't have you weeping over your wallet. Come for the pizza, stay for the memories - and bring your appetite for a taste adventure you won't soon forget!
Check out their menu here!
---
Santore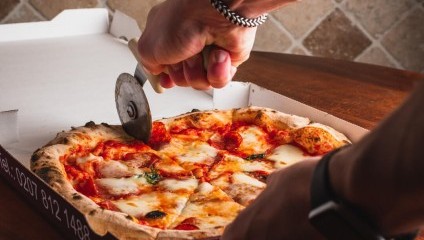 59-61 Exmouth Market, London EC1R 4SA
Ah, Santoré Pizza in Clerkenwell, where the pizza game is so strong, even the Italians themselves can't resist! This old-school gem has been dishing out Italian goodness for over 20 years, and they've got the loyal clientele to prove it. But the real star of the show here is the pizza by the meter – an epic stretch of dough loaded with tantalizing toppings that'll have you wondering if you need to bring a tape measure to fully appreciate it. Better call up a couple of friends (or maybe a pizza support group) to help you tackle this mammoth meal. And if you're feeling adventurous, step into the realm of 'i panuozzi' – a pizza sandwich with double the dough, because hey, why not go all out? These guys source their ingredients straight from over 100 small producers in Italy, ensuring maximum quality and freshness in every bite. No wonder Santoré scored a spot in the esteemed 50 Top Pizza Europe ranking! So if you're looking for a hidden pizza paradise in Exmouth Market, Santoré is the place to be. With flavors that make Italian hearts sing and prices that won't break the bank, this is the kind of pizza love story you'll want to be a part of!
---
Zia Lucia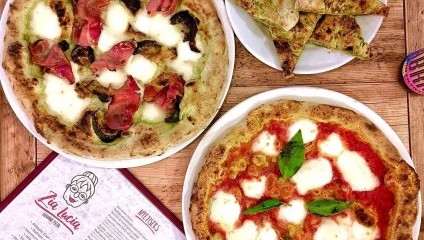 Move over, London – Zia Lucia Pizza is here to claim the throne of the pizza kingdom! With dough so divine, it's been voted Best Pizza in the city and hailed as a true neighborhood gem. From traditional to charcoal-infused, their 48-hour fermented doughs are like a pizza magic show, and you can't resist the charming allure of their Italian-inspired toppings. Go for the 'Arianna Sbagliata' with mozzarella, gorgonzola, fresh sausage, honey, and truffle oil, and you'll be daydreaming about it forever – take Georgie's word for it! But wait, there's more! Auntie Lucia herself would be proud of this joint, as the warm, generous atmosphere will make you feel like family. Whether you're gluten-free, nutty for wholemeal, or just looking for a delightful pizza party, Zia Lucia is the place to be. These guys don't mess around when it comes to quality; even the flour is top-notch! So, round up your pizza-loving pals and head to this pizza paradise that's been winning hearts and stomachs all over London. Trust us, you'll want to join the Zia Lucia family and become part of this pizza-loving legacy!
---
Quartieri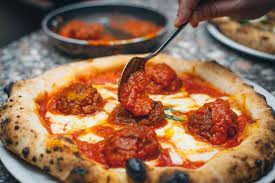 300 Kilburn High Rd, London NW6 2DB
Buckle up, pizza seekers of London! Quartieri Pizza on Kilburn High Road is on a mission to deliver you an authentic Neapolitan experience that'll leave you shouting for joy – and for another slice! With produce shipped from Italy weekly, their traditional Napolitano-style pizzas are like a flavor explosion that'll transport you straight to pizza paradise. And it's not just the pizza that's bold and inspiring; their unusual wines will have you saying, "Yes, wine, please!" So, if you're tired of the taxing search for authenticity, Quartieri's got your back with a casual, energetic spot that's as Italian as it gets. No need to pack your bags for Naples; just head to Quartieri Pizza and let the taste adventure begin! Cheers to pizza and wine – the true essence of la dolce vita!
---
Franco Manca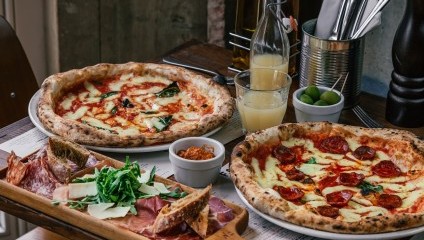 Franco Manca, the chain that Londoners can't resist, like pizza-loving magnets drawn to the slightly sour, chewy Neapolitan base that leaves a mark on your taste buds forever. With branches all over the capital, from Soho to Southfields and beyond, they've conquered London faster than you can say "extra cheese, please." But don't be fooled by their widespread success; they've managed to keep the same winning formula intact, serving up simple yet scrumptious toppings that are so well-sourced, they should get a medal for pizza patriotism. If you're on a quest for authenticity, the original Brixton Market location is the Holy Grail – where the Franco Manca magic all began. So next time you spot a Franco Manca branch, don't resist the temptation; just follow the pizza-loving crowd, and you'll find a slice of London pizza heaven that'll make your taste buds dance a pizza jig!