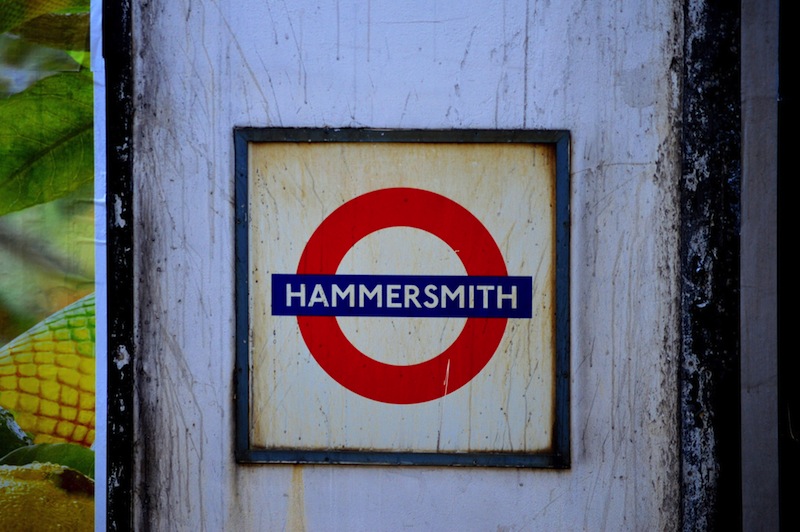 Find out how to spend a day in the cultural hub of West London.
Hammersmith. Yeah, that place with the fly-over. It's probably not the first spot you'd think of for an arty sojourn. This large borough, however, is the cultural hub of West London - sorry Chiswick - with lots to see, do, eat and drink. Here's a quick run down of where to go and what to try.
---
Things To Do
Stretching from Wormwood Scrubs in the north to Fulham in the south, Hammersmith's not short of space, which means plenty to do. For bigger venues, you could try the Shepherd's Bush Empire with its conveyor belt of globe-trotting music acts; the Hammersmith Apollo(/Odeon), king of all comedy venues; or the Hammersmith Olympia, home to many of London's largest temporary exhibitions and trade shows. A little more down to size is the Lyric Hammersmith and its collection of family theatre, and the Comedy Tree, an intimate (but still pretty large) comedy club just off Hammersmith station.
For those looking for a bit of art and culture, Kelmscott House is home to The William Morris Society, and a visit to their gallery can introduce you to the revolutionary artist's most colourful and ornate designs. For kids, try Kidzania in the Westfield shopping centre. The name doesn't lie: it's zany. A miniature town replete with shops, restaurants and a fire-station, they also host acting clubs and Birthday parties. For kids in their 20s and 30s, the iPilot Flight Simulator on Queen Caroline Street offers you the chance to soar through the clouds, without the fear of plummeting to earth - perfect for a rainy afternoon.
Kelmscott House
---
Places to Walk
For an area predominantly known for a busy stretch of road, Hammersmith also has lots of beautiful scenery to explore. Many Sunday strollers take a walk down by the river where there are plenty of pubs (more on this later) to investigate while you watch the rowers pass by. Wandsworth Bridge is one of the Thames' prettiest crossing points, and if you continue north and west you'll reach Bishop's Park. This well-groomed garden has plenty of plotted ponds and streams to wander through, and tennis courts if you fancy a spot of recreation. Further up the river and a little inland you'll find Margravine Cemetery, a stunning open plot with plenty of trees in blossom in spring.
Photo credit: Gary Knight
Off from the river, stroll through Ravenscourt Park. This local spot of green is perfect for kids, fit with a large adventure playground and a duck pond whose inhabitants will happily accept any bread donations you are willing to part with. To the north of Hammersmith, Wormwood Scrubs Park offers a bit of wilderness for those seeking escape from the city. It's quite open and windy during the winter but a great site for a run if you're athletically minded.
---
Where to Shop
Shopping in Hammersmith is dominated by the outlet leviathan Westfield, with just about every main brand having at least one store somewhere in the shopping centre's endless corridors. Other big shopping complexes include the Broadway, on top of the Hammersmith underground station, and Kings Mall, only a stone's throw further down the road.
Shepherd's Bush Market is a good spot for stylish designs and discounts, with stalls selling clothing, jewellery, furniture, fabric and much more. Askew Road has a number of independent shops worth checking out: Pecking Records and its huge collection of vinyl and CDs is particularly cool, and Passion Flower Gallery is a useful florist to have stored in the brain for birthdays and anniversaries. The London Vintage Fashion Fair drops down in Hammersmith Town Hall once a month. Hammersmith isn't overflowing with vintage outlets, so this is a good event to keep in the calendar.
---
Where to Eat
Hammersmith has particularly excellent East Asian food. New Bangkok, at the top of Fulham Palace Road, is a Chinese restaurant par excellence, with a convenient take-away service also available. Ho-ja, near Shepherd's Bush, serves a brand of fresh Taiwanese food - try the Chicken Popcorn Bento and the Taiwanese Meatball Soup. And Kathmandu Inn, near Ravenscourt Park, delivers a wide selection of smooth Nepalese curries in their seemingly never-ending menu.
Other highlights include Cibo, a gourmet Italian restaurant with a particularly mouth-watering selection of seafood dishes; and the Andover Arms, possibly the best pub lunch in West London. Killer Tomato also deserves a visit. This neat lunch and dinner spot serves tacos, burritos and quesadillas at affordable prices, with cocktails and mezcal available in the evening.
---
Where to Drink
That moves us nicely onto drinks. The best spot for a pint in Hammersmith is down by the river, and there are a few good haunts you have to try. The Dove near Furnival Gardens is a local favourite. It's cubby-hole interiors are perfect for an intimate drink, and its conservatory and patio overlook the Thames. There is no better spot to enjoy a Pimms on a summer's afternoon. A little further east is the Blue Anchor, a sturdy pub with four real ales on tap and plenty of outside seating. The venue sits next to one of the river's most popular boathouses. Watch the rowers do the hard work while you relax with a glass in hand. Other good drinking spots in Hammersmith include The Crabtree with its colourful beer garden, and BrewDog Shepherd's Bush if you are looking for a vibrant start to the night.
For those caffeine fiends among you, Antipode boasts the best coffee in London. It's often quite busy, but if you can squeeze in its cool, stripped-down interiors make a good perch for book reading. In a similar vein, Chairs and Coffee is a stylish local café with chic interiors and exceptional cakes and snacks. Finally Drink Me Eat Me, describing itself as a treat boutique, is more of a cupcake lover's paradise, but the coffees and teas are also worth a sip.
Photo credit: Matt Brown