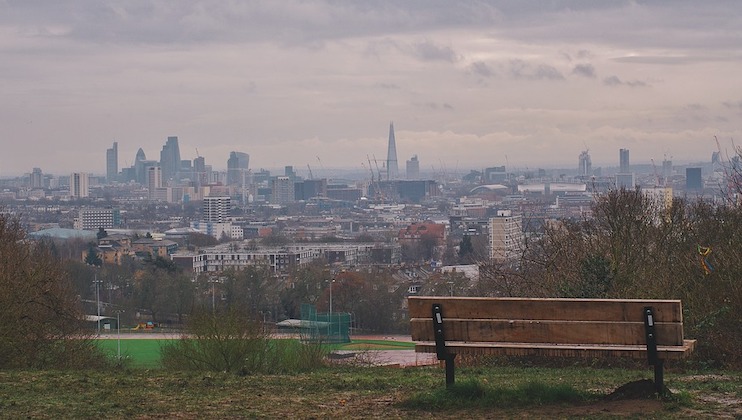 Explore beautiful Hampstead, a hub of intellectual and literary history
Stepping off of the Northern line at Hampstead, you'd be forgiven for thinking that you'd ventured out of London entirely. As one of London's greenest areas, Hampstead truly is a hub of intellectual and literary history, with beautiful forest and grassland to wander around as well as grand homes that will make you feel as if you've been transported into a period drama. Delve into Hampstead's illustrious history and the fantastic selection of historical attractions, fascinating walks, ghostly pubs, unique cafes and restaurants.
---
Things to do
Aside from the Heath, Hampstead is perhaps best known for its majestic period buildings that were home to some of the world's greatest literary figures and intellectuals. One of Hampstead's star attractions is Keats House, the original home of the world-renowned Romantic poet John Keats. It is now a museum of his life and work, where you can experience Keats' life and inspirations through fascinating preserved manuscripts and artefacts. Visit the home of psychoanalysis pioneer Sigmund Freud, filled with memories and examples of his extraordinary life. Learn more about his work and influence on psychoanalysis through regular exhibitions and gain an insight into his life at Hampstead, with his original psychoanalytic couch on display and his study preserved exactly as it was in his lifetime. When you've exhausted the homes of prominent figures and intellectuals, make sure to head to Highgate Cemetery, a London landmark of gothic architecture and one of London's true gems. See the incredible architectural variety of the tombstones, partially shrouded by the overgrowth of beautiful flowers, ivy and centuries old trees. Continuing the literary theme, some famous writers are buried here, including Karl Marx, George Eliot and Christina Rossetti.
---
Where to walk
Hampstead Heath is the most famous attraction in the area and arguably London's best-loved green space. There are vast expanses of grassland where you can enjoy summer picnics or Autumnal walks, as well as incredible ancient woodland to lose yourself in (hopefully not literally). It's also one of London's highest spots, and you'll have panoramic views across the whole of London on Parliament Hill. One of London's hidden treasures can be found in Hampstead, the beautiful Pergola Hill and Gardens. Walk through a raised walkway and look the spectacular gardens below, overgrown and somewhat faded from a lack of upkeep, but still fantastically moody and atmospheric, perfect for a Winter walk with a difference.
---
Where to shop
If you're something of a bookworm, you will be completely spoiled in Hampstead. Just outside the station is Oxfam Books, which has an impressive selection of reasonably priced secondhand books as well as a brilliant music department if you prefer your vinyl over MP3s. The independent booksellers Daunt Books also have a large store here, with a wonderful atmosphere for mulling over books for hours. Finally, in Hampstead Village there is Keith Fawkes bookshop, a slightly chaotic but nonetheless charming little shop, stacked so high with secondhand books that you'll probably have to maneuver yourself around them.
---
Where to eat
The baristas at Ginger and White take coffee seriously, with a methodical approach and the very best ingredients sourced from local brewers. It's the perfect place to grab your coffee before embarking on a trip to the heath. La Creperie de Hampstead is a favourite with locals, bring a little Parisian flavour to the streets of Hampstead. The queues are legendary as people wait patiently to enjoy their handmade crepes and galettes. The Japanese restaurant Jin Kichi is an overwhelmingly popular choice for Asian food, try their famous meat or vegetable skewers and their delicious sushi. The traditional Jewish bagel bakery Roni's Bakery is a must-visit as it is an exclusive chain to North London, with an incredible range of delicious artisan options including bagels and salads to grab on the go.
---
Where to drink
Hampstead is known for its ancient pubs, many of which have some fascinating stories and legends attributed to them. Near Kenwood House you will find The Spaniards Inn, a pub with an impressive history - it was featured in Charles Dicken's The Pickwick Papers, Bram Stoker's Dracula, and John Keats also allegedly wrote Ode To A Nightingale here. If you're into ghost hunting it is also said to be home to a few spirits, including 18th century highwayman Dick Turpin. In Hampstead Village you'll discover the Grade two listed public house The Flask, with preserved Victorian features, a welcoming feel and a gorgeous conservatory. Built in the 17th century, The Holly Bush is a charming pub with low ceilings and cosy corners in the heart of Hampstead, ideal for enjoying a warming beverage after a long walk on the heath.