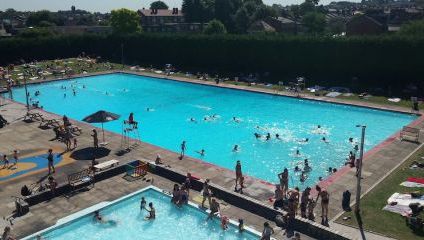 Where to find a little Eden to cool off in
---
Hampstead Ponds
The ponds aren't necessarily secret in terms of their reputation, but you'll definitely feel like you're in a secret garden once you're inside. The freshwater ponds are fed by the headwater springs of the River Fleet, which flows through King's Cross before joining the Thames at Blackfriars Bridge, and gave Fleet Street its name. The women's pond has a truly bucolic meadow to rest on after a swim, and though the mixed pond has less room for sunbathing, the pond itself is nice and big. Our biggest tip has to be to get there bright and early - otherwise you'll be queuing for rather a long time on hot weekends.
Hampstead Heath, NW3 1BP
---
Walthamstow Wetlands
Perfect for a nature-spotting walk, a picnic or just a casual stroll with the family, Walthamstow Wetlands - all 112 hectares of it - has it all. The wetlands are absolutely teeming with so much wildlife you might forget you're in London at all, and there are several big open stretches of water, and though bathing is not allowed, they make for the perfect view from a picnic blanket.
The nearest tube stations to the Walthamstow Wetlands are Blackhorse Road and Tottenham Hale
---
Shoreditch House
What could be a better secret summer paradise than this rooftop swimming pool, hidden in plain sight on top of Shoreditch House, smack bang in the middle of London? Now, to get to take a dip here you'll need to somehow nab yourself a membership to Shoreditch House or know somebody who has one. Once you've got that, you're up and away, swimming up by the clouds and taking rests on their seasidey striped loungers.
Shoreditch House, Ebor Street, E1 6AW
---
Park Road Pools
Something of a hidden gem, Park Road Pools is one of London's lesser-known lidos. Perfect for families wanting to get a bit of sun in, there is a children's pool and a well-stocked cafe for snacks, plus in the main pool, the pools are separated into lane swimming and fun swimming. The lido measures an impressive 50 metres and there are both paved areas and grassy knolls on which to spread your towel. Not close by? Take a peek at our list of the best lidos all across town.
Park Road Pools, Park Road, N8 8JN
---
West Reservoir Sports Centre
A fully repurposed reservoir in the heart of Stoke Newington, the West Reservoir is a wonderful place to go swimming - and you'd never guess the size from the outside. It's interesting history includes the former filter house - now a café, which includes views of the old hydraulics in the main hall - and the former pumping station-turned-climbing centre. They have 85m of open water available for swimming, and it's a pretty pro atmosphere - wetsuit is mandatory!
West Reservoir Sports Centre, Stoke Newington, N4 2HA