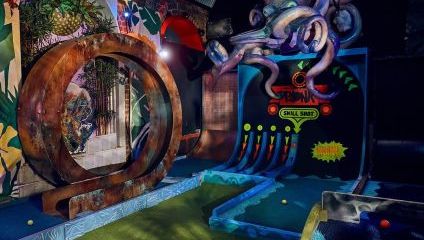 Get putting mad at these top London crazy gold venues...
Over the years, London's crazy golf scene has gone... well, crazy! There's been courses popping up all over the capital, from themed bars to innovative courses, so if you're looking for a fun alternative to your usual Friday night, or a different kind of date night, look no further- we're sure you'll find something on the list that's your cup of tee...read on to discover the coolest crazy golf venues in London.
---
Plonk Golf
Multiple Locations
Plonk golf is the brain child of a troop of set designers from the film industry who banded together for a common cause. Their combined set of creative skills birthed one of the greatest Crazy Gold courses in London, and then erected them throughout the capital following its success. Plonk can now be found in Shoreditch, Camden Market, Borough Market and Hackney, making it super accessible and a great choice for last minute plans.
The best part by par (geddit?) is not only is it a fun day out for the kids but adults too. There are themed courses with food, arcade games and even a bar so everyone is entertained. The Haggerston venue also prides itself on being entirely from 100% upcycled materials rescued from the streets of Hackney. There are special events and deals to enjoy during the week so keep your eye on what's coming up next! Ticket prices start from £7.50 and can be purchased here. Let's get this par-tee started!
---
Swingers
West End: 15 John Prince's Street, W1G 0AB
City: 8 Brown's Buildings, London EC3A 8AL
Combine two multi-million pound 9-hole golf courses with three incredible street-food vendors (such as Patty & Bun and Breddos Tacos) and five bars and you get Swingers! Started in 2014, and originally just a 5 month pop-up founders Matt and Jeremy wanted to test out whether the combination of crazy golf and cocktails was a thing... and guess what; it putting was! After tickets sold out instantly, Swingers needed to find a permanent home. Now based in the West End and City, have your cocktails delivered directly to the hole you're working on whilst you try and conquer the 1920's inspired courses.
Unique and outrageous, Swingers is the perfect spot for socialising, parties and celebrations. Especially when you're looking for something a little different. Tickets start from £11 per person and can be purchased here. Keep an eye out for their package deals and events too!
---
Puttshack
Multiple Locations
Golf, but make it tech. Mini golf at Puttshack steps into a totally new age. With paper and pencils out the window (and a small weight off of the environment), this crazy golf company has introduced a fun new scoring system; with their balls tracking your gameplay with you earning and/or losing points depending on how you play. No cheating here! Magic sensors will track every putt and push of the ball, with challenges involving you in games of beer-pong, trivia and everything else that makes crazy golf as mad as can be!
There are locations across London too so you can enjoy the experience no matter what part of town you're in. Step into the colourful ambiance and get stuck in. For when you're not dominating the mini golf course, the venue's great bar serves delicious food and drink (all the guilty pleasure basically) to tuck into after you've worked up an appetite! There's also vegan and veggie dishes. Putt-fect.
Ticket prices start at £9 per person with 50% off you're second game! Purchase yours here!
---
Junkyard Golf
88 Worship St, London EC2A 2BE
Perfect for rainier days, this indoor crazy golf venue will blow your mind! If loud and flashy is your thing, Junkyard Golf is for you. Literally built out of junk (hence the name) you can now find Junkyard across the country from Liverpool to London. Choose from four 9-hole courses lathered in UV paint, strange sculptures and a hall of mirrors, with bars dotted around the venue mixing together your favourite drinks. The food menu is simple and affordable, there's three different types of pizza with vegan and vegetarian options available at just £5! Check out more of the menu here.
Choose from Dirk, Bozo, Gary or Pablo and work your way through crazy courses. Pablo, for example, is a tropically themed jungle course will plenty of skulls, while bozo replicates a fairground... or in this case, an un-fairground with creepy, dated decor. Tickets start from £11 off-peak and can be purchased here.
---
Putt In The Park
Multiple Locations
When it comes to visualising the traditional version of mini golf, you imagine serene greenery outside, with wooden obstacles and sunshine (mostly). Putt In The Park encompasses just that. Perfect for when the sun is shining, you can explore any one of their London locations, be it Battersea Park, Acton Park, Gunnersbury Park or Wandsworth Park with a good games, tasy picnic and leisurely stroll after your fun-filled activity. The holes are set to be fun and some even challenge the most experienced golfer.
There are clubhouses and cafés to enjoy by virtue of the park they are set in serving delicious cakes, sandwiches, teas and coffees. The ideal family activity day out, plan your springtime visit now and book your tickets here!