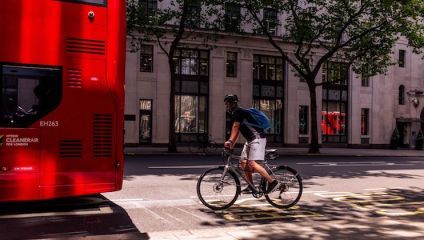 Our pick of the perfect tours for an unusual take on our beloved city
Our pick of the perfect tours for an unusual take on our beloved city
The winter months are upon us and can certainly put a downer on many a Londoner. Keeping us huddled in for the various Christmas specials the Beeb can throw at us! But as any adventurous Londoner knows, London in the winter is quite a magical place to be, and certainly when venturing around its many beautiful streets on foot!
However, even to the most geographically savvy iPhone mapping experts among us, it's fair to say that all of the "really interesting" places in London can be a little frustrating to find. Fortunately, there are many tour guide companies available that offer an alternative take on the history of our city.
Much of London was used during the making of the Harry Potter films and a lot of the areas and buildings are quite hard to find.
Great for families, this tour explores the City of London, home to Diagon Alley and the Leaky Cauldron, as well as Westminster where you'll find the ministry of magic!
City tours run every Wednesday from Temple tube station, 6.30pm, Westminster tours run on Saturdays from Westminster tube station, at 2pm, adults £8, children £3, free for under-8s. Further information available here.
Truly one of the more unique tours in the capital. Ken Titmuss is a very knowledgeable historian and old maps expert. Using such maps, Ken will take you around all of the older parts of London that are steeped with history.
The tour lasts around 2 hours and cost £8 per person, you can find further details here.
If you're an artist or need a far firmer fix on the London art scene then the Fox & Squirrel art walks are bursting with information. Their regular walks explore London's arts, architecture, food, vintage and fashion scenes. Each walk consists of visiting a minimum of three venues and includes a curator or artist to talk you through the works on show.
The tours last around 90 minutes and costs £15, further details available here.
The best concept for a walking tour. You have two guides, one of them tells you the historical facts while the other tells you the lie. Sometimes in history the truth can stand in the way of a good story! There is also a prize for the best, most astute member of the tour who can guess which of them is telling the truth. Tours are organised by London Street Tours and are available for Kensington, Chelsea, Blackfriars, London Bridge and Bloomsbury .
Group tours only available on request at £7.50 per person, minimum group size of 20. Further details available here.
Thanks to Banksy, street art has exploded in many of Europe's cities. Once a menace, now street art is embraced and what better way to see what London has to offer the graffiti scene than to be shown round by an expert.
Tours usually focus on the Shoreditch area, but on weekends tours will also take you up to Hackney on a more extended expedition.
Weekday tours cost £10 for two hours. And the four-hour tour costs £15 on Saturdays. Further details available here.
Perhaps one of the best tours on the list and certainly worth the £7. On the tour you'll hear about the relationship London has had with African people and how they helped to shape the capital influencing both the local culture and the communities. You'll also learn how to spot African architectural influences.
The tour costs £7 for adults, £3 for children and lasts around two hours, further details available here.