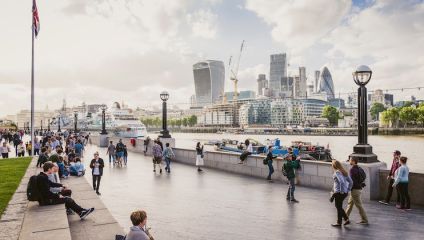 The best cultural offers for young Londoners
Aged 25 or under? Lucky you! We've rounded up some of the best deals so you can enjoy London's finest culture - on the cheap.
Roundhouse, Opera Holland Park and London Philharmonic Orchestra
Whether they host rap gigs or opera concerts, music venues across London are keen to make sure their prices don't exclude younger fans, which is why so many of them run special offers. Check out the Roundhouse's Get In scheme, open for 16-25 year olds; sign up for free membership and you get access to buy gig tickets for a fiver. If classical's more your thing, Opera Holland Park puts out 1,000 free Opera tickets a year for people aged 7 to 18. And the London Philharmonic Orchestra offers discounts for people under 26. Don't forget: signing up entitles you to four free post-concert pints!
Sign up for National Theatre's under 25 free membership scheme and you can apply for 5 quid tickets. And the NT's not the only theatre at it with the great offers. The Barbican, Young Vic and Old Vic all do discount schemes for young people. In other words, plenty of ways to get your Shakespeare for a few quid!
With it's does-what-it-says-on-the-tin mantra - 'always free, always funny' - Angel Comedy has been accruing some serious credentials as one of the best (and cheapest!) comedy clubs in London. You can catch brand new acts there as well as big names who want to preview their stadium material. And as you might have guessed from their tagline, there's no pressure to pay (though of course you're offered you the chance to support the club and acts with a donation or two).
Are you a student? If so, you're in luck! Picturehouse Cinemas run a £10 membership deal, this gets you two free tickets as well as discounts for screenings and that all important tub of popcorn. And if you're a fresher, count yourself extra lucky; Freshers' Membership is free at Picturehouse Cinemas. As well as gaining the full Membership discounts, Freshers' Membership gets you a ticket, drink and popcorn, all on the house. Cheers to that! You can find Picturehouse Cinemas across London, from the art deco Ritzy in Brixton to Hackney Picturehouse over in the East.
Not only are many of the exhibitions at the V&A totally free to visit, but the museum also offers young people opportunities to develop their creative flair. Whether you fancy yourself as a fashion photographer or a spoken word artist, the V&A runs courses - many of which are free - where you can learn more about your chosen craft. What's more, you can actually get involved in the behind the scenes of the V&A by joining their Young People's Collective. They help put on events, do tours and go on research trips to other museums. So by joining up you can get right at the heart of London's cultural scene, without spending a penny!