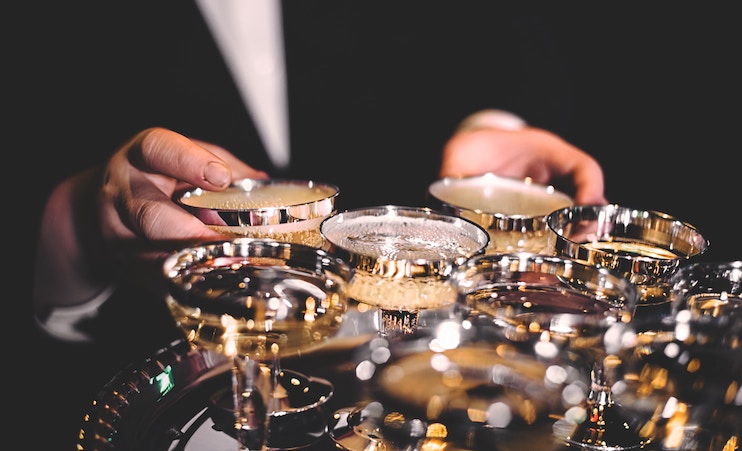 Make every anniversary golden with these top tips

It's a yearly dilemma: how to impress your beloved with the perfect anniversary celebration. But in London, there's something to be found for everyone, whether you're celebrating one year or fifty.

For a memorable mealYou can't go wrong with an intimate meal for two, and the place for a special anniversary dinner has to be Clos Maggiore, which has frequently been named London's most romantic restaurant. Between the excellent sharing dishes and the magnificent cherry blossom canopy that overhangs the dining room, this place will certainly impress your date. Clos Maggiore does book up months in advance, so remember to reserve a table in good time. Another French option - they do romance so well, after all - is Le Pont de la Tour, a great place to sample some of France's finest dishes. But, while the food is excellent, the main draw is its unrivalled view of Tower Bridge. Make sure to book in well in advance to get one of the coveted window tables. If you're after something a bit different, try the London Shell Co. instead. A seafood restaurant on a boat, dinner here is served while you chug up the canal to Camden and back. Their five-course set menu can be booked with wine pairings if you're looking to splash out.Gordon's is an institution, and deservedly so - it's London's oldest wine bar and incredibly atmospheric, although its popularity as a place for a hot date does mean you'll probably have to wait for a table. If you fancy a cocktail instead, the American Bar at the Savoy is a great option. Its innovative menu helps it rank consistently among the best cocktail bars in the world and the live jazz music every evening doesn't hurt the atmosphere either. On a dreary day, nothing beats a good, old-fashioned pub with a fireplace, so if your anniversary falls during the cold months, cosy up at the Flask Tavern in Highgate or the Plume of Feathers in Greenwich.Regent's Park Open Air Theatre. Enjoy a pre-show drink amidst the greenery and the fairy lights or go all out with a posh picnic hamper. Outside the summer months, another excellent option is Mamma Mia!, currently celebrating its 20th birthday in the West End. Its staying power is no surprise: ABBA's classic songs give this show its instant feelgood factor. But if musicals aren't your cup of tea, the Royal Opera House also makes for a wonderful 'special occasion' outing. With a frequently changing programme of opera and ballet there's always something interesting going on, and the venue itself is truly spectacular. Don't forget to dress to impress!Ronnie Scott's for some of the finest jazz to be had in the UK. Everyone from up-and-coming talent to the biggest names in the business come here to play, so there's bound to be something to your liking. A lesser-known gem in the London music scene is the Union Chapel on Upper Street, a functioning church that regularly hosts artists and bands in a wide variety of genres. Unplugged gigs are a particular treat with the chapel's acoustics.The View from the Shard is the way to go. Zoom up to the top of the UK's tallest building and take in the views, which can stretch all the way to the coast on a clear day. For an up close and personal view of the City, a visit to Sky Garden is just the ticket. Its viewing platform is not as high as the Shard's, but on the plus side, it literally is a very lush garden up in the sky. Have dinner or drinks in one of the bars or restaurants, or reserve a slot to visit the viewing platform for free.