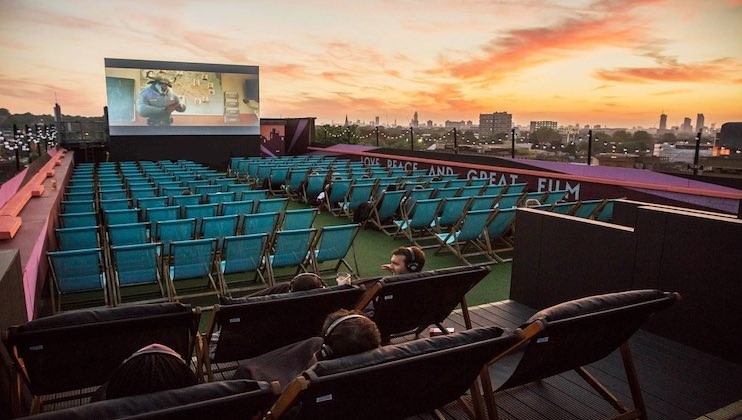 Discover London's enchanting open-air theaters: A cinematic journey through the city's top outdoor cinemas for a memorable al fresco movie experience.
In 2023, London invites cinephiles to embrace the enchanting world of outdoor cinemas as an alternative to traditional movie theaters. Whether perched atop the iconic Bussey Building for 360-degree views with the Rooftop Film Club or amidst historic landmarks, the city is gearing up for grand-scale big-screen extravaganzas, featuring a diverse range of blockbusters, cult classics, and family-friendly films. From romantic singalongs to cozy date nights, these alfresco screens, nestled in lush parks or unconventional urban spaces, offer an immersive cinematic escape under the stars. So, pack your picnic hampers, prepare for leisurely park moments, and indulge in the magic of outdoor cinema in London, where the allure of film mingles with the beauty of the great outdoors.
---
Rooftop Film Club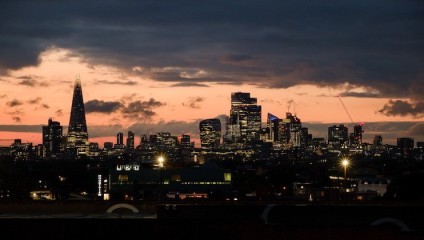 Rooftop Film Club Roof East, Great Eastern Rd, London E15 1BB
Roof A, Bussey Building, 133 Rye Ln, London SE15 4ST
Get ready to elevate your movie nights in London with Rooftop Film Club, the city's coolest outdoor cinema experience. Located at both Roof East in Stratford and the iconic Bussey Building in Peckham, these venues offer a cinematic backdrop like no other, featuring breathtaking views of the London skyline. Starting at just £10 for adult tickets, you can enjoy a diverse lineup of films, from new releases like "The Barbie Movie" to timeless classics like "My Big Fat Greek Wedding". Plus, Rooftop Film Club keeps you cozy with wireless headphones, ensuring an immersive movie experience without distractions. And if you're hungry, no worries – wood-fired pizzas, gourmet burgers, and cocktails are just a seat away, delivered right to your deckchair. So, whether you're planning a dreamy date night or a relaxing weekend treat, Rooftop Film Club promises cinematic magic under the stars.
---
The Luna Cinema
Multiple Locations
London's cinematic skyline is set to sparkle once again as The Luna Cinema returns with its irresistible outdoor cinema experience. From June to October, they're rolling out the red carpet at over 30 iconic locations across the country, including London gems like Kew Gardens, Dulwich Park, Kensington Palace, Hampton Court Palace, Westminster Abbey, and Clapham Common. With a lineup that spans Oscar winners to cherished classics, there's a film for every mood. Picture yourself reclining under the stars, with Top Gun and The Devil Wears Prada on the big screen, and your taste buds dancing to scrumptious food and drink options. So, whether you're on a romantic rendezvous, a night out with pals, or just craving some quality adult time, The Luna Cinema has you covered. Plus, don't worry about the weather; they've got cozy pop-ups and drive-ins for winter movie magic.
---
Adventure Cinema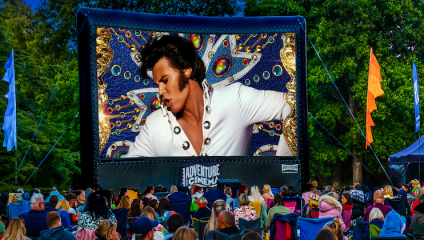 Multiple Locations
Get ready for an adventure like no other as Adventure Cinema, the UK's biggest open-air cinema tour, takes the stage with over 250 outdoor screenings planned for 2023. While the summer season in London might have wrapped up, keep your eyes peeled for their spooky Halloween dates which will be released soon.
Whether you're in the mood for an Elvis singalong, the adrenaline of Top Gun: Maverick, the whimsy of Matilda the Musical, or the romance of Pretty Woman and Mamma Mia!, Adventure Cinema has something for every film enthusiast. And don't worry about dining options; you can bring your own food and drink, making it a truly personalized movie night. With kids under two getting in free and a selection of comfy seating options, Adventure Cinema promises a cinematic experience like no other.
---
Pop Up Screens
Multiple Locations
Get ready to pop into a world of cinematic magic as Pop Up Screens showcases three-month outdoor cinema extravaganza from July 21st to September 24th. With screenings across the city in beautiful locations like Ravenscourt Park in Hammersmith, Bishops Park in Fulham, and Crystal Palace Park, you'll be spoiled for choice.
Experience the thrill of classic films like "10 Things I Hate About You" and "Romeo + Juliet," belt out your favorite tunes with "Grease" and "The Greatest Showman," or indulge in timeless romance with "Dirty Dancing" and "Pretty Woman." There's something for everyone, including recent hits like "Elvis" and "Top Gun: Maverick." Tickets are £12 for adults and £8 for under-tens, making it an affordable and unforgettable night out. Plus, thanks to Gü, you'll even receive a delightful complimentary dessert on opening night in Hammersmith on July 21st. So, grab your blanket and prepare for a summer filled with cinematic delight under the stars courtesy of Pop Up Screens. Don't miss this chance to kick back and enjoy the magic of the movies. Get your tickets now and get ready to savor a sweet cinematic treat!
---
Lower Marsh Lates
Lower Marsh, London SE1 7RJ
Get ready to turn your Thursday nights into star-studded affairs with Lower Marsh Lates... at the Movies! Happening on the last Thursday of every month from May to September, this sensational event in Waterloo offers free outdoor screenings that'll have you singing and dancing in the moonlight. Imagine the lively atmosphere of Lower Marsh Market as it comes alive with street food delights and discounted drinks from the area's finest bars and pubs. With a lineup that includes beloved classics like Mamma Mia, Grease, Little Shop of Horrors, Mean Girls, and Hairspray, you're in for a cinematic treat. With screenings starting at 5:30 pm, it's a perfect way to enjoy laughter, delicious food, and sing-along classics all for free.