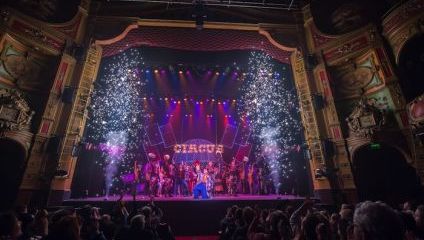 It's a special year for the art form
In 1768, on an abandoned patch of land near London's Waterloo, showman, entrepreneur and equestrian rider Philip Astley drew out a circle in the ground and filled it with astounding physical acts. This spectacle was the world's very first circus. Clever mathematically gifted people will therefore have figured out that 2018 marks 250 years of circus art, an anniversary that is commemorated UK-wide with #Circus250, a celebration of this most pervasive, popular, born-in-Britain art form. If you've ever wanted to run away and join the circus, know how to keep the plates spinning and when to send in the clowns, here is our top 5 Circus events in London this year:
---
CircusFest 2018
R.U.H.M by Pirates of the Carabina. Photo: Christa Holka

London's biennial international festival of contemporary circus focuses on the future of the art form: daring and diverse, punky and poetic, subversive and socially aware. With fifteen shows, two film projects and artists from three continents including companies from Sweden, USA, Finland and Palestine, the featured artists have blown circus apart and are putting it back together in new ways. Headlining this year are two powerful productions: the world premiere of Relentless Unstoppable Human Machine from the acclaimed Pirates of the Carabina and the UK premiere of Groupe Bekkrell's punk show The Bekkrell Effect. Highlights also include 2015 Total Theatre Award winners Palestinian Circus School with their new show SARAB (Mirage), and Ellie Dubois' award-winning Edinburgh smash hit
---
No Show.
CircusFest 2018 is at the Roundhouse, Chalk Farm Road, London NW1 8EH and partner venues from 3 - 27 April. Tickets are £5.00 - £30.00
---
Zippos Circus presents 'LEGACY'
Khadikov Cossack Riders. Photo: Piet-Hein Out
With 'LEGACY', Zippos Circus is taking their celebration of the 250th anniversary of circus entertainment on a UK wide tour that will fittingly kick off in London's Blackheath, not far from the site of Mr Astley's first-ever circus . Expect a spectacle like no other as extraordinary equestrians, astonishing acrobats, comic clowns and dashing daredevils join together in the ring to pay homage to the father of circus art. LEGACY will be presented by the world's most famous Ringmaster Norman Barrett MBE, who will welcome back his colourful fun-loving budgies, a perennial hit amongst children and adults alike. Since Mr Astley was first and foremost a passionate horse man, audiences can expect to see some of the amazing horse acts which thrilled people back in Georgian times, now performed by master equestrians The Khadikov Riders.
Zippos Circus will be at Blackheath, Lewisham from 29 March - 10 April. Tickets £9-£12
---
Underbelly Festival
SOAP ©Lutske Veenstra
Celebrating it's own anniversary - 10 years on London's Southbank - with their biggest programme yet, Underbelly Festival is jam packed with explosive live entertainment. While showcasing everything from comedy, cabaret and family entertainment along with international street food, London's largest outdoor bars and a true festival atmosphere on the banks of the Thames, there are some impressive circus shows lined up as well: Circus Abyssinia: Ethiopian Dreams follows the magical journey of two little Ethiopian brothers, Bibi & Bichu, who dreamed of joining the circus in a country without one and created a phenomenal new Ethiopian tradition. Featuring high-flying acrobatics, death-defying tricks, clowning and towering feats of strength all performed to a thumping Ethiopian dance beat, this adrenaline-filled show is fun for all the family. SOAP is a unique combination of world-class acrobatics, comedy and live opera performed in, on and around bathtubs, bubbling over with mind-boggling circus skills, alongside rubber ducks, hilarity and a frothy soundtrack. Described as the "rockstars of the circus world", Circa are presenting their latest masterpiece Peepshow. Turning cabaret on its head, literally, Circa embark on a seductive dance through the hall of mirrors that is our imagination. Expect teetering towers of balanced bodies, extreme bending and devilishly precarious aerials.
Underbelly Festival is on from 6 April - 30 September with the majority of tickets under £20
---
Club Swizzle
The Swizzle Boys. Photo: Johannes Reinhart
This brand new show from the multi-award winning creators of La Soirée, will take over the Roundhouse this summer for the UK and European premiere of Club Swizzle. The production will encompass all new outrageous cabaret, air-defying acrobatics and infectious musical revelry, backed by a live band. Taking place around, across and above a central, functioning bar, the show had its world premiere at Sydney Opera House and has since played to sell-out audiences across Australia. Club Swizzle promises a night of sassy entertainment where the mayhem gets kicked up a notch, and the charismatic, impeccable all-star cast dazzle around and above the Club Swizzle cocktail bar where The Swizzle Boys will be pouring drinks. Rising star and Cabaret wunderkind Reuben Kaye (Winner Best Cabaret Show, Adelaide Fringe 2017), described as "the evil love child of Liza Minelli and Jim Carrey," is hosting and with no stage, no rules and no regrets, Club Swizzle sound like a night to remember.
Club Swizzle will be at The Roundhouse 31 July - 26 August. Tickets from £10.
---
Cirque Berserk
Globe of Death by the Lucius Troupe. Photo: Piet Hein Out

Showcasing the finest in traditional circus thrills and skills, Cirque Berserk celebrates the 250th anniversary of the invention of circus by bringing the treasured form of live entertainment bang up-to-date in a jaw-dropping spectacular created especially for the theatre. It's a West End style show that combines all the wonderment of traditional circus, full of noise, colour and excitement. Described as "Cirque du Soleil on steroids" by the Daily Express, Cirque Berserk goes for heart-stopping, adrenaline-fuelled stunt action by an astoundingly talented international troupe of over thirty jugglers, acrobats, aerialists, dancers, drummers and daredevil stuntmen - not forgetting the world's most hair-raising circus act - the legendary motorcycle
---
'Globe of Death'.
Cirque Berserk will be at the Harold Pinter Theatre 19 April - 7 May. Tickets £10 - £55