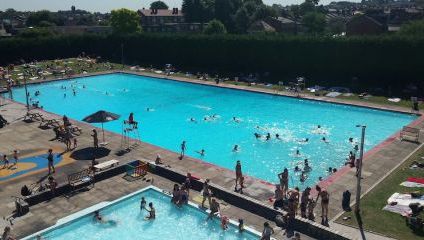 Looking to beat the heat or enjoy some fun in the sun? Here are our top 5 London lidos to enjoy this summer.
Whether work is making you want to plunge your face in cold water, or the slow summer holidays means you need some family-friendly entertainment, dive into our list of London's best lidos that are making a splash this summer.
Tooting Bec Lido
This South London lido is not only one of the city's oldest open-air pools, having first opened to the public in 1906, but it is also the biggest swimming pool by surface area in the UK, measuring a whopping 91m by 30m. If you visit Tooting Bec's lido and you find yourself wondering why it looks a little familiar, you've probably seen it before. Because of the changing cubicles' alternating red, yellow, and green doors, the lido is a popular location for promotional filming, and was featured in Guy Ritchie's hilarious dark comedy Snatch as part of Brad Pitt's boxing "pool" scene. Although we can't guarantee you'll be sharing the exact water that Brad bathed in, you can rest easy knowing he was there. Who knows, maybe he'll turn up again.Tooting Bec Rd, London SW16 1RU
---
London Fields Lido
This Olympic-size heated pool is located in Hackney, and offers year-round swimming for those needing to entertain their inner water baby. With fitness and swimming lessons aplenty, this lovely lido is a popular swimming destination for people wanting a fun way to fit some exercise into their hectic schedules. It was renovated in 2006 after an 18-year campaign to save the space from being demolished. Facilities include a café, as well as a sizeable sundeck area.
London Fields Westside, London E8 3EU
---
Parliament Hill Lido
Located on picturesque Hampstead Heath, this gorgeous pool was recently upgraded with a new stainless steel lining, meaning that on cooler days it can retain the heat and on those rare but wonderful scorchers, it'll cool you down when you're all hot and bothered. With its 60m by 28m area, it's loved for its sense of space, a luxury not many London pools can claim to have. Because of its elevated spot on the Heath, you can lounge by the poolside and take in amazing views of the city, content in the knowledge of being far away from the maddening crowd.
Parliament Hill Fields, Gordon House Rd, London NW5 1LP
---
Serpentine Lido
For those of you looking for a more natural water source to do your dipping, the Serpentine Lake is the perfect spot to break in your backstroke. Located in beautiful Hyde Park, the Serpentine Lido has been a beloved escape for Londoners for over 100 years. The gated family area with its children's playground and child-friendly paddling pool means parents can take it easy while the children play, and afterwards the whole family can enjoy some refreshments at the popular Lido Café. Looking for some downtime? The lido has a private sunbathing area and sun loungers for hire, making it a perfect place to enjoy a good book or lay back and soak up the beautiful surroundings.
Image © Serpentine Lido via Facebook
Hyde Park, W2 3XA
---
Park Road Pools
Something of a hidden gem, Park Road Pools is one of London's lesser-known outdoor swimming spots. Perfect for families wanting to get a bit of sun in, there is a children's pool and a well-stocked cafe for snacks, plus in the main pool, the pools are separated into lane swimming and fun swimming. The lido measures an impressive 50 metres and there are both paved areas and grassy knolls on which to spread your towel.
Park Road, N8 8JN