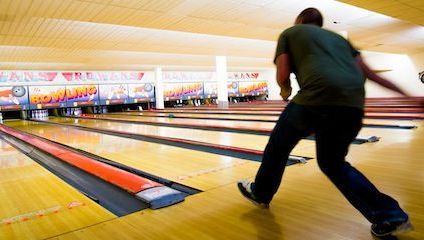 If you can spare a few minutes, our round-up of bowling in London should strike a chord.
It's up there with ball-pits and trampolining when it comes to classic children's parties. Slush Puppies, changing into those shoes, choosing a suitably rude name, the endless debate about gutter rails - there's so much to the ritual of bowling. The joy of a strike (or just hitting something) and the agony of the lone pin, standing firm amidst fallen companions, make for a rollercoaster ride. Of course, London being London, many of these bowling alleys offer a lot more than just lanes and balls.
---
London Palace Superbowl
This rough diamond is located in the centre of Elephant and Castle Shopping Centre - which alone is worth a visit. Seemingly unchanged since the 1960s, it's one of the most striking and unusual places in London, and is part of the entire Palace Superbowl experience. Once inside, the unfussy bowling is cheap, cheerful and complete with an array of arcade games, pool tables and vodka slushies. It's a brilliant bowling alley - we urge you to visit before the ever-looming threat of demolition finally fells this hulking behemoth from a bygone era.
London Palace Superbowl is located in Elephant and Castle Shopping Centre, SE1 6TE. A game of bowling is £6.45 per person.
---
Rowans Tenpin Bowling
Rowans is an equally gargantuan establishment situated just over the road from Finsbury Park tube station. This two-floor entertainment centre includes 24 bowling lanes, alongside a plethora of other options. Air hockey, pool, arcade games, karaoke and a dance-floor all compete for your post-bowling attention, and it's open well into the wee small hours at weekends.
Rowans Tenpin Bowling is located in Finsbury Park, N4 2DF. A game of bowling varies throughout the week, but starts at £6.50 per person for weekday evenings, including £1 for entry.
---
Queen's Ice and Bowl
It's pretty hard to get a USP when it comes to bowling. You can have an aesthetic or theme, you can plump for sheer quantity of activities on offer, or you can include an ice rink. There's definitely nowhere else in London that boasts 12 high-quality bowling lanes and a 12,000 square foot ice rink in the same building. This West London outpost also hosts a MEATliquor, and you can race go-karts on ice two evenings a week. It's almost enough to make you forget we're talking about bowling.
Queen's Ice and Bowl is located in Queensway, W2 4QP. A game of bowling varies, with peak price £8.95 per person, and off-peak £5.
---
Bloomsbury Bowl
Bloomsbury Bowl is a touch of class. You can't just rock up and bowl, you've got to book in advance, but the service and the quality of the food and drink are a touch above most other bowling lanes. You can order an array of American diner food to your lanes, and the private bowling is an ideal work/birthday party option.
Bloomsbury Bowl is located at the Tavistock Hotel, WC1H 9EU. A game of bowling is £45 for one lane, and a maximum of 6 people.
---
Clapham Common (Lawn Bowls)
We know, we know. Honestly though, lawn bowls is a lovely way to while away a summer's evening. It's gently competitive - you're playing as much against yourself as you are the other team - and the leafy surrounds of Clapham Common make for a picturesque backdrop. Brockwell Park also has a volunteer-run bowling green open every Sunday from 2-5pm. Slowly rolling a weighted ball, or 'wood', toward a smaller white ball, or 'jack', is a nice alternative to the rather gaudy 10-pin variation, and it's something new to try. Variety is the spice of life after all.
Clapham Common Bowling Greens are located near Clapham South tube. It costs £4.20 a session per person. Brockwell Park's community-run bowling green opens every Sunday from 2-5pm, and costs £2 for a try.