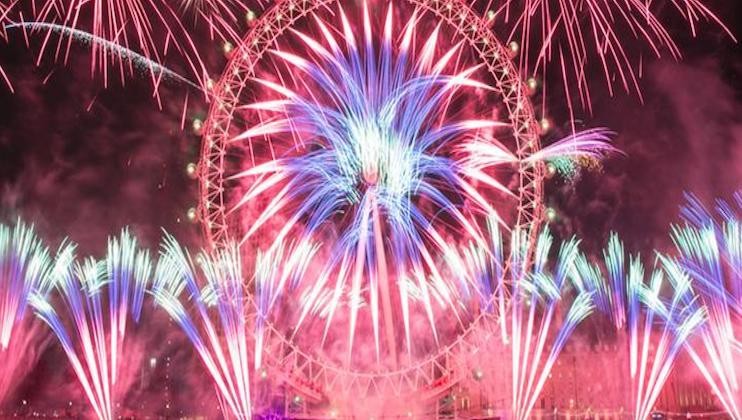 Let's light up your New Year's Eve in London with the best spots on where to catch the most spectacular Firework displays in the city- and where to view the main event from...
After a brief hiatus, the official London New Year's Eve Fireworks are back to paint the night sky with a dazzling spectacle. Securing a coveted spot in the ticketed area might be a challenge, but fret not, for there are plenty of other vantage points across the city where you can revel in the fiery festivities. Whether you're planning to party it up in the heart of London or seeking a more secluded corner for your countdown, you don't have to settle for watching the fireworks through a TV screen. Welcome to our guide on where to catch the best view of the New Year's Eve fireworks in London – because in this city, we believe in starting the year with a bang!
---
London Fireworks: The Main Event!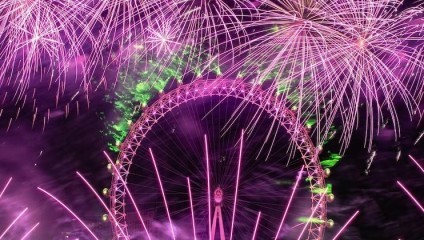 London, Southbank
Londoners know how to party, and if you want an unforgettable night, you can't miss the spectacular London Fireworks event. With over 12,000 fireworks painting the night sky, it's a showstopper like no other. And when the clock strikes midnight, the iconic Big Ben bongs resonate across the city, marking the grand moment. To be part of this extraordinary experience, snag yourself a ticket to London's New Year's Eve Fireworks – a hot-ticket event with 100,000 in attendance. The first batch of 50,000 tickets usually hits the shelves in October via See Tickets, with options for larger families and groups. If you're fashionably late to the ticket game, fear not – the final 50,000 tickets drop in early December. But even if you miss out on tickets, you can still catch the action on BBC iPlayer or their YouTube channel. Though we'd probably recommend reading the rest of our list before you choose to do that!
---
8 At The Londoner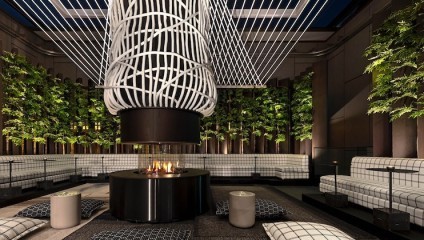 38 Leicester Square, London WC2H 7DX
Elevate your New Year's Eve experience to new heights at 8 At The Londoner, where the dazzling fireworks of London become the backdrop to an upscale Japanese soirée. Perched high above the city in this exclusive rooftop bar, you'll be treated to breathtaking views while indulging in a refined Japanese drinking and dining experience. Sip on exquisite cocktails, sample Japanese small plates, and explore their extensive collection of sake and Japanese whisky. If you're looking to start the year with a true taste of luxury, secure yourself a booth at 8 At The Londoner's rooftop bar, where you can feast your eyes on the fireworks while savoring delectable Japanese cuisine. As the clock strikes midnight, raise a glass of delicious whisky and toast to the new year in style. For those with a taste for French cuisine, you can also head to its sister restaurant, Whitcomb's, for a four-course feast. Remember to check their special New Year's Eve menu, drinks packages, and make sure to book your spot in advance.
---
Skylon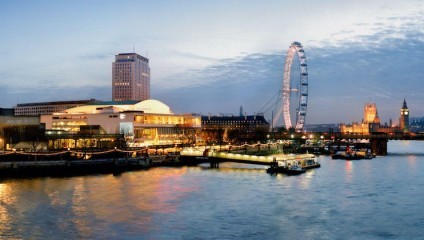 Belvedere Rd, Royal Festival Hall, London SE1 8XX
For an ideal spot to ring in the New Year with a front-row seat to London's spectacular fireworks, look no further than Skylon Bar and Restaurant. Located on the third floor of the Royal Festival Hall in the Southbank Centre, Skylon offers unrivaled views through its expansive floor-to-ceiling windows. As the sky lights up with fireworks, you can enjoy the luxury of this modern European restaurant, complete with dazzling seasonal decor that sets the perfect ambiance. On New Year's Eve, treat your taste buds to an indulgent five-course feast that will leave you satisfied and ready to toast to the year ahead. Plus, the festivities don't stop at midnight – Skylon keeps the celebration going with entertainment until 2am. To secure your prime position for this unforgettable evening, be sure to make reservations in advance and check for any special New Year's Eve menus and pricing.
---
Aqua Shard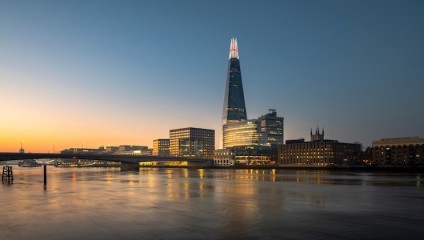 Level 31, The Shard, 31 St Thomas St, London SE1 9RY
If you're seeking an unforgettable vantage point to witness London's New Year's Eve fireworks, look no further than Aqua Shard, perched on the 31st floor of The Shard. Here, the views are nothing short of spectacular, offering a 270-degree panorama of the city that's truly unrivaled. But it's not just the views that steal the show – Aqua Shard boasts contemporary British cuisine that has earned accolades, making it a feast for both your eyes and your taste buds. On this special night, indulge in a sumptuous five-course menu as you revel in the anticipation of the fireworks display. Prices for reservations range from £235 to £345 per guest, with options for vegetarians as well. The celebration doesn't end with dinner; you'll be serenaded by the glamorous harmony band, The Spinettes, from 9pm to midnight, followed by a lively DJ who'll keep the party going until 3am. Tickets are available for both restaurant and bar bookings, ensuring you can ring in the New Year with unmatched style and breathtaking views.
---
<> Alexandra Palace >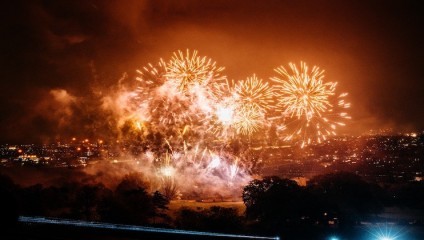 Alexandra Palace, Alexandra Palace Way, London N22 7AY
A slightly more subtle options for those looking for a less intense experience- good ol' Ally Pally. Head over to Alexandra Palace Park in North London where you'll find a fantastic vantage point to witness fireworks popping up across the city, including the main event along the Thames. The views from in front of the palace are nothing short of spectacular, offering a sprawling vista of London's skyline. As the clock strikes midnight, you'll be part of a lively crowd, sharing the excitement of New Year's Eve with fellow revelers. Best of all, there's no need for tickets or reservations – just bring your enthusiasm, and maybe a nice bottle of champagne!
To stay up to date with any New Year's Eve events at Ally Pally, click here.
---
Sky Garden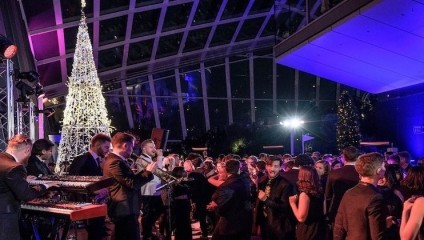 1, Sky Garden Walk, London EC3M 8AF
Elevate your New Year's Eve celebration to new heights at Sky Garden, London's highest public garden, where you'll enjoy not only fantastic views of the city but also a front-row seat to the mesmerizing fireworks display. Nestled amidst lush greenery, Sky Garden offers a truly unique venue for your New Year's Eve festivities. Raise a glass and dine in style as you revel in the glamour of the night, all while being serenaded by live music. The atmosphere here is as breathtaking as the views, making it an unforgettable place to welcome the new year. Tickets and reservations are a must for this sky-high soirée, so plan ahead to secure your spot.
---
<> Thames Luxury Charters >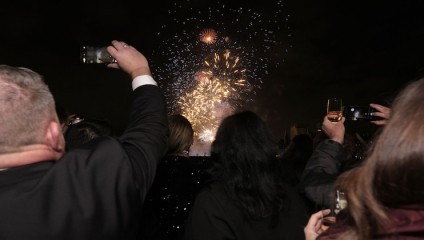 As the clock ticks towards one of the grandest nights in London, New Year's Eve, make it a celebration to remember with Thames Luxury Charters. While hordes of revelers descend upon central London for the midnight fireworks, you can secure your front-row seat on board their luxurious MV Edwardian for the most unforgettable start to the year. Their New Year's Eve Dinner and Fireworks Cruise is a hot ticket, and it's no wonder why – picture a five-hour cruise on the Thames, paired with exquisite award-winning cuisine, top-notch entertainment, and front-row views of the breathtaking fireworks display. It's a culinary journey every bit as exciting as the cruise itself, accompanied by live performances to keep the festive spirit alive.
For more information and New Years Eve updates, click here.
---
Hampstead Heath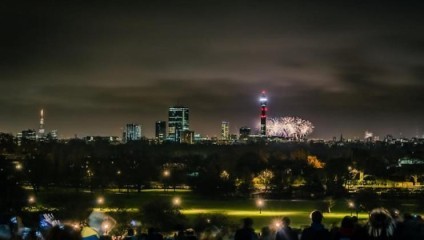 Hampstead, London
For a unique and picturesque vantage point to witness London's New Year's Eve fireworks, look no further than Hampstead Heath's Parliament Hill. This mound of greenery boasts clear views of Central London, making it an ideal spot to catch the city's grand spectacle. Just hop off at Gospel Oak station and follow the signs to this part of the Heath. With a sprawling 800-acre expanse, you'll want to ensure you're in the right place before the clock strikes midnight. Forget the tickets and reservations – Parliament Hill offers a naturally fantastic view of the fireworks, where you can join fellow spectators for a night of awe-inspiring celebrations.
---
Battersea Barge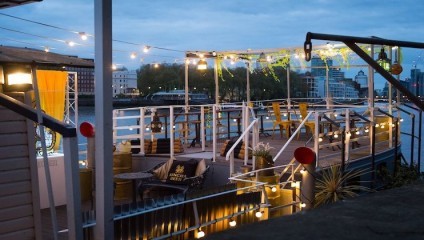 Nine Elms Ln, Nine Elms, London SW11 8PZ
Get ready to set sail into the New Year with Battersea Barge, the twinkliest and cutest boat in town! Moored on the Thames, this modern bar and event venue offers a unique backdrop for your NYE celebration. While you may not have full panoramic views of the fireworks, you'll still catch some of the sparkle over the City Skyline. As you dance the night away you'll soak in the sights of Battersea Power Station and the city skyline. And don't forget the complimentary glass of Prosecco if you arrive by 9pm. If you're not ready for the party to end, discounted tickets to the Tamesis Dock after-party are available. So, hop aboard the Battersea Barge in Nine Elms, and let's sealebrate the New Year together – it's a night you won't want to miss! Tickets are on sale now, so grab yours and get ready to make waves on the Thames.
---
The Monument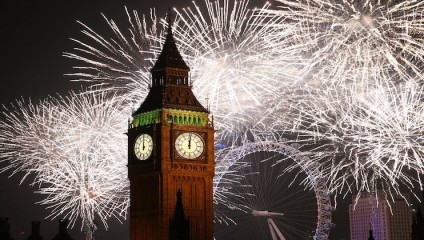 Fish St Hill, London EC3R 8AH
No need to climb the 311 steps- you can get a fab view of London's fireworks simply by being in the proximity of The Monument. This iconic landmark commemorates the Great Fire of London, and it's your (free) ticket to an unforgettable New Year's Eve experience. Situated near Cannon Street, you're guaranteed a stellar view of all the action. Plus, there's no shortage of bars, restaurants, and pubs in the vicinity to keep you warm and toasty as you raise your glass to the festivities. So, skip the stair workout and head to The Monument for a fireworks display that's sure to light up your night. It's the perfect spot to toast to the new year without breaking a sweat – or a step counter!