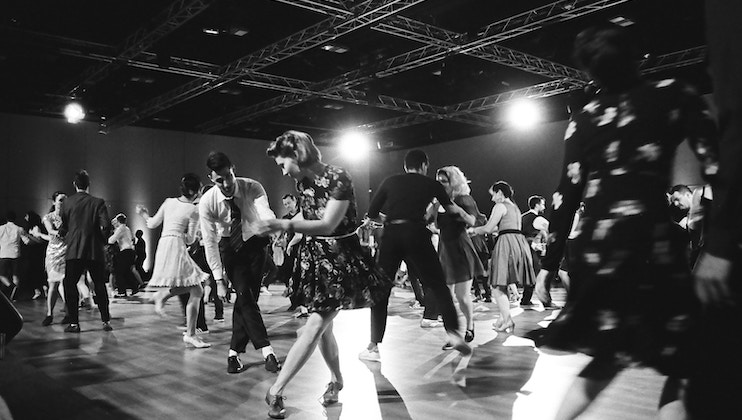 From swing to salsa, the Charleston to ceilidhs, you're bound to want to grab your dancing shoes and hit the floor with these fantastic alternative London dance clubs.
Everyone loves to have a boogie on the dance floor but sometimes throwing your shapes to the same old tunes can get a little boring. We've rounded up some of London's best alternative dance clubs where you can learn a new style of dance and then practise your new moves in with fellow newbies and inspiring experts alike. From swing to salsa, the Charleston to ceilidhs, you're bound to want to grab your dancing shoes and the hit floor with these fantastic London dance clubs.
---
Boots N Blisters
Grab a Stetson and give us the biggest yeehaw you can as you side step into the wonderfully fun Boots n Blisters line-dancing club. Founded in 1996, Boots N Blisters is South London's very own slice of American country, catering to all levels of line-dancer. The club meets at two different venues, the Royston Ballroom in Penge and St. Hilda's Church Hall in Crofton Park. For those of you who think this line dancing business is only about thigh-tapping to Achy Breaky Heart, well you're sorely mistaken. At Boots N Blisters you'll learn how to shimmy, spin, slap, and jump to a whole variety of musical genres. So if you feel like taking a chance on a Hoedown Throwdown, head to Boots N Blisters where you can show everyone that your boots aren't just made for walkin'.
Boots N Blisters takes place at both The Royston Club Halls, 56-76 Freelands Rd, Bromley BR1 3 and at St. Hilda's Crofton Park, Brockley Road, Crofton Park, London, SE23 1PL. For events and information, visit them online.
---
Bar Salsa!
Bar Salsa! is one of London's liveliest and most interactive dance nights - but it's definitely not for wallflowers! Expect men and women of all levels of experience to be throwing down exotic shapes, and don't be surprised if you're suddenly grabbed and flung onto the dance floor. At Bar Salsa if you're not dancing, you definitely will be soon. The evenings start with a salsa dance class where you'll learn the finer art of Latin dancing, which will then gradually evolve into a big party night where you can let loose and show everyone the moves you've learnt. With a great happy hour and some of the best Latin beats in town, Bar Salsa is the hottest (quite literally) and most exhilarating night of dancing you can hope to get. And remember - you're not sweating, you're sparkling.
Bar Salsa is located at 96 Charing Cross Rd, London WC2H 0JG. For a list of the events, visit them online.
---
Swingland
Get ready to flip, fly, and flail as you get your jitterbug jive on at Swingland's classes and dance nights. Specialising in lindy hop and swing dancing from the 1920s dance halls in Harlem and the rock'n'roll style of the 1950s, Swingland is responsible for this amazing dance style's exciting London revival. Established in 1998, Swingland is the leading swing dancing school and swing dance music promoter in the city, and provides weekly swing dance classes, live music nights, dance parties, private lessons, and glamorous Swing Balls. Their nights are friendly, sociable and they encourage everyone to get to know each other, starting with the classes where you'll rotate partners to break the ice. So swing into this infectious dance and get let the jitterbug bite you, you won't be disappointed.
Swingland classes and events take place in various venues across London. For a full list of events and for more information, visit Swingland online.
---
Black Tie Ballroom Club
If you've ever watched a movie with Ginger Rogers and Fred Astaire and wished you could go back in time when ballroom dancing was all the rage, then you're in luck. The Black Tie Ballroom Club is a monthly meeting for ballroom and swing dancers to get glitzed and glammed up, come together, and dance the night away on a proper wooden floor. The music is straight out of the golden age of dance with 1920s Charleston tunes, quickstep foxtrots from the1930s, swing from the 1940s, and jive from the 1950s. The house band is a ten-piece strict tempo Kewdos Dance Orchestra and will accompany you as you gracefully glide across the dance floor. The club starts with a beginners' lesson to teach some basics and then you're left to express your inner glamorous self as you take to the floor with your partner. Black tie is the suggested dress code, although anything 'vintage' will do just fine. Trust us, you'll have a ball.
Black Tie Ballroom Club takes place at the Welsh Centre in Grays Inn Road, London WC1. For more information, visit their Facebook page.
---
Ceilidh Club
A ceilidh ('kay-lee') is the Gaelic word for gathering, and the Ceilidh Club is the perfect place to get a wee bit of Scotland in London. Established in 1998, the Ceilidh Club has grown from a handful of friends and family into great big gatherings of people from all walks of life. The ceilidhs run 3-4 times per month and you don't need to have any dance experience at all. Fantastic bands play rousing music and a caller will take you through all the moves. It's fun, it's hot and it's most definitely exhilarating - great for the absolute beginner to the most seasoned ceilidh expert. Get your kilt on, down a drab of whiskey, and get ready to have one of the best nights out you've ever had.
The Ceilidh Club is held at Cecil Sharp House, 2 Regent's Park Road, London NW1 7AY. For dates and time, visit them online.